India
The government revises nutritional standards for children's food safety programmes.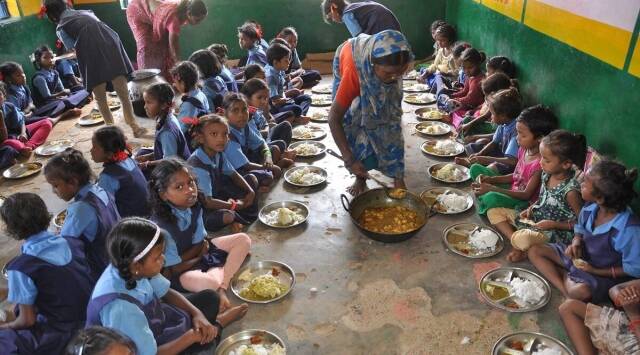 A decade after the National Food Security Act (NFSA) was enacted, the Centre revised the nutritional standards of school and anganwadi meals by increasing the proportion of calories and protein and mandating the addition of micronutrients.
The amendment was made based on the recommendations of an inter-ministerial committee, which, in its draught report, had also suggested mandating the serving of eggs in government food safety programmes. However, this proposal has been tabled for the time being.
However, there are no restrictions on the ability of states and Union Territories to add eggs and other foods to the menus of food safety programmes such as midday meals (now known as PM Poshan) at schools or the Integrated Child Development Services (ICDS) scheme at anganwadis that serves pre-school children, pregnant and lactating mothers.
"Even if states are hesitant to add eggs, they will be required to revise the menu and add more items, such as pulses and green leafy vegetables, to satisfy the new requirements. Currently, eggs are part of the midday menu in fourteen states and territories, according to a government official.
The inter-ministerial committee had recommended "urgent action" in its draught report, citing the potential impact of the Covid-19 pandemic on the "silent crisis" of undernutrition.
The January 25 notification of the amended NFSA schedule II establishes nutritional standards for nine groups, beginning with infants aged six months to one year and those in upper primary classes (VI-VIII). There are now three new categories for malnourished children aged six months to six years.
The nutritional requirements for some extant categories, including lower and upper primary classes, have been revised. Under the previous guidelines, every child in lower primary classes was entitled to 450 calories and 12 grammes of protein with their midday meals.
Now, the protein content has been increased to 15 to 20 grammes, while fat (18 to 21 grammes) and carbohydrates (70 grammes) are also included. Micronutrient standards include calcium 170 mg, zinc 2 mg, iron 3.5 mg, folate 50 micrograms, vitamin A 100 micrograms, vitamin B6 0.43 micrograms, and vitamin B12 0.66 micrograms.