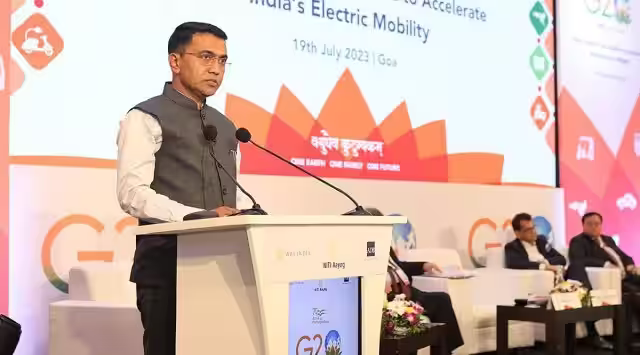 Underscoring the measures proposed by the state government to promote electric vehicles (EVs), Goa Chief Minister Pramod Sawant announced on Wednesday that, beginning in January 2024, all new tourist vehicles, rental automobiles, and motorcycles will be electric.
Sawant, speaking at an event organised by NITI Aayog at the fourth Energy Transitions Working Group Meeting under India's G20 Presidency in Panaji, stated that all new tourist vehicles, rental automobiles, and rental bikes will be required to be electric as of January 2024. In addition, all permit holders with numerous tourist taxis, rental cars, and bicycles will be required to retrofit 30 percent of their fleets with electric vehicles by June 2024.
According to Sawant, the vehicle ownership rate per capita in Goa is four-and-a-half times the national average, and the coastal state ranks fifteenth in vehicle density.
"As a global tourism hub, Goa welcomes more than 85 lakh visitors annually. This is a significant contributor to the state's carbon emissions… Tourists are transported by a significant number of taxis, rental car services, and buses. "According to a recent study, 40% of Goa's total carbon emissions are caused by the operation of vehicles," he said.
Attended the @g20org Energy Transitions Working Group Meeting. I welcome all the delegates from G20 countries, invitee countries and representatives of international organisations.

The Govt of India has taken multiple steps to decarbonize transport, including promoting use of… pic.twitter.com/rWRasAHUpI

— Dr. Pramod Sawant (@DrPramodPSawant) July 19, 2023
Sawant stated that the state government formulated the Goa Electric Mobility Promotion Policy 2021 with the intention of making the state a model of international standard for EV adoption, supported by world-class infrastructure for the conversion of ICE vehicles to EVs, converting fifty percent of boat ferries to electric by 2025, converting one hundred percent of other marine vessels to hydro, and creating ten thousand new direct and indirect jobs by 2025.
Sawant stated that in order to achieve this objective, the state administration of Goa enacted policies, including the EV Concessional Charging Infrastructure Policy 2021 to promote the EV ecosystem in the state.
"The policy's primary purpose is to guarantee that by 2025, at least 30 percent of the vehicles registered annually in Goa will be electric… Following the implementation of schemes, the percentage of EV sales increased 47-fold from 0.2% to 9.4% of all vehicles sold. Goa ranks fourth among Indian provinces in terms of EV sales percentage, he added.
Amitabh Kant, India's G20 Sherpa, stated that India should aim for 100 percent electrification of two- and three-wheeled vehicles by 2030.
Kant stated that when India urbanises, the process must be compact and congested, with an emphasis on liveability. "Seventy-five percent of all vehicles in India are two-wheelers. India must first electrify its two-wheeled and three-wheeled vehicles, with the goal of achieving [100%] electrification by 2030. 65 percent of all buses operated by state transportation agencies should be electric by 2030. "Fix the objective and then work backwards," he stated.
Kant, emphasising that diesel and gasoline are fading technologies and that the era of electric vehicles is inevitable, stated, "The global market for electric vehicles has reached 10 million units. Globally, approximately 18 percent of all new automobiles sold each year are electric. In China, 60% of vehicles sold are electric, compared to 15% in Europe and 10% in the United States. India will pursue a very distinct course than the United States and Europe."
Kant, while emphasising the need for a "clear policy framework" to reach the goal, emphasised the importance of developing low-cost financing for EVs.
"Lack of a secondary market for these vehicles is one of their greatest obstacles. The financiers find it challenging. NBFCs provide the majority of financing for two- and three-wheeled vehicles. Therefore, the NITI Aayog should meet with NBFCs to determine how to establish a secondary sale market; if such a market develops, more lending will be [for these vehicles]."
Kant stated that it is also essential to construct a robust charging infrastructure for electric vehicles in all cities.
"The world will transition from ICE to EV vehicles. If India does not make this transition, it will lose out on the automobile market, where it is the global leader in two-wheeled vehicles. Electric transportation is the future. This is India's best chance to become the global leader in automobiles… "The automobile industry is extremely important to India, as it accounts for 49 percent of the manufacturing industry and eight to nine percent of employment," he explained.