India
Bipartisan support for the Constitution can also be evidenced in the passing of a women's bill: CJI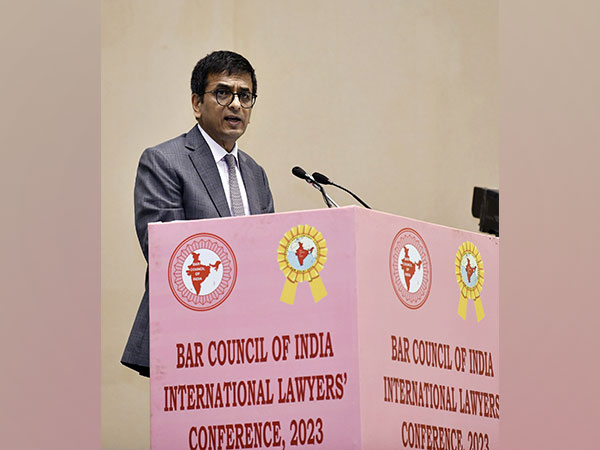 Chief Justice of India D Y Chandrachud remarked on Saturday that the passage of the women's reservation Bill by Parliament required the "same bipartisan effort" as the framing of India's Constitution by the Constituent Assembly.
The Chief Justice of India was delivering the keynote presentation at the International Lawyers' Conference hosted by the Bar Council of India here. The CJI spoke on the occasion, emphasising the need of "nations, institutions, and, most importantly, individuals being open to engage with and learn from one another, without feeling threatened or belittled." According to the CJI, "the Constituent Assembly's drafting of the Constitution is…a classic example of engaging across partisan lines." Individuals from various regions of India, varying backgrounds, and even opposing philosophies joined together in one voice to draught the Constitution."
He noted that a similar "bipartisan effort" was evident in the passing of the Women's Reservation Bill. "We find the same bipartisan effort has gone into the recent passage of the women's reservation Bill in Parliament, and this is something that we as citizens of India must be proud of," the CJI said, adding that the Indian Constitution is the best example of engagement between nations, constitutions, and legal systems.
"From the drafting of our Constitution to the adjudication of constitutional questions, India has a rich tradition of engaging with foreign constitutions and precedents." He stated that "while the Constitution provides for separation of powers between the legislature, executive, and judiciary, it also creates a space for institutions to learn from each other and deliver justice."
"In our tendency to emphasise differences, we often forget the numerous examples of collaboration between institutions to further the interests of justice," he remarked. This is true not only in lofty constitutional disputes, but also in more mundane encounters between courts and the administration." The CJI cited a case from the 1980s in which "the vires of a legislation mandating rickshaw-pullers to be owners of the rickshaws they plied was challenged before the Supreme Court," noting that "rather than an adversarial approach, the Supreme Court and the Government worked together to craft a solution."
Related Posts