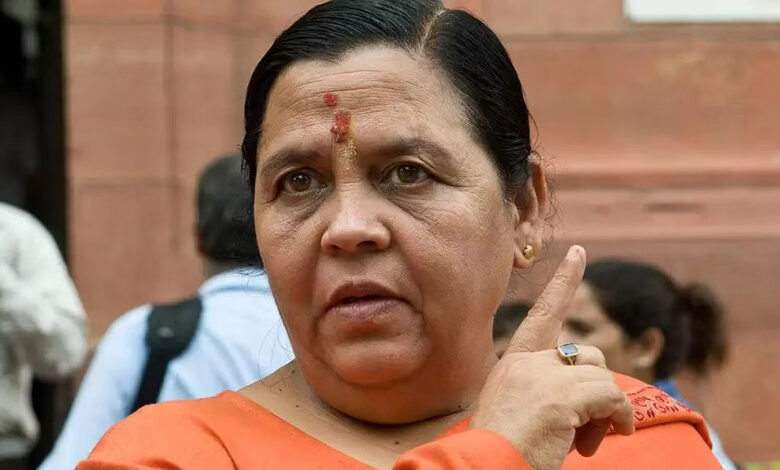 Former Madhya Pradesh Chief Minister Uma Bharti advocated for OBC sub-quotas in the women's reservation Bill on Saturday, emphasising the importance of the community remaining within the Hindutva fold and not aligning with opposition parties.
"Because elections are coming up in Madhya Pradesh, this can be implemented right away." You (political parties) provide free tickets to women from backwards classes. "There is no need for reservations; only your willpower is required," she stated at a Saturday event.
Bharti dismissed claims that she was speaking the Congress party's lingo. "People say I speak in the same tone as Congress; on the contrary, Congress speaks in my tone." There was a period when the Congress and BJP agreed that OBCs should not be given reservations. "Today, the Congress has changed its stance out of necessity because they have been wiped out in Bihar and Uttar Pradesh," she explained.
Bharti stated that OBCs must remain "within the Hindutva fold and not go to leaders who oppose Hindutva," and that reservation was the means to do this. "If you want Bharat Mata to be strong then you need to give the OBC community its position, don't insult them," Bharti stated.
With Saturday's announcement, Bharti has taken a stance against the BJP government, a tendency that has accelerated as the state's elections approach.
The feud with the BJP leadership began when Bharti recently irritated some BJP leaders by sending a list of 19 individuals she wants to see as party candidates in the upcoming Assembly elections. Pritam Singh Lodhi, one of her followers, was nominated as the BJP candidate for Pichhore in the next elections. Her cousin Rahul Singh Lodhi was also inducted into the Chouhan cabinet, which was considered as an effort to appease Bharti, who was seen as a threat to the party's prospects in the state, according to party insiders.
However, all of it was undone when she was not invited to the Jan Ashirwad Yatra on September 4. "Maybe they (the BJP leaders) are nervous that if I'm there, then the entire public attention will be on me," she had stated.
Related Posts