India
Shivraj Singh Chouhan cleanses the feet of the tribal man who urinated on him.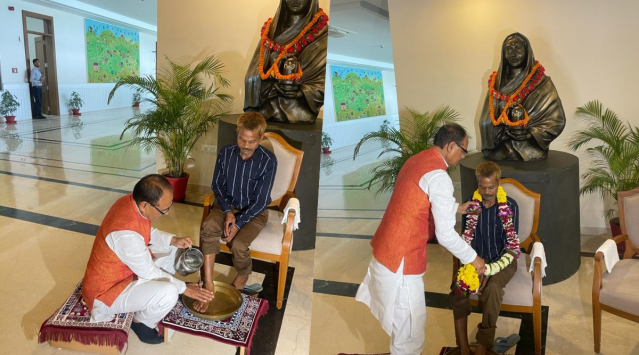 Wednesday, Madhya Pradesh Chief Minister Shivraj Singh Chouhan met Dashmat Rawat, a tribal community labourer who was seen being urinated on in a video, at his official residence in Bhopal and bathed his feet.
"Seeing that video was distressing. During a brief conversation with the man, Chouhan expressed regret and inquired about his profession and family. The conversation occurred after the CM had bathed the man's feet, applied tilak to his forehead, garlanded him, and given him gifts.
यह वीडियो मैं आपके साथ इसलिए साझा कर रहा हूँ कि सब समझ लें कि मध्यप्रदेश में शिवराज सिंह चौहान है, तो जनता भगवान है।

किसी के साथ भी अत्याचार बर्दाश्त नहीं किया जायेगा। राज्य के हर नागरिक का सम्मान मेरा सम्मान है। pic.twitter.com/vCuniVJyP0

— Shivraj Singh Chouhan (@ChouhanShivraj) July 6, 2023
Chouhan referred to the individual as "Sudama" before declaring, "Dashmat, you are now my friend." According to PTI, Chouhan conversed with him on various other topics and inquired if state welfare programmes were reaching him.
मन दु:खी है; दशमत जी आपकी पीड़ा बाँटने का यह प्रयास है, आपसे माफी भी माँगता हूँ, मेरे लिए जनता ही भगवान है! pic.twitter.com/7Y5cleeceF

— Shivraj Singh Chouhan (@ChouhanShivraj) July 6, 2023
Previously, the CM and Rawat planted a sapling in Bhopal's Smart City Park.
#WATCH | After meeting Madhya Pradesh CM Shivraj Singh Chouhan, in Bhopal, Sidhi viral video victim Dashmat Rawat says, "I met the minister, it felt good. He called up my family and spoke to my family, I felt good. I am now going back after meeting him. pic.twitter.com/iHzm7cUQsR

— ANI (@ANI) July 6, 2023
The three-month-old video of the principal accused, Pravesh Shukla (30), urinating on Rawat in the Siddhi district has recently gone viral and ignited a political tempest in the state. On this issue, the Congress has targeted the governing BJP, claiming that Shukla is a BJP leader and associate of Siddhi MLA Kedarnath Shukla. The BJP has denied claims that the accused is a member of the BJP.
In response, Madhya Pradesh Police apprehended Shukla on Tuesday and charged him under the National Security Act (NSA). Wednesday, the MP authorities demolished a portion of his residence.
Related Posts