India
Lula said the court's decision comes a day after pledging not to arrest Vladimir Putin.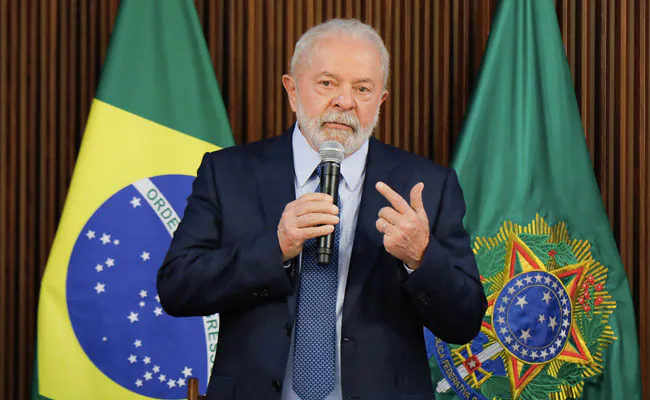 Brazil President Luiz Inacio Lula da Silva said on Monday that he hopes Chinese President Xi Jinping and Russian President Vladimir Putin will attend the G20 Summit in Rio de Janeiro next year, despite appearing to backtrack on his assurances a day earlier that Putin will not be arrested if he visits the South American country.
"We will invite them. "We hope they will participate," da Silva said at a press conference, adding that it would be up to the judiciary to determine whether to arrest Russian President Vladimir Putin.
Putin and Xi both opted out of the two-day gathering in New Delhi.
The statements by Brazil's President come a day after Prime Minister Narendra Modi handed him the G20 gavel, signalling the transfer of the grouping's Presidency. Soon after the symbolic gesture on Sunday, da Silva told the news website Firstpost that if Putin visits Brazil for the Summit in November 2024, "there's no way" the Russian leader will be jailed "if I'm the president."
In March of this year, the International Criminal Court (ICC) issued an arrest warrant for Putin for the alleged war crime of illegally deporting and transporting minors from seized parts of Ukraine to the Russian Federation.
Brazil is a signatory to the Rome Statute, which resulted in the establishment of the ICC, and is obligated to cooperate with the ICC's arrest warrants. In August, Putin delayed attending the BRICS Summit in South Africa to escape arrest under this warrant.
Brazil's president also stated that he would reconsider why his country signed the Rome Statute. "I want to know why the United States, India, and China did not sign the ICC treaty and why our country did."
Regarding the Russia-Ukraine crisis, Lula, co-founder of Brazil's Workers' Party, stated that he hopes the war will end before the G20 meets in Rio. "I hope that by the time we hold the G20 in Brazil, the war will be over, the people of Ukraine will have returned home, reconstruction will have begun, and food production will have returned to normal." "That's what I want," he stated.
In response to the New Delhi Leaders' Declaration, he stated that it is the "only way forward," adding that it is now becoming clear that the war is wearing on humanity.