India
Flood warnings to heatwaves: Why are states experiencing weather extremes?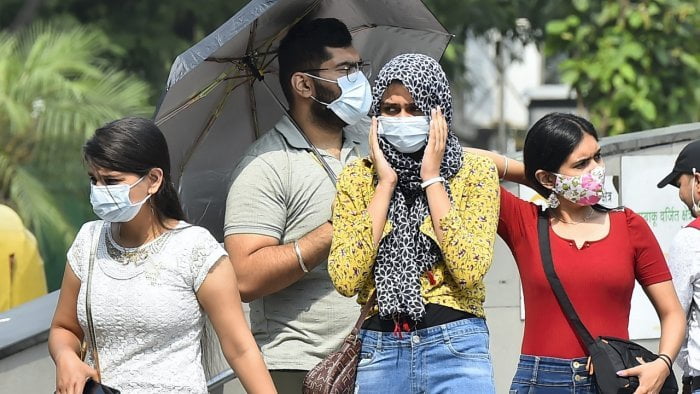 On Monday, several parts of India experienced extreme weather conditions, including flooding in northeastern states such as Assam and Sikkim, heavy rain in arid Rajasthan caused by cyclone Biparjoy, waterlogging in parts of Tamil Nadu, and the death toll from the heatwave in eastern Uttar Pradesh, Bihar, and Odisha climbed to 114, as the impact of the climate crisis was revealed.
While the monsoon has only reached parts of southern and northeastern India — it advanced into some parts of Karnataka, Andhra Pradesh, parts of Gangetic West Bengal and Jharkhand, parts of Bihar and Sikkim on Monday, according to the IMD (India Meteorological Department) — Rajasthan and Gujarat have received more than 200% of their normal rainfall. With a roughly 90% rainfall deficit, eastern Uttar Pradesh, Bihar, and Odisha are experiencing blistering heat. According to a map provided by IMD on Monday, the monsoon normally arrives around June 15.
Experts attributed the strange weather to global warming and the climate disaster. According to publicly available data, the climate issue is causing more extreme weather events, with the frequency of cyclones also increasing.
"The impact of climate change is most visible in three hotspots: the Himalayas, coastal regions, and semi-arid to arid regions, all of which are found in India." More rain is falling in the highlands, sea levels are rising, and the quantity and severity of storms in the coastal region are increasing, as are heatwaves in the desert region. "A delayed monsoon and cyclone Biparjoy are both linked to this long-term impact," said Anjal Prakash, associate professor at Bharti Institute of Public Policy, Indian School of Business (ISB) and lead author of two IPCC reports.
He says the Indian monsoon has evolved in recent years, and not for the better.
"Earlier forecasts showed that the monsoon would still be normal, but it is now likely to be deficient, and these are constantly changing," he continued.
14 more individuals admitted to the district hospital in Ballia, Uttar Pradesh, died of various ailments, bringing the hospital's death toll to 68 in the last four days. While officials have not linked these days to excessive heat, persons were brought to the hospital with high fevers and confusion, both of which are indications of hyperthermia.
While high temperatures increase the risk of hyperthermia or heatstroke, even low temperatures can be harmful when combined with excessive humidity since the body struggles to cool down through perspiration.
When temperatures, relative humidity, and wind speed are all considered, the heat index or "feels like temperature" is calculated, which is a more accurate tool for risk assessment.
On Monday, the temperature in Patna, Bihar, which accounted for most of the deaths, was 43.2°C, with a relative humidity of 42%. This raised the city's heat index to 59°C.
Heatstroke is caused by prolonged exposure to a heat index of 40-54°.
Meanwhile, flash floods have harmed at least 33,000 people in Assam, and torrential rain has caused many landslides in Sikkim.
According to the Assam State Disaster Management Authority, 142 villages in the state are underwater, and 1,510.98 hectares of cropland have been devastated.
According to an official statement, the Indian Army rescued 300 tourists stranded in Sikkim due to landslides and blockages.
"There is monsoon rainfall over north-east India; the remnant of cyclone Biparjoy is bringing rainfall to Rajasthan, Punjab, and Madhya Pradesh," IMD scientist Naresh Kumar said on Monday. Moist winds from the Arabian Sea also generate rain in higher elevations such as Uttarakhand. The monsoon has not yet reached East India. The heat stress over Bihar, Uttar Pradesh, and other states will gradually subside."
"Temperatures are expected to drop over Uttar Pradesh, Bihar, and parts of West Bengal in the next two days," said IMD Director General M Mohapatra. There will be heat relief."
In the aftermath of the cyclone, north Gujarat has been inundated by rain, resulting in a flood-like condition in sections of the Banaskantha, Sabarkantha, and Patan districts.
"The current rainfall in Gujarat is solely the result of the cyclone." "There is a good amount of rainfall in Saurashtra and Kutch, but it is minimal in other parts," said Manorama Mohanty, IMD director in Ahmedabad.
South-east and north-east Rajasthan and western Madhya Pradesh had mild to moderate rainfall on Monday, with isolated occurrences of strong to very severe rainfall.
Official data reveal that the sluggish monsoon and extreme weather have also hindered the planting of vital kharif or summer-sown crops, which account for half of India's yearly food output and impact consumer pricing.
The rain-bearing system, the lifeline of Asia's third-largest economy, was 47% below normal between June 1 and 13, when sowing data were available. While the monsoon had blanketed much of southern India up until Monday, the states had a rain deficit.
Related Posts