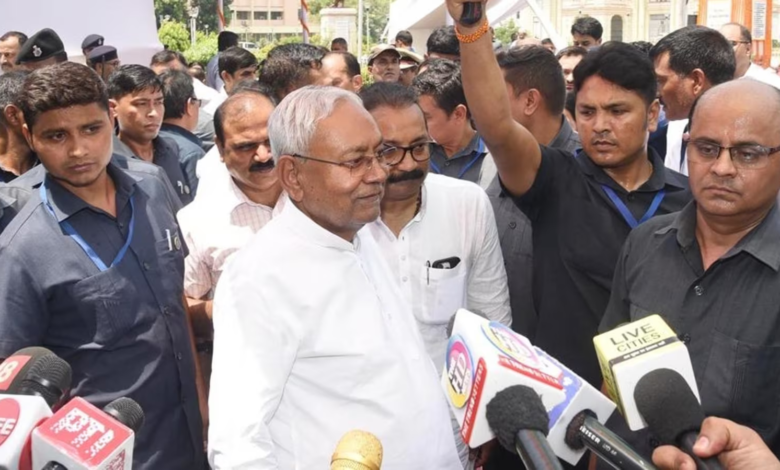 Bihar's chief minister, Nitish Kumar, evaded reporters' queries about the Uniform Civil Code (UCC) by stating, "Bahut gari hai" (the weather is extremely hot) and adding that the issue would be discussed later.
He was speaking to reporters in Bihar's Patna on Sunday.
"Bahut garmi hai…sab baat hoga baad mein, abhi bahut garmi hai (It's too heated. When a reporter queried Bihar Chief Minister Nitish Kumar about the Uniform Civil Code, he responded, "Let's discuss all matters later."
His remarks were made days before a June 23 meeting of senior opposition leaders scheduled to take place in Patna, Bihar. Notably, Bihar Chief Minister Nitish Kumar has convened this meeting to forge a grand alliance against the BJP in advance of the Lok Sabha elections of 2024, JD(U) national president Lalan Singh stated earlier.
Officials announced on June 14 that the Law Commission of India had solicited the views and ideas of the public and recognised religious organisations in order to examine the Uniform Civil Code amidst a heated debate over the need to institute uniform laws for every citizen of the country.
The ruling BJP-led coalition is "desperate for a legitimate justification of its continuing agenda of diversion from its glaring failures," according to the Congress, which criticised the government a day after the Law Commission solicited the opinions and ideas of individuals and recognised religious organisations regarding the Uniform Civil Code.
Jairam Ramesh, general secretary of the Congress, said in a statement that the 21st Law Commission, after conducting an exhaustive review, concluded that a Uniform Civil Code is "neither necessary nor desirable at this stage."
He stated that the Law Commission had produced an enviable corpus of work on numerous issues of national significance over the years.
"It should be mindful of this legacy and remember that the national interests are distinct from the political ambitions of the BJP."
The 22nd Law Commission of India is examining the Uniform Civil Code, according to a Ministry of Law and Justice reference document.
Since more than three years have passed since the release of the Consultation Paper, the 22nd Law Commission of India deemed it necessary to reconsider the subject in light of the subject's relevance and importance, as well as the various court orders on the subject.
According to the release, the Law Commission has given the respondents 30 days to submit their opinions on the UCC.
Related Posts