India
Heavy rain causes flooding and landslides in regions of the country. Know the prognosis for these nine states.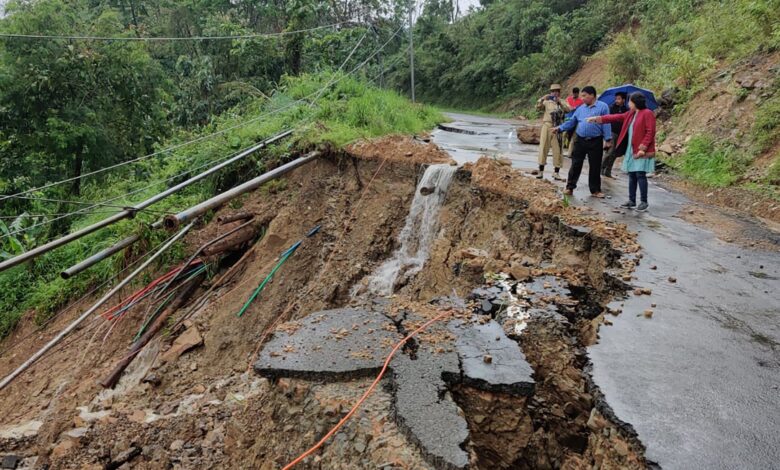 Silchar/Kolkata: Heavy rains that have been falling in Assam for the past five days have triggered flooding in 18 of the state's 31 districts, with at least 30,000 people fleeing their homes to seek refuge in rescue camps.
On Monday, the army rescued 300 more tourists who had become stranded in the North Sikkim district due to the continuous rain. According to the India Meteorological Department (IMD), Assam and Sikkim have received more than half of the season's rainfall in the last four days, causing rivers to overflow, landsides to flood, and flooding in various areas.
The weather prediction for the two northeastern states does not look promising, with the IMD anticipating exceptionally heavy rain to persist over the next two days.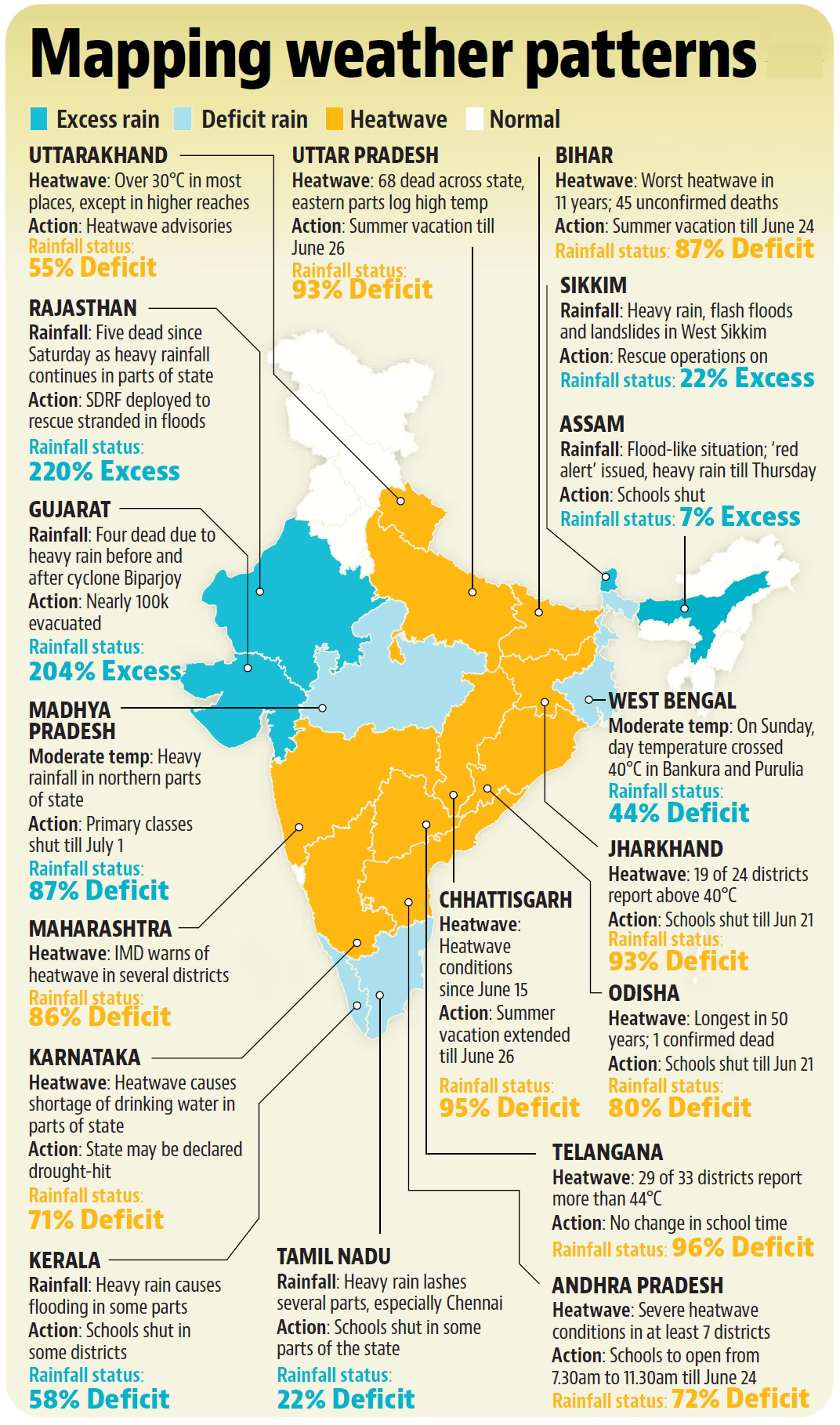 "Isolated extremely heavy rainfall likely over Sub-Himalayan West Bengal & Sikkim, Assam and Meghalaya during 18-20 June," the IMD warned in its advisory.
According to the Assam disaster management agency bulletin, the first wave of floods has affected 30,729 people in 444 villages in Assam. So far, no deaths have been reported as a result of the flooding, according to officials.
"Some of them have fled their homes to seek refuge in relief camps." "As of now, 25 relief camps have been established in seven districts, and the state government has requested that the other districts keep the camps ready," a state government official who requested anonymity said.
The army in Sikkim says it rescued 300 additional tourists from Chungthang in North Sikkim by constructing a makeshift bridge. According to an official statement, the Army offered the trapped tourists food, lodging, and medical care.
The Trishakti Corps of the Indian Army supported the Sikkim government in rescuing 3,500 tourists who were stuck in the North Sikkim district on Saturday, according to the statement.
In a statement, the Sikkim government stated that landslides had affected close to 20 villages and that essential support was being provided to them.
Meanwhile, torrential rains pelted numerous other states throughout the country on Monday, including Tamil Nadu, Himachal Pradesh, Rajasthan, and Gujarat.
"Extremely heavy rainfall in isolated locations across Rajasthan, Assam, and Meghalaya, as well as sub-Himalayan West Bengal and Sikkim." "Very heavy rainfall at isolated locations across Gujarat and Tamil Nadu," said the IMD statement on recent rainfall. "Heavy rainfall in isolated places over Tripura, West Madhya Pradesh, Marathawada, Gangetic West Bengal, Odisha, Coastal Andhra Pradesh, and Kerala."
According to the IMD, conditions are suitable for the South-west Monsoon to move further over areas of South Peninsular India, Odisha, Gangetic West Bengal, Jharkhand, Bihar, and East Uttar Pradesh in the next two to three days.
"The South-west monsoon has advanced further into some more parts of Karnataka, Andhra Pradesh, Westcentral & North-west Bay of Bengal; some parts of Gangetic West Bengal and Jharkhand; some parts of Bihar and remaining parts of Sub-Himalayan West Bengal & Sikkim today [June 19]."
Heavy rains drenched numerous portions of north Gujarat and Rajasthan in the previous 24 hours due to depression, a relic of cyclonic storm Biparjoy, generating a flood-like condition in many locations, according to officials.
The IMD stated in a release that several sections of Gujarat, particularly the Saurashtra region, are likely to get light to moderate rainfall over the next two days.
On Thursday evening, Cyclone Biparjoy landed near Jakhau on Gujarat's Kutch coast, downing trees and power lines and damaging homes. According to the IMD, the recent rainfall was caused by depression, a relic of cyclonic storm Biparjoy, across central sections of south Rajasthan and the surrounding region.
Around 30 people were rescued in Rajasthan's Pali and Jalore districts, while a government hospital in Ajmer was submerged as the rains continued, officials said on Monday.
Due to severe rain, schools in at least six districts in Tamil Nadu were closed on Monday. Ranipet, Chennai, Kancheepuram, Tiruvallur, Chengalpet, and Vellore are among the districts affected.
The IMD has also issued a rain warning for the next week for Himachal Pradesh, which has seen severe rains in recent days.
(With agency inputs)
Related Posts