India
Himachal Pradesh(Shimla)
Over 250 people stranded in Lahaul-Spiti, Himachal Pradesh, owing to snowfall were rescued.
Patients who were stranded received medical assistance.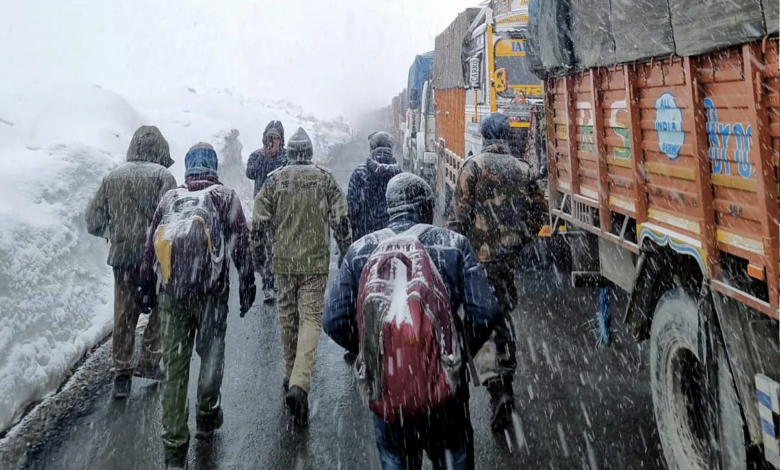 More than 250 persons stranded with their light vehicles and motorcycles at Baralacha La and the Lahaul and Spiti district due to snowfall were rescued after a multi-agency nighttime operation, police reported on Saturday. 90 light vehicles and 30 motorcycles were transported to
According to them, the Lahaul and Spiti Police, Border Roads Organisations, and Mountain Journey Jispa have shifted the focus of their joint operation to rescuing those stranded with their large motor vehicles.
However, the authorities did not disclose the number of individuals still awaiting rescue.
The operation was initiated on Friday evening after a tourist from Baralacha informed authorities that more than 400 vehicles, including more than 90 light motor, 30 motorcycles, and the remaining heavy motor vehicles, were stuck in a 10-kilometer-long traffic congestion caused by snowfall at Baralacha La.
A police team was immediately dispatched from Darcha, and it was accompanied by a team from the Lahaul Hotelier Association, Tourism Society, and Mountain Journey Jispa, as well as two police teams dispatched from Keylong, according to officials.
Patients who were stranded received medical assistance.
During the 15-16 hours of operation, light motor vehicles were relocated to safer locations, while heavier motor vehicles are now being relocated, police said.
Mayank Chaudhary, superintendent of police for Lahaul and Spiti, urged visitors visiting the district to adhere to police regulations.
Baralacha La (Bara-lacha Pass) is a high mountain pass in the Zanskar range that connects the districts of Lahaul and Leh in Himachal Pradesh and Ladakh, respectively.