India
The Supreme Court has agreed to examine the Centre's request to recall the April 26 default bail judgement.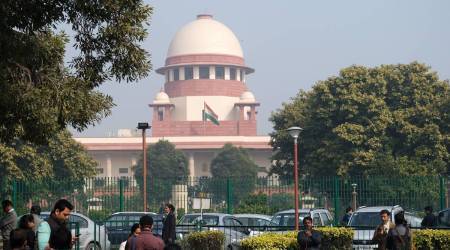 On May 4, a three-judge bench of the Supreme Court will hear the Centre's petition for recall of its April 26 ruling, which stated that "a chargesheet or prosecution complaint cannot be filed by an investigating agency solely to deprive an arrested accused of his right to default bail under Section 167(2) of the CrPC."
A two-judge bench presided over by Chief Justice of India D Y Chandrachud agreed to look into it and also directed that "in the meantime, if any other applications have been filed before any other court on the basis of the judgement of which recall is sought, they shall be presently deferred beyond 4 May 2023."
The April 26 decision by a two-judge bench in the case Ritu Chhabaria vs Union of India & Ors. deprecated what is said to be the "practise" of investigating agencies filing chargesheets in court even before the completion of the probe in order to deny default bail to the accused, and stated that even in such cases, the accused's right to default bail will not be extinguished.
While mentioning an appeal challenging a Delhi High Court order granting bail to an accused in a case investigated by the Enforcement Directorate on Monday, Solicitor General Tushar Mehta and Additional Solicitor General S V Raju told the CJI-led bench that the HC had based its decision on the Supreme Court's decision in the Ritu Chhabaria case.
Mehta stated that investigative agencies are required to present chargesheets within 60 or 90 days, depending on the case, and that they can seek more investigation under section 173(8) of the CrPC.
"No investigation can be completed in 60 days," he stated.
ASG Raju called the court's attention to the ruling's ramifications, particularly in circumstances where there are multiple accused and the investigation is complete only against some but ongoing against others. He noted that applications invoking the April 26 ruling were being filed across the country.
According to Mehta, the Ritu Chhabaria judgement is per incuriam because it failed to examine the prior binding decision of a co-equal court in the case, Dinesh Dalmia vs CBI, "which lays down a contrary principle of law, which has held the field for the past 16 years."
It also goes against the decision of a higher court in Vipul Shital Prasad Agarwal vs. State of Gujarat and Others, he says.
The SG went on to state that 15 applications had already been submitted in various courts throughout the country based on the Ritu Chhabaria judgement, and he urged the court to rule that they could not be relied on until the case was heard on May 4. However, the CJI stated that it would be a stretch to say that a judgement should not be relied on.
Related Posts