India
Rajnath Singh inaugurates the 'celebration of India's cultural heritage' at Somnath and criticises Rahul for his call for a strongly united' India to march.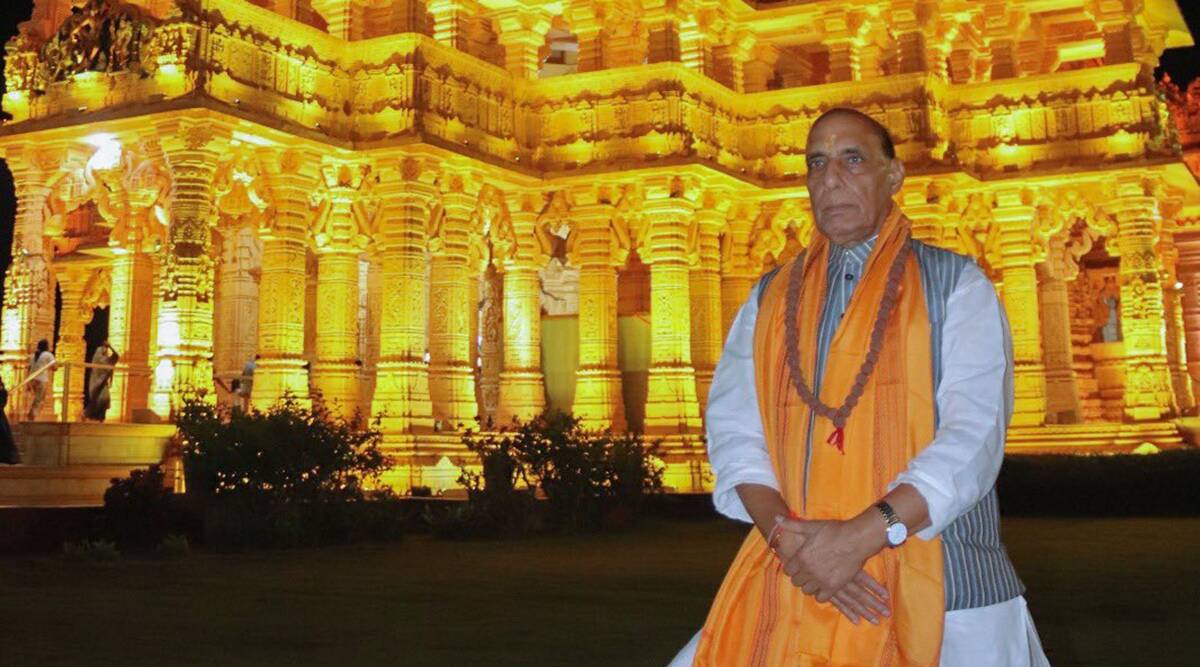 On Monday, DEFENCE MINISTER Rajnath Singh referred to the Saurashtra Tamil Sangamam (STM) as a celebration of India's cultural heritage and criticised Congress leader Rahul Gandhi for his recent Bharat Jodo Yatra, stating that Gandhi was attempting to "reunite a strongly united country"
Singh, speaking at the inaugural ceremony of STM near the renowned Somnath temple, stated, "As members of Saurashtra Tamil Sangamam, we have the opportunity to assemble on the premises of Somnath, the first jyotirlingam of the nation, and witness a moment that demonstrates the cultural unity of India. This confluence of Saurashtra and Tamil Nadu is a celebration of the country's cultural heritage, not just a meeting of people from the two regions."
The STM is a 10-day programme organised by the Central government and the Gujarat government to facilitate the return home of Saurashtrians who migrated to Tamil Nadu (TN). Singh, Gujarat Chief Minister Bhupendra Patel, Union Health Minister Mansukh Mandaviya, and Telangana Governor Tamilisai Soundara Rajan addressed the inaugural ceremony. The first train carrying approximately 300 TN residents arrived at Veraval junction in Gir Somnath district, where visitors were taken to the Somnath temple.
Singh praised the STM as an illustration of India's syncretic culture, stating, "The Prime Minister of our country, the honourable (Narendra) Modi ji, gave the finest mantra of Ek Bharat, Shreshtha Bharat. To make this mantra a reality, the people who created Saurashtra, meaning an attractive region, centuries ago are returning to their homeland… You've likely heard the adage, "You can take an Indian out of India, but you can't take India out of an Indian. This adage holds true for Saurashtrians."
Mandaviya asserted that in order to escape persecution by foreign invaders who repeatedly vandalised the Somnath temple and pillaged its wealth beginning in 1024 A.D., the people of Saurashtra sailed south and settled in TN.
Singh, who spoke in Hindi with Gujarat cadre IAS officer Arun Mahesh Babu serving as his Tamil interpreter, also emphasised India's tradition of providing refuge to those fleeing persecution and said that Saurashtra people finding a home in Tamil Nadu was a prime example.
"I sometimes wonder how Saurashtrians were able to survive in Tamil Nadu with so much pride and so little difficulty. "Despite being refugees, they were treated with the utmost respect," Singh said, adding that India is the only country in the world where all 72 Muslim sects reside and that India also provided refuge to Persians fleeing persecution in their country.
The Minister of Defence stated that this demonstrates India's commitment to the philosophy of regarding the entire world as a family. "It was this very spirit that led residents of Tamil Nadu to accept Saurashtratrians as their own and aided the Saurashtratrian community assimilating with their Tamil brothers and sisters, just as the waters of India's western and eastern seas mix.
Singh criticised Rahul Gandhi for his Bharat Jodo Yatra (unite India march), stating, "Today, it has become conventional to unite a nation that is already united, unbreakable, and unique. Those who are incapable of doing anything else unite India. India informs them that I am already united and have not yet split up. However, they refused to heed and insisted that they would only take a break after uniting India."
Patel stated that STM would become a source of national pride for India and credited the prime minister with conceiving the concept. "At the conclusion of this Sangamam, brothers and sisters residing in Madurai and Salem will feel that Gujarat and Saurashtra belong to them," said the chief minister.