India
Serious Allegations Emerge in Cash-for-Query Controversy Involving Trinamool MP Mahua Moitra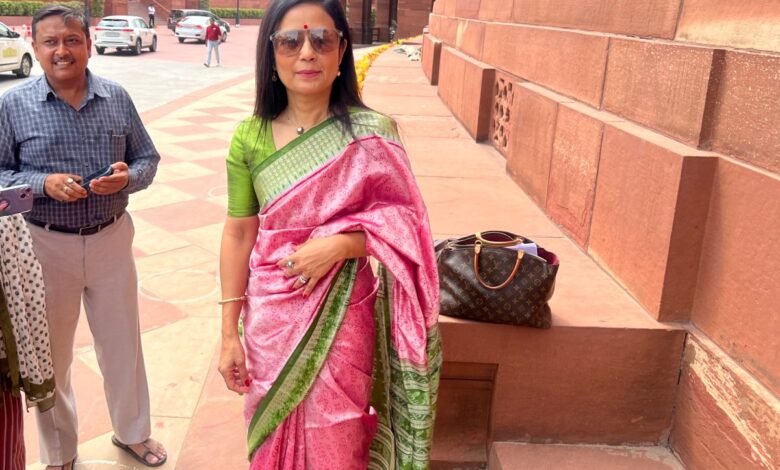 the ongoing cash-for-query controversy involving Trinamool MP Mahua Moitra has taken a serious turn, as Darshan Hiranandani, CEO of the Hiranandani Group, has submitted a three-page affidavit to the Lok Sabha Ethics Committee, making some remarkable allegations.
According to Hiranandani, Moitra provided him with her Parliament login and password, effectively giving him access to post questions on her behalf whenever necessary. He asserted that the initial draft of a letter, which is at the center of the controversy, was sent by the Prime Minister's Office (PMO), and he was pressured to sign it.
Hiranandani, a resident of Dubai, claimed in his affidavit that Moitra believed targeting Sh. Gautam Adani and his group was a means to attack Prime Minister Narendra Modi. Both Adani and Modi hail from Gujarat, and Moitra apparently sought to create a connection between the two. The affidavit has emerged shortly after BJP MP Nishikant Dubey alleged that Moitra accepted bribes to safeguard the interests of the Hiranandani Group.
Jai Ma Durga. pic.twitter.com/Z2JsqOARCR

— Mahua Moitra (@MahuaMoitra) October 19, 2023
Moreover, Dubey urged the investigation of the IP addresses linked to Moitra's Lok Sabha login credentials to ascertain if they were accessed by third parties. Hiranandani, who referred to Moitra as a personal friend, disclosed in his affidavit that he agreed to support her in her attacks on the Adani group. Moitra allegedly requested his support and provided her Parliament login and password so that he could directly post questions on her behalf.
In response to these allegations, Moitra issued a statement asserting that the Hiranandani Group had been threatened with severe consequences, including business shutdowns and CBI raids. The Hiranandani Group had previously refuted all charges against them.
The Hiranandani Group emphasized that they are committed to business rather than politics and have consistently worked with the government in the interest of the nation. Hiranandani's affidavit also mentioned that Moitra received assistance from others like Sucheta Dalal, who provided unverified information related to Sh. Gautam Adani and his companies.
Sucheta Dalal, a journalist and Managing Editor of MoneyLife, has categorically denied any involvement in the matter, stating that she does not have any connection with Mahua Moitra and was not contacted for assistance. This development has further added complexity to the already convoluted controversy.
Mahua Moitra had previously called for the government to reveal the location and log-in details of all MPs, as well as their call detail records, in response to the allegations raised by Nishikant Dubey. These allegations and counter-allegations have thrust the issue into the spotlight, demanding an impartial and thorough investigation.
Related Posts