India
Waris Punjab is being prosecuted. De: Punjab is under a security blanket as police shut in on Amritpal, 78.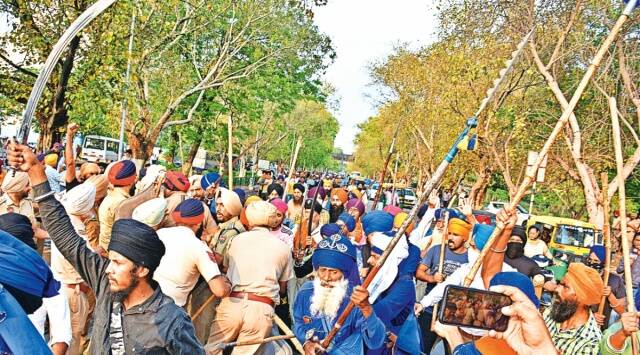 A Security blanket was stretched over Punjab on Saturday as police pursued Waris Punjab De head Amritpal Singh, a Khalistan sympathiser, who eventually gave them the slip. According to police, a manhunt has been initiated for Nab Amritpal, and 78 members of his organisation have been arrested.
The state government banned internet connections until Sunday noon while a cordon-and-search operation was initiated, and police held flag marches in most areas. Regulations preventing public gatherings were also in effect.
Amritpal was arrested on the eve of the death anniversary of singer Sidhu Moosewala and a day after the completion of the G20 conference in Amritsar.
According to sources, Amritpal was on his way to Bathinda when police attempted to stop him near Mehtabpur village in Jalandhar.
Around 11.30 a.m., his vehicle was halted at a police naka on the Jalandhar-Moga route. According to sources, this alerted Amritpal, who realised his vehicle was being pursued and eventually escaped.
What is the objective of this organisation, founded by Deep Sidhu and presently directed by Amritpal Singh?
Police encircled five villages in the Shahkot area in the evening, fearing he was hiding in one of them.
Amritpal was seen speeding in video footage that circulated on social media.
He was supposed to go to a local gurdwara in Bhadaur, Sangrur district, at 2 p.m., but he never showed up.
His hometown, Jallupur Khera, has been transformed into a fortification. "Police have urged us to tell him to surrender," Amritpal's father, Tarsem Singh, stated.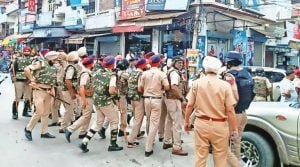 "Amritpal is fighting drugs, which is why there is political pressure to arrest him," he claimed. "Isn't selling drugs anti-national?" he remarked when asked if his son's activities were anti-national.
The raid happened only a day before Amritpal was set to resume Khalsa Vaheer, a baptismal march from Muktsar district.
According to a Punjab Police spokesperson, they launched a massive statewide cordon-and-search operation (CASO) against Waris Punjab De (WPD) elements involved in four criminal cases involving spreading disharmony among classes, attempting to murder, attacking police personnel, and obstructing the lawful discharge of public servants.
In the instance of Amritpal Singh, a plan was drawn out two weeks ago: Mann met Shah for Central Forces and waited for the G20 meetings to conclude.
According to the spokesperson, an FIR was filed on February 24 against WPD members for the attack on the Ajnala police station the day before.
When seven people were apprehended on the scene on the Shahkot-Malsian route in Jalandhar, Amritpal Singh and numerous more escaped. "A big manhunt has been underway to apprehend them," added the official.
Thus far, nine weapons (a.315 bore rifle, seven 12 bore rifles, and a revolver) and 373 live cartridges have been seized.
So far, 78 people have been arrested, with numerous others being detained for interrogation.
A group of Nihangs in Mohali stopped the airport route near the Sohana gurudwara and chanted slogans demanding Amritpal's release.
Don't miss |In the midst of the police raid on Amritpal, the father of deceased singer Sidhu Moosewala detects a scheme to damage his son's barsi.
Meanwhile, while in Dubai, Amritpal was in contact with Jaswant Singh Rode, brother of Pakistan-based proscribed Khalistani operator Lakhbir Singh Rode, and terrorist Paramjit Singh Pamma, according to intelligence sources.
The agencies have also obtained information about funds originating in Pakistan for Amritpal's treasurer, Basant Singh Daulatpura.
Over the last six months, intelligence agencies have compiled a dossier on Amritpal, documenting more than ten hate speeches, his financiers, the flaunting of weapons by his associates, his activities in cyberspace, social media accounts, and visits to drug rehabilitation centres, among other things.
Must read |Behind the crackdown, Amritpal faces four criminal charges, including attempted murder and assault on cops…
A meeting with officers from intelligence agencies and the Punjab Police was recently conducted at the Ministry of Home Affairs. "Intelligence officers informed the meeting that they had learned he was in direct contact with Jaswant Singh Rode, who was headquartered in Dubai. "Amritpal went to Dubai in 2012 to work for his family's transportation company," an officer added.
According to sources, he was also in contact with Khalistani militant Paramjit Singh Pamma, who is wanted for the 2010 twin bomb blasts in Patiala and Ambala and the 2009 murder of Rulda Singh, the chairman of the Rashtriya Sikh Sangat.
Giving information about Amritpal's financial support, another officer revealed that his treasurer, Basant Singh Daulatpura, had received funds from Pakistan. "The financial investigation found that his associate, John Singh, is a major member of Sikhs for Justice and actively participated in the activities of Referendum 2020 in the United States. "Another suspected funder residing in Canada just sent Rs 1 lakh to Waris Punjab De," the official said.
Amritpal spent one and a half months in Georgia before returning to India on August 20, 2022, according to a top officer.