India
Today, President Sisi of Egypt will meet with Prime Minister Modi and President Murmu, and six agreements will be finalised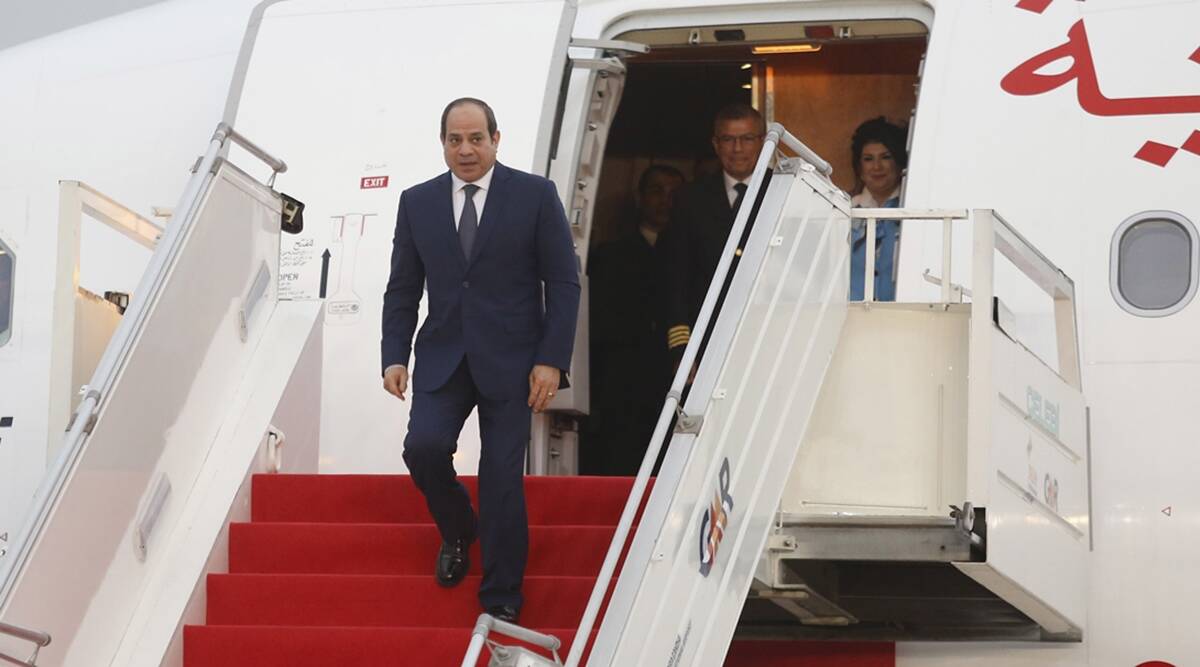 As Egypt's President Abdel Fattah El-Sisi visits India's Prime Minister Narendra Modi on Wednesday for their first meeting since 2017, India and Egypt are working around the clock to expand their collaboration in varied areas such as agriculture, cybersecurity, defence, trade, tourism, and education.
On Tuesday, Sisi landed in New Delhi and was greeted by Minister of State for External Affairs Rajkumar Ranjan Singh. Prime Minister Narendra Modi tweeted, "Welcome, President Abdel Fattah el-Sisi, to India." Your historic visit to India as our Republic Day's Chief Guest is a source of enormous joy for all Indians. I look forward to our discussions.
Sisi will be the first Egyptian President to be the chief guest at the Republic Day celebrations on January 26, a day after meeting with India's top political leaders, including Prime Minister Modi and President Droupadi Murmu.
Diplomats from both sides are currently negotiating at least six agreements.
Sisi previously travelled to India in October 2015 for the third India-Africa Forum Summit and in September 2016 for a state visit.
Egyptian military personnel will join in Thursday's Republic Day parade.
An invitation to the Egyptian President this year is regarded as noteworthy, particularly in light of the fact that India's relations with Muslim-majority countries were put to the test by contentious remarks made by former BJP spokeswoman Nupur Sharma in June of last year. New Delhi was aware that Egypt was one of the few Arab nations that did not issue an official response to the controversial remarks.
Tuesday, a representative for the Egyptian president stated that the invitation "reflects the convergence" between the two nations. "It also reflects India's profound appreciation for Egypt's leadership, government, and people, as well as its desire to strengthen joint cooperation between the two friendly countries as two of the most important emerging nations that play vital roles in various regional and international issues," the spokesperson said. Sisi's visit, accompanied by a high-level group consisting of five ministers and senior officials, is also anticipated to strengthen business ties.
In FY 2021-22, bilateral trade between India and Egypt reached a record high of $7.26 billion. The trade was relatively balanced, with India exporting $3.74 billion to Egypt and importing $3.52 billion. In numerous areas of the Egyptian economy, including chemicals, energy, textile, apparel, agribusiness, and retail, more than 50 Indian firms have invested over $3.15 billion.
On Wednesday, Rashtrapati Bhavan will conduct a welcome ceremony for Sisi, and in the evening, President Murmu will throw a state dinner.
"Sisi and the Prime Minister will hold a bilateral meeting and delegation-level discussions on bilateral, regional, and global topics of mutual concern. The Minister of External Affairs, S Jaishankar, will meet with President Sisi, according to the Ministry of External Affairs. On the same day, the visiting dignitary would meet with the Indian business sector during a business event.
The MEA also added, "India and Egypt enjoy cordial and amicable relations characterised by profound civilisational, cultural, and economic ties as well as people-to-people ties. The complex partnership is founded on similar cultural values, a commitment to promote economic growth, collaboration in the domains of defence and security, and convergence on regional and international concerns. The two nations collaborate closely on multilateral and global platforms."