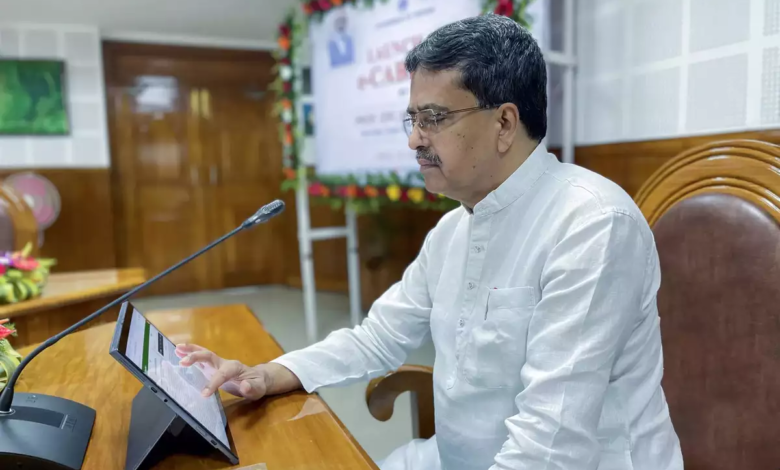 On Wednesday, Tripura Chief Minister Manik Saha inaugurated an e-cabinet system in Agartala to boost digital infrastructure development and the digitalisation of government services and information.
Tripura has now become the fourth state, and the second in the North-east, to implement an e-cabinet system, following Uttarakhand, Uttar Pradesh, and Arunachal Pradesh. Ministers and bureaucrats will use tablets to conduct all future cabinet sessions in the state, lowering the carbon footprint and environmental harm.
The chief minister launched the app to be used for the e-cabinet at a ceremony attended by all ministers at the new Secretariat complex.
In the first e-cabinet meeting, the government authorised a plan to obtain a loan of Rs 160 crore from the Asian Development Bank, which has previously supplied the government with soft loans at low interest rates and collaborated with it on various development projects.
In Tripura, various departments have worked on mission mode & implemented e-Office initiative, ensuring smooth governance.

Today felicitated such departments having 100 percent e-Office facility during a programme at the Secretariat.

I congratulate all the officials concerned… pic.twitter.com/zGBa7PvC5R

— Prof.(Dr.) Manik Saha (@DrManikSaha2) September 27, 2023
tourist Minister Sushanta Chowdhury stated that the new ADB cash will be used by the tourist and urban development departments to improve infrastructure and nurture an ecology of sustainable livelihood generating.
Chief Minister Saha stated that the e-cabinet would be modelled after the one used in Uttarakhand. Executives from the National Informatics Centre and the state's information and cultural affairs department introduced the e-cabinet system.
According to Saha, digitalisation will improve e-governance and link the state's development path with the national Digital India project. He noted that the change will promote transparency, efficiency, and accountability.
Saha added that the e-cabinet app would have capabilities that would allow ministers, the chief secretary, secretaries, and other officials to examine and approve cabinet notes online, as well as submitting them. He went on to say that the application has the greatest level of privacy protection features.
The e-cabinet system is expected to alleviate delays caused by the physical transportation of paper papers while also injecting vitality into the government's decision-making process.
As part of the Digital India effort, the government previously implemented e-file and office systems. The state administration has been attempting to implement digitisation on all feasible public service platforms as part of its objective to scale up digital infrastructure development across the state.
The government also presented honorary awards to departments that have gone paperless as part of their commitment to 100% e-office usage. On Wednesday, 41 of the 94 government departments that are being educated in paperless operations received commendations.
Related Posts