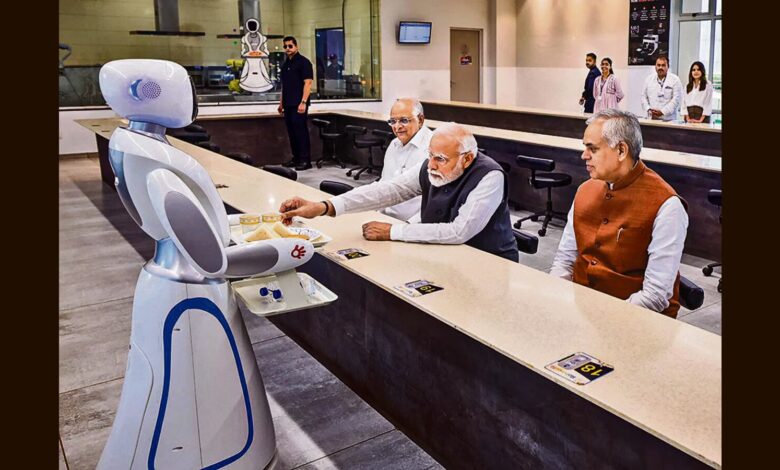 Prime Minister Narendra Modi Wednesday criticised the previous Congress-led UPA government for its indifference towards Gujarat's development and accused it of intimidating foreign investors against going to the state.
PM Modi was addressing an event organised to mark 20 Years of Vibrant Gujarat Global Summit. "It's been 20 years. It is very natural to remember all kinds of sweet and bitter things. Today the world is seeing the success of Vibrant Gujarat. But Vibrant Gujarat was organised in such an environment when even the then central government showed indifference towards the development of Gujarat," he said, adding that the central government at that time used to see the development of Gujarat through political prism.
He recalled that the then central government ministers used to refuse to come to the Vibrant Gujarat Summit.
"Personally, they used to tell me that they would definitely come but later they would say no… Forget cooperation, they were busy creating obstacles. Foreign investors were threatened not to go to Gujarat. Even after so much intimidation, foreign investors came to Gujarat," Modi said.
The investors, Modi said, though were not given any special incentive in Gujarat would come to the state due to "good governance, fair governance, policy driven governance, an equal system of growth, and transparent government".
Recounting the start of the Vibrant Gujarat Summit, Modi said the initiative was launched in the wake of the massive earthquake of 2001, which followed a "severe famine" in the state. He also mentioned the "heart-wrenching" incident of Godhra and the "violence" that followed in its aftermath.
"Apart from famine and earthquake, another major incident happened in Gujarat at the same time. Madhavpura Mercantile Cooperative Bank collapsed, due to which 133 more cooperative banks were affected by this storm… At that time, I had become an MLA for the first time, this role was also new for me, I had no experience of running a government. But the challenge was huge. Meanwhile, another incident happened. The heart-wrenching incident of Godhra took place and in the circumstances that followed, Gujarat burst into flames of violence," PM Modi said.
"Hardly anyone would have imagined such a dire situation. Even though I did not have much experience as a Chief Minister at that time, I had unwavering faith in Gujarat and the people of my Gujarat," he asserted.
He said that those who carry an agenda were busy analysing the events in their own way even at that time, spreading rumours that the youth and businessmen and industries from Gujarat will migrate out of Gujarat and that the state will become a huge burden for the country.
"A conspiracy was hatched to defame Gujarat in the world… It was said that Gujarat would never be able to stand on its own feet. Even in that crisis, I took the resolve that no matter what the circumstances be, I would take Gujarat out of it. We were thinking not only of the reconstruction of Gujarat but also of its future. And we made the Vibrant Gujarat Summit a major medium for this," Modi remarked.
Modi said that he sowed a small seed of Vibrant Gujarat, which has now become a "huge and vibrant" banyan tree.
"Vibrant Gujarat is not just an event of branding, but more than that, it is an event of bonding," he said.
Modi said that from the 100 participants and delegates who were associated with the summit in 2003, it has grown to over 40,000 now.
"In 2003, only a few countries participated in the summit. Today 135 countries are participating. At the beginning of this summit in 2003, around 30 exhibitors came; now there are more than 2,000 exhibitors," he said.
PM Modi said that the Vibrant Gujarat was successful even in 2009 when there was an atmosphere of recession all over the world, and added that when he started the Vibrant Gujarat summit, his intention was that Gujarat should become the growth engine of the country's progress.
"In 2014, when we were given the opportunity to serve the country, our goal also expanded, and our goal was to make India the growth engine of the entire world," Modi said, adding that within a few years India will be among the top 3 largest economies of the world. "This is Modi's guarantee," he asserted.
PM Modi said that the next 20 years are more important than the last 20 years.
"When Vibrant Gujarat completes 40 years, India will be nearing the centenary of its independence. This is the time when India will have to make such a roadmap, which will present it to the world as a developed and self-reliant nation by 2047. I am confident that all of you will work in this direction, take steps, and come forward," the Prime Minister said.
Gujarat Chief Minister Bhupendrabhai Patel, Welspun chairman B K Goenka; Chief Director General, Jetro (South Asia) Takashi Suzuki, and executive chairman of ArcelorMittal Lakshmi Mittal were present on the occasion.
Mittal congratulated the Prime Minister for the G20 and said that India has emerged as a global consensus builder under the leadership of the Prime Minister.
Related Posts