India
Our government increased transparency and eliminated system leaks: Prime Minister Narendra Modi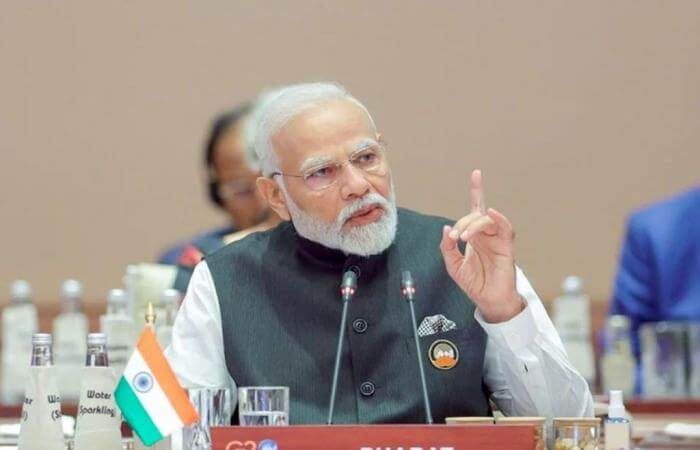 Prime Minister Narendra Modi remarked on Tuesday, referring to his accusation of imprisoning individuals, that "if someone steals the country's wealth, where should that person stay"
In his closing remarks at the G20 University Connect, Modi stated that his government has increased openness by implementing reforms and "eliminating dalals (brokers)" from the system, which was made possible by political stability, policy clarity, and democratic ideals.
"In the last nine years, there have been sincere efforts to combat corruption." There are a lot of you, students… What was your age in 2014, ten years ago? It had to be about ten, twelve, or fourteen years. So you wouldn't have known what the headline in the newspaper was at the time. "How corruption had ruined the country," Modi remarked, addressing a crowd of roughly 3,000 students, faculty members, and vice-chancellors from the participating universities, with an additional significant number of students attending online.
"We have developed a new technology-based system to eliminate middlemen and leaks." A transparent system has been established by implementing numerous reforms and eliminating brokers from the system. Dishonest people are penalised, and honesty is valued," he remarked.
According to the Prime Minister, nothing can prevent India from becoming a developed and 'atmanirbhar' nation by 2047 if the youth of India are resolute.
Modi discussed recent government initiatives aimed at empowering the SC, ST, and OBC populations and the poor and middle classes.
During his speech, the Prime Minister also referenced the Rozgar Mela, claiming that over 6 lakh adolescents have received appointment letters since its beginning.
Previously, the PM used video conferencing to issue appointment letters to 51,000 students.
P K Mishra, Principal Secretary to the Prime Minister, told the audience that the New Delhi Leaders' Declaration was unanimously endorsed at the "incredibly successful" and "historic" G20 Summit on September 9th and 10th, 2023.
"Most importantly, the consensus is a testimony to our Prime Minister's stature and India's leadership on the global stage," Mishra stated.
"In terms of organisation, India's Presidency has been unique, with over 200 meetings spread across 60 cities across the country," Mishra added. The Prime Minister's ambition was for the G20 to be a pan-India event, with events organised in every state and union territory."
"As a result, the G20 was decentralised, democratised, and brought to every corner of the country." Each state left its own cultural imprint on the minds of the delegates, providing the rest of the globe a picture of India's variety. "It has no precedent in any previous G20 meeting," he remarked.
Related Posts