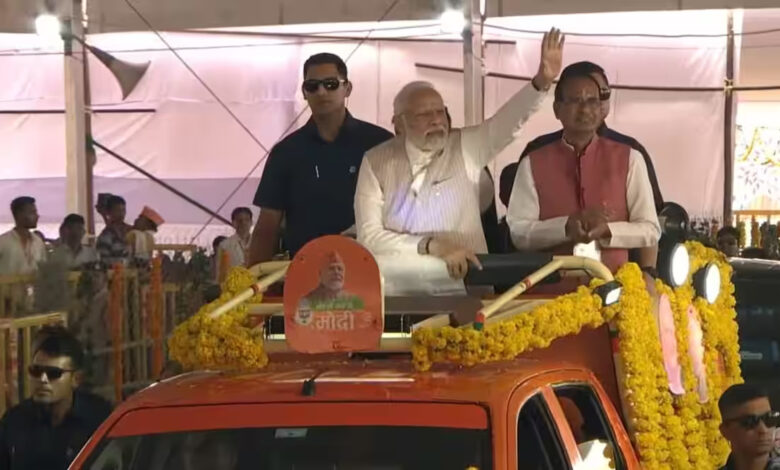 With the Assembly elections scheduled for later this year in mind, Prime Minister Narendra Modi attacked the Opposition, claiming that a Congress-led government could transform Madhya Pradesh back into the "BIMARU" state it once was.
PM Modi, addressing a gathering of BJP workers at the "Karyakarta Mahakumbh" in Bhopal, exhorted the electorate to choose development over regression, comparing Congress to "rusted iron" incapable of foreseeing the future and incapable of comprehending national ambition.
BIMARU is an acronym for the states of Bihar, Madhya Pradesh, Rajasthan, and Uttar Pradesh, which have historically lagged behind in terms of economic and social indicators.
In his address, Prime Minister Modi emphasised the importance of the impending elections to the development of the state of Maharashtra. He emphasised that the BJP's path of progress could only be maintained if the party remained in office. He drew attention to instances of poor governance under the Congress in Maharashtra and Rajasthan and emphasised the need for the continuance of BJP's developmental initiatives.
"The time has come to enhance MP. This crucial time will be squandered if Congress, a party with a history of corruption, comes to power. Wherever the Congress has gone, the states have been decimated. "MP must be saved; we cannot allow the state to be plundered," said the prime minister.
In addition, he criticised the party's consistent opposition to development-related projects, including those related to theediție services digitales. He asserted that the state of Madhya Pradesh was vital to the national vision and emphasised the BJP's two-decade rule in the state. This extended period of governance, he remarked, had resulted in significant positive changes, in contrast to the turbulent era under Congress, which was characterised by corruption and ineffective policies.
Modi also emphasised the glaring contrast between the two parties, stating, "Blessed are those who have never experienced the corrupt and ineffective policies of the Congress. After independence, Congress governed for a considerable period of time and renamed MP "BIMARU." In addition, he highlighted the dismal state of law and order and the deteriorating infrastructure during the tenure of Congress.
The Prime Minister declared that every BJP victory had been instrumental in catapulting the state to new heights with fresh vitality and unwavering commitment to development.
On the birth anniversary of Jana Sangh co-founder Deendayal Upadhyaya, the 'Karyakarta Mahakumbh' event has been organised.
Approximately 10 lakh party workers have congregated at Bhopal's Jamboree Maidan, where Modi will deliver a speech on the party's "mantra of victory" for the upcoming Assembly elections, according to the state president of the BJP, V D Sharma. The BJP launched five yatras covering more than 10,000 kilometres earlier this month. This will be Modi's third visit to the state in the past 45 days, demonstrating the BJP's efforts to retain power in the state by capitalising on the prime minister's popularity.
Related Posts