India
India-Middle East-Europe corridor to become basis of world trade for centuries: PM Modi on Mann Ki Baat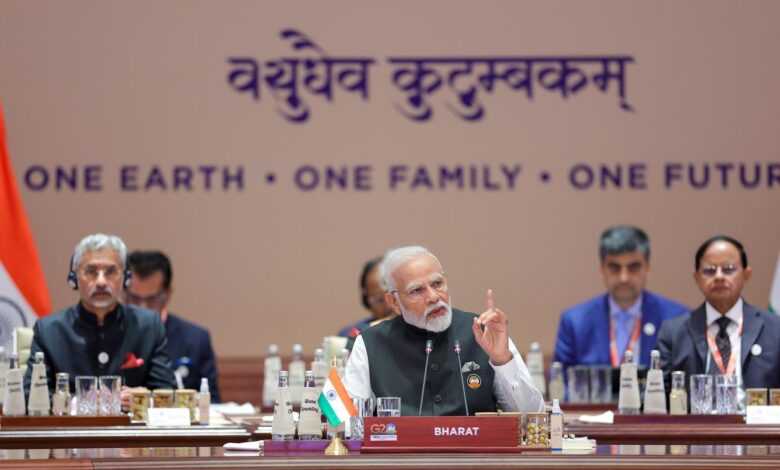 Prime Minister Narendra Modi on Sunday hailed the proposed India-Middle East-Europe Economic Corridor and said it "is going to become the basis of world trade for hundreds of years to come, and history will always remember that this corridor was initiated on Indian soil". Plans for the multimodal transport and energy corridor between India and Europe via the Middle East were announced at the recently concluded G20 Summit in the National Capital.
In his monthly radio programme Mann Ki Baat, PM Modi touched upon the "successful conduct" of the G20 event and said that "in this summit, India has proved the mettle of her leadership by making the African Union a full member" of the grouping.
The PM said that "these days, most of the letters and messages" he has been receiving "are largely on…the successful landing of Chandrayaan-3 and…the successful hosting of G20 in Delhi."
He pointed out that "more than 80 lakh people watched the landing of Chandrayaan-3 on ISRO's YouTube Live Channel which is a record in itself", and added that "this conveys how deep the attachment of crores of Indians is to Chandrayaan-3".
PM Modi said that "after the success of Chandrayaan-3, the grand hosting of G20 doubled the joy of every Indian". Bharat Mandapam, where it was held, "has turned out to be a celebrity in itself" and "people are taking selfies with it and also posting them with pride," he said.
The PM pointed out that a quiz competition titled 'Chandrayaan-3 Mahaquiz' is going on in connection with the success of the Moon landing and more than 15 lakh people have participated in the programme which is being held on MyGov portal. He said it "is the largest participation in any quiz after the launch of MyGov" and urged those who have not participated yet to do so.
PM Modi also announced the 'G20 University Connect Programme which is going to happen in Delhi on September 26 and said "through this programme, lakhs of university students across the country will connect with each other. Many prestigious institutions like IITs, IIMs, NITs and medical colleges will also participate in it".
PM Modi said that he himself "shall participate" in the programme and that he is "waiting to communicate with our college students".
Drawing attention to the upcoming World Tourism Day on September 27, PM Modi said that "a very big aspect of tourism is related to employment" and that "if any sector generates maximum employment with minimum investment, it is the tourism sector".
Touching upon how the G20 Summit will help the country's tourism sector, the PM said that "in enhancing the tourism sector, goodwill and attraction towards any country matter a lot. The fascination towards India has risen a lot in the last few years and after the successful organisation of G20, the interest of the people of the world towards India has grown further…More than one lakh delegates came to India for G20. They got acquainted with the diversity here; different traditions, different types of cuisines and our heritage. The wonderful experiences that the delegates who came here have carried back with them will further expand tourism".
PM Modi also referred to Shantiniketan and the Hoysala temples getting included in the UNESCO World Heritage List and said the Hoysala temples "getting recognition from UNESCO is also an honour to the Indian tradition of temple building".
He pointed out that the total number of World Heritage Properties in India has now reached 42. "It is India's endeavour to ensure as many of our historical and cultural places as possible get recognised as World Heritage Sites. I urge all of you … whenever you plan to travel somewhere, try to observe the diversity of India".
In his address, the PM also highlighted the story of 21-year-old German woman Kasmi, who is a fan of Indian music. Sharing some of her music videos, the PM said "Kasmi has been blind since birth, but this difficult challenge did not stop her from extraordinary achievements. I wholeheartedly appreciate Germany's Kasmi's passion for Indian culture and music. Her efforts are going to overwhelm every Indian".
PM Modi also referred to the "unique 'Ghoda Library' for children" started by some youth in Uttarakhand with a view to promote education. "The biggest feature of" the Ghoda library…is that books are reaching children even in the most remote areas and not only this, the service is absolutely free. Till now, 12 villages of Nainital have been covered through this. Local people are also coming forward to help in this noble cause related to children's education," he said.
He went on to mention 11-year-old Akarshana Satish who runs seven libraries for children in Hyderabad, adding that Akarshana "got her inspiration two years ago when she went to a cancer hospital with her parents".
PM Modi also emphasised the need for compassion towards living beings. He said "most of our deities' carriers are animals and birds. Many people visit temples to have darshan of God, but they do not pay much attention to the animals that transport them. These creatures should not only remain at the centre of our faith, we should also protect them in every possible way".
He said that "during the last few years, in the country, a commendable rise has been observed in the numbers of lions, tigers, leopards and elephants. Many other efforts are also going on continuously to save other animals living on this earth".
The PM said that "Azadi Ka Amrit Kaal is also the period of duty for every citizen of the country. Only by performing our duties can we achieve our goals and reach our destination. The sense of duty binds us all together".
Referring to how residents of 70 gram panchayats in Uttar Pradesh's Sambhal came together to rejuvenate the Sot river, he said that "by walking on the path of duty, you too can become the medium of many such changes around you".
The PM said that "a big event on cleanliness is going to be organised on the 1st of October i.e. Sunday at 10 am" and people "can…join this cleanliness campaign in your street, neighbourhood…or at a park, river, lake or any other public place and cleanliness must be undertaken wherever an Amrit Sarovar has been built. This karyanjali of cleanliness itself will be the true tribute to Gandhiji."
The Prime Minister also urged the people to be vocal for local this Navratri and said that "as far as possible, you should buy goods made in India, use Indian products and gift only Made in India goods….Whatever Indian goods you buy, our labourers, workers, craftspersons and other Vishwakarma brothers and sisters will directly benefit from it".
Related Posts