India
Act against 'anti-India terrorists': Adhir slams targeting of PM in Canada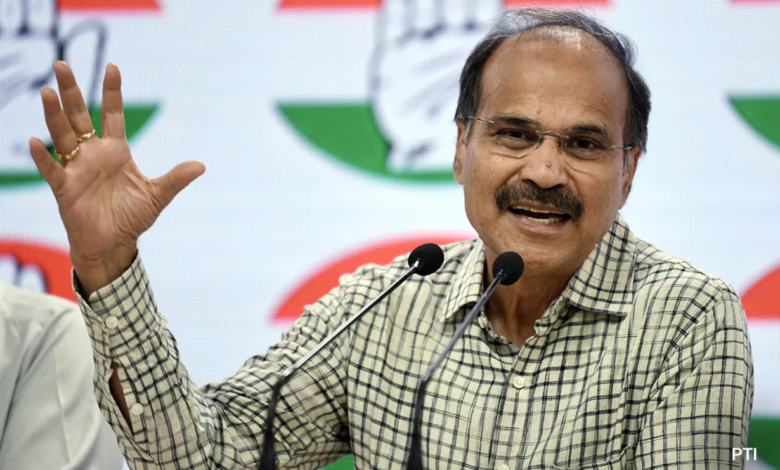 As Khalistan separatists staged protests Tuesday outside Indian missions in Canada where they burnt the Tricolour and struck a cut-out of Prime Minister Narendra Modi, Congress senior leader Adhir Ranjan Chowdhury "strongly" condemned these "heinous acts" and came out in support of the government, urging it to take all steps against "anti-India terrorists".
Chowdhury, who leads the Congress in Lok Sabha, said in a post on X, "Without mincing any word, I do strongly condemn the heinous act of Khalistani elements in Canada who even dared kicking a cardboard figure of our Prime Minister Narendra Modi & burnt down INDIAN FLAG. Indian government should take all necessary measures against those anti-India terrorists."
A report by news agency Reuters said about 100 protesters in Toronto burned an Indian flag and struck a cardboard cut-out of Modi with a shoe. About 200 protesters also gathered outside the Vancouver consulate. In Ottawa, fewer than 100 people gathered in front of the Indian High Commissioner's office and waved yellow flags marked with the word 'Khalistan', the report stated.
The Congress and other Opposition parties have so far refrained from questioning the government's handling of the slide in ties with Canada though they have called for "intensive diplomatic engagement" to resolve the "serious crisis" while ensuring the security of Indians in Canada.
In its official comments, the Congress earlier said it has "always believed that our country's fight against terrorism has to be uncompromising, especially when terrorism threatens India's sovereignty, unity and integrity" and that "our country's interests and concerns must be kept paramount at all times".
Related Posts