India
PM Modi: The recent passage of the Women's Bill demonstrates that a majority government is necessary for the nation's advancement.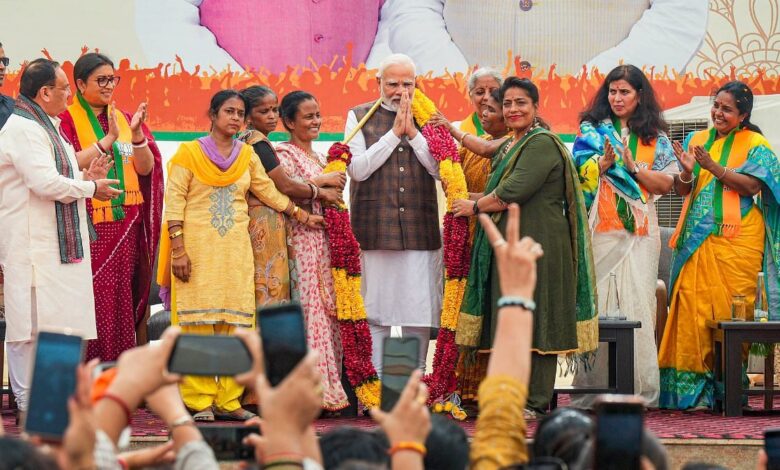 Prime Minister Narendra Modi stated on Friday that the passage of the Constitutional Amendment Bill to pave the way for women's reservation in the Lok Sabha and state legislative assemblies demonstrated the need for a majority government to advance the nation. A day after Parliament passed the bill, he addressed women at the BJP's central office.
This statement was made by PM Modi months before the Lok Sabha and five state elections.
He congratulated all women on the passage of the bill and inquired as to how the government accomplished this and implemented other women's empowerment measures. In response to the women chanting "Modi hai to mumkin" (Modi makes it possible), Modi said he wanted to correct them: "All of this was accomplished not by Modi, but by you; by multitudes of people in the country. Our nation chose a majority government. With your vote, we were able to complete essential unfinished business."
He added, "When there is a government with a complete majority, significant decisions are made. We could reach such a conclusion. We did not permit any political interests with vested interests to oppose the bill. In the past, only halfhearted efforts were made. "Derogatory terms were also directed at women."
Additionally Read | Women's reservation: What is the path to implementation?
Without naming them, he criticised parties such as the Rashtriya Janata Dal and the Samajwadi Party by stating, "Those who used to tear up Bills had to support this Bill due to the rise of women's influence in the country. I had faith in your power, and your power caused this to occur."
PM Modi also struck a conciliatory note by expressing gratitude to all parties for passing the Bill. "There were numerous obstacles. There were enduring issues. However, when one has excellent intentions, one does achieve positive outcomes. The unanimous support for the bill in the House of Representatives is unprecedented. I appreciate the efforts of all political parties and representatives. Today, the nation is eliminating all obstacles for mothers and sisters. We devised scheme after scheme to achieve the same."
The Prime Minister also listed a number of government schemes that he said empowered women, such as Beti Bachao Beti Padhao to address the gender imbalance, Ujjawala to provide clean cooking gas, building toilets, providing tap water connections, extending paid maternity leave so that women can continue to work after childbirth, opening the doors of the Army and Sainik Schools to women, joint ownership in PM Awas Yojana houses, and opening bank accounts for women under Jan Dhyan Yojana.
"Today, every woman's confidence is soaring to new heights. Today, mothers and daughters are extremely pleased. We are fortunate to have been able to steer this legislation through the legislative process. This is not a typical law. It concerns India's new democratic tradition, he explained. "This is evidence that Modi's guarantee has been met. The BJP has been attempting this for three decades. This was our commitment, which we honored."
"Socially, immediate triple talaq has been eliminated. Our Muslim sisters are now protected from the immediate triple talaq," Prime Minister Modi said, tying the measure to Muslim women's emancipation.
Related Posts