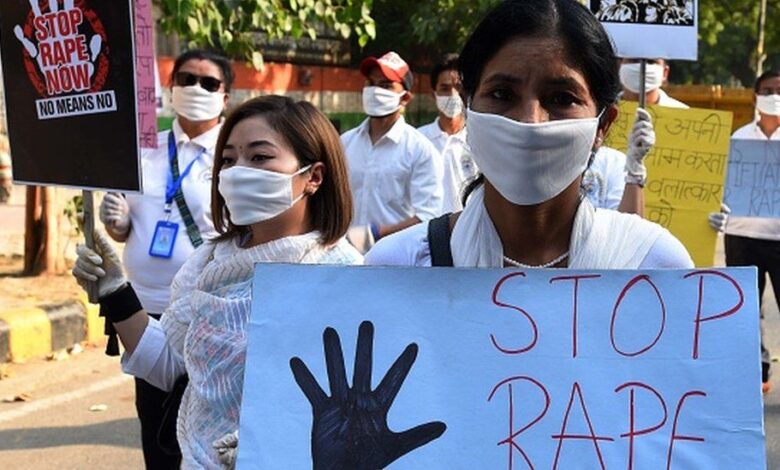 Bleeding and partially clothed, a minor girl, who had been raped, was seen on CCTV footage going door to door in search of help in Madhya Pradesh's Ujjain district. The footage, which shows no one coming to her aid as she walks around the area for an hour, and one resident even shooing her away, prompted shock and outrage across the state.
The girl was eventually spotted by an ashram worker, Rahul Sharma (21), at 9:25 am. Sharma, who runs a gurukul at the local ashram, said, "I was going for some important work. I saw her standing a few feet away from my main gate and her clothes were missing; it looked like she was wearing some rags. She was bleeding heavily, her eyes were swollen and she looked afraid."
Sharma immediately gave her something to wear and fed her porridge, water and tea. He asked the girl about her family but was unable to understand her language. "I gave her Rs 100 and called the police. I gave her a piece of paper and a pen, but she was unable to write anything. She was handed over to the police at 10:25 am. This is a holy town and people around here are supposed to be helpful, but no one helped her and she went door to door crying. It sends a bad message to society… there was no humanity," Sharma told The Deccan Era.
Police said they found the injured girl on Monday morning near the ashram and took her to a local hospital, where she is undergoing treatment and is said to be out of danger.
A senior doctor from the hospital told The Deccan Era, "The victim has undergone surgery and has been under observation. She has been under constant monitoring. It is still too early to comment on her health… surgical complications can be dealt with but mental complications are difficult to tackle," the doctor said.
Ujjain Superintendent of Police Sachin Sharma told The Deccan Era: "The medical examination has confirmed rape. We have formed a Special Investigation Team and detained a suspect, an auto-rickshaw driver, who was seen speaking to the girl in the CCTV footage. We have some circumstantial evidence and will soon make an arrest."
According to police, the girl was not able to give them a proper name or address. Police said they have accessed CCTV footage and are trying to find out how she got there and where she was assaulted.
"The girl has been unable to communicate where she comes from properly and the circumstances surrounding the incident. We think she belongs to Uttar Pradesh, but with lack of documents, it is difficult to ascertain her address and family members," SP Sharma said.
Related Posts