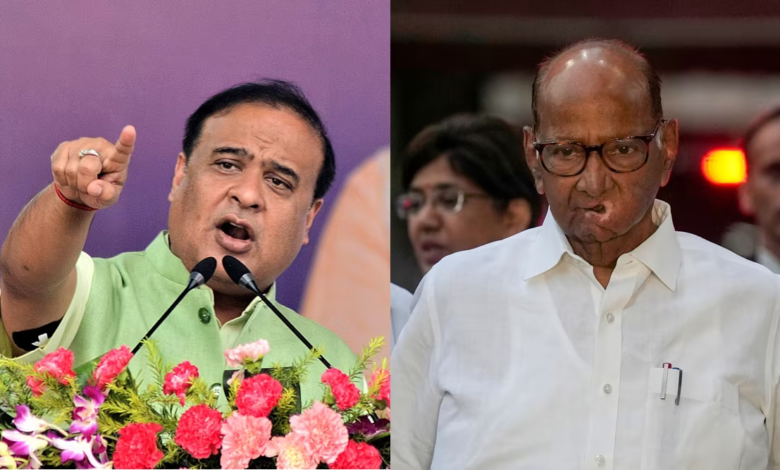 Assam's Chief Minister, Himanta Biswa Sarma, who is also a prominent leader of the BJP, recently made a statement that has ignited a significant political controversy. The controversy began when Sarma responded to a reporter's question about Sharad Pawar, a senior leader of the Nationalist Congress Party (NCP), and his views on the Israel-Hamas conflict.
#WATCH | Delhi: On NCP chief Sharad Pawar's reported statement regarding India's stance on the Israel-Palestine conflict, Assam CM Himanta Biswa Sarma says, "I think Sharad Pawar will send Supriya (Sule) to Gaza to fight for the Hamas." pic.twitter.com/JrTWwIOM9T

— ANI (@ANI) October 18, 2023
Sarma made a provocative remark in his response, suggesting that "Sharad Pawar will send Supriya Sule to Gaza to fight alongside Hamas." This comment raised eyebrows and generated intense discussions within political circles.
The trigger for Sarma's comments was his concern about the positions taken by certain Indian politicians on the Israel-Hamas conflict. His primary point was that even Hamas, an organization internationally designated as a terrorist group, has acknowledged its involvement in kidnapping children. Sarma expressed his apprehension that some Indian politicians appeared to be granting Hamas a "clean chit," which, in his view, warranted scrutiny.
Sharad Pawar's recent remarks further fueled the debate. While addressing party workers in Mumbai, Pawar made statements that seemed to deviate from India's historical stance on the Israel-Palestine issue. Pawar said, "The role of Jawaharlal Nehru, Rajiv Gandhi, Indira Gandhi, Atal Bihari Vajpayee was to support Palestine. For the first time, the Prime Minister of this country supported the role of Israel. The NCP's position should be clear. We stand with the people who originally belonged to that land." These comments signified a departure from India's traditional policy of supporting the Palestinian cause.
Sarma also took the opportunity to criticize Rahul Gandhi, a prominent Congress leader. He alleged that the party refrained from condemning Hamas due to the upcoming Telangana polls. During a recent Congress Working Committee (CWC) meeting, Sarma claimed that the issue of Hamas was discussed, with most members advocating condemnation. However, Rahul Gandhi purportedly suggested extending support to Palestine, leading to the passage of a resolution reflecting this stance.
In response to Sarma's remarks, Supriya Sule, a well-known NCP leader, expressed her surprise and disappointment. She pointed out that both she and Sarma share a Congress background, and she was taken aback by his changed attitude and approach, attributing it to his shift to the BJP.
The controversy didn't stop there. Maharashtra Deputy Chief Minister Devendra Fadnavis urged Sharad Pawar to speak out against terrorism, emphasizing India's consistent stance against terrorism while maintaining its historic position on the Israel-Palestine issue.
Shiv Sena's Sanjay Raut also joined the debate, suggesting that Sarma's party switch indicated that the BJP was "no less than Hamas." He underscored the enduring nature of India's stance on the Israel-Palestine conflict across different governments.
#WATCH | Shiv Sena (Uddhav Thackeray faction) leader Sanjay Raut says, "The party he (Assam CM) belongs to is no less than Hamas. He should first read & understand history. He is a part of BJP and should know former PM Atal Bihari Vajpayee's stand on Palestine-Israel…" pic.twitter.com/hToUQNA1NJ

— ANI (@ANI) October 19, 2023
RJD MP Manoj Jha defended India's traditional position in support of Palestine, emphasizing the nation's history in this regard. He also criticized Sarma's comments, suggesting they were driven by domestic political considerations during a humanitarian crisis.
Meanwhile, Delhi Minister Saurabh Bharadwaj advocated for a nuanced perspective. He suggested that issues related to Hamas and ISIS are complex and should not be directly linked to the country's internal politics.
Related Posts