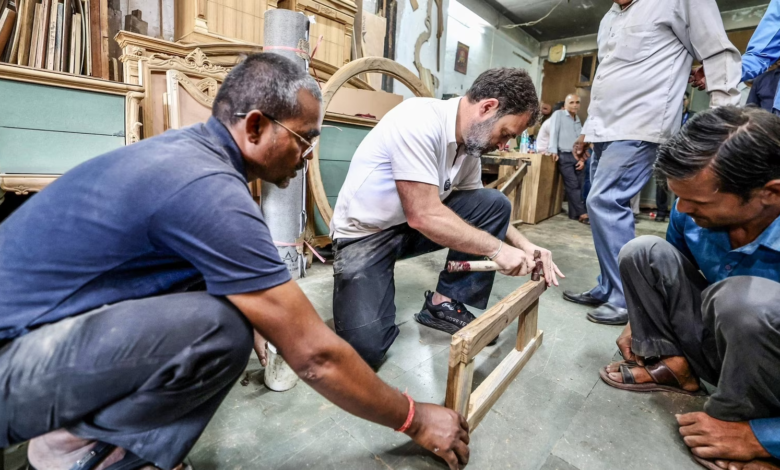 Weeks after Congress leader Rahul Gandhi's excursion to the Kirti Nagar furniture market in New Delhi, the Member of Parliament has shared a 14-minute video capturing his engaging encounter with the workers, maintaining his consistent approach of documenting interactions with diverse sections of the Indian population.
Gandhi's visit to the furniture market in September marked the third step in his outreach campaign within the national capital, as he prepares for the forthcoming Lok Sabha elections. This endeavor aligns with the Congress party's overarching strategy, extending the footprint of his Bharat Jodo Yatra.
In the video, an interesting dialogue unfolds between Gandhi and a carpenter, commencing with a conversation about the challenges of obtaining a loan. When asked about his intentions for Rs 1-2 lakh rupees, the carpenter enthusiastically responds, "I will purchase wood, secure substantial orders, employ skilled artisans, and expand my business."
The video then follows the MP as he navigates the labyrinthine lanes of the bustling market, reaching out to people with warm gestures, including handshakes and hugs. Subsequently, the video showcases Gandhi inside a workshop surrounded by carpenters, illustrating him as an eager learner, participating in wood cutting, smoothing, and even crafting a school bench alongside the workers.
Ram Dayal Sharma, the workshop's overseer, expresses his astonishment, stating, "No leader has ever visited us. It's truly unbelievable."
The video's progression features the Congress MP discussing the prospect of establishing a bank for Vishwakarmas (a traditional artisan community) and receiving favorable responses from the carpenters. Sharma warmly acknowledges the idea, while the Congress leader emphasizes the need for government support through loans, tools, and machinery.
In the closing moments of the video montage, another carpenter named Balaram shares his perspective, asserting, "A prime minister should be someone who listens to everyone."
Gandhi's Kirti Nagar visit follows earlier engagements, including meetings with fruit and vegetable vendors at Azadpur Mandi in August, interactions with porters at Anand Vihar railway station, conversations with farmers cultivating paddy fields in Haryana's Sonipat district, and dialogues with women farm laborers, whom he subsequently invited to his mother's residence.
Related Posts