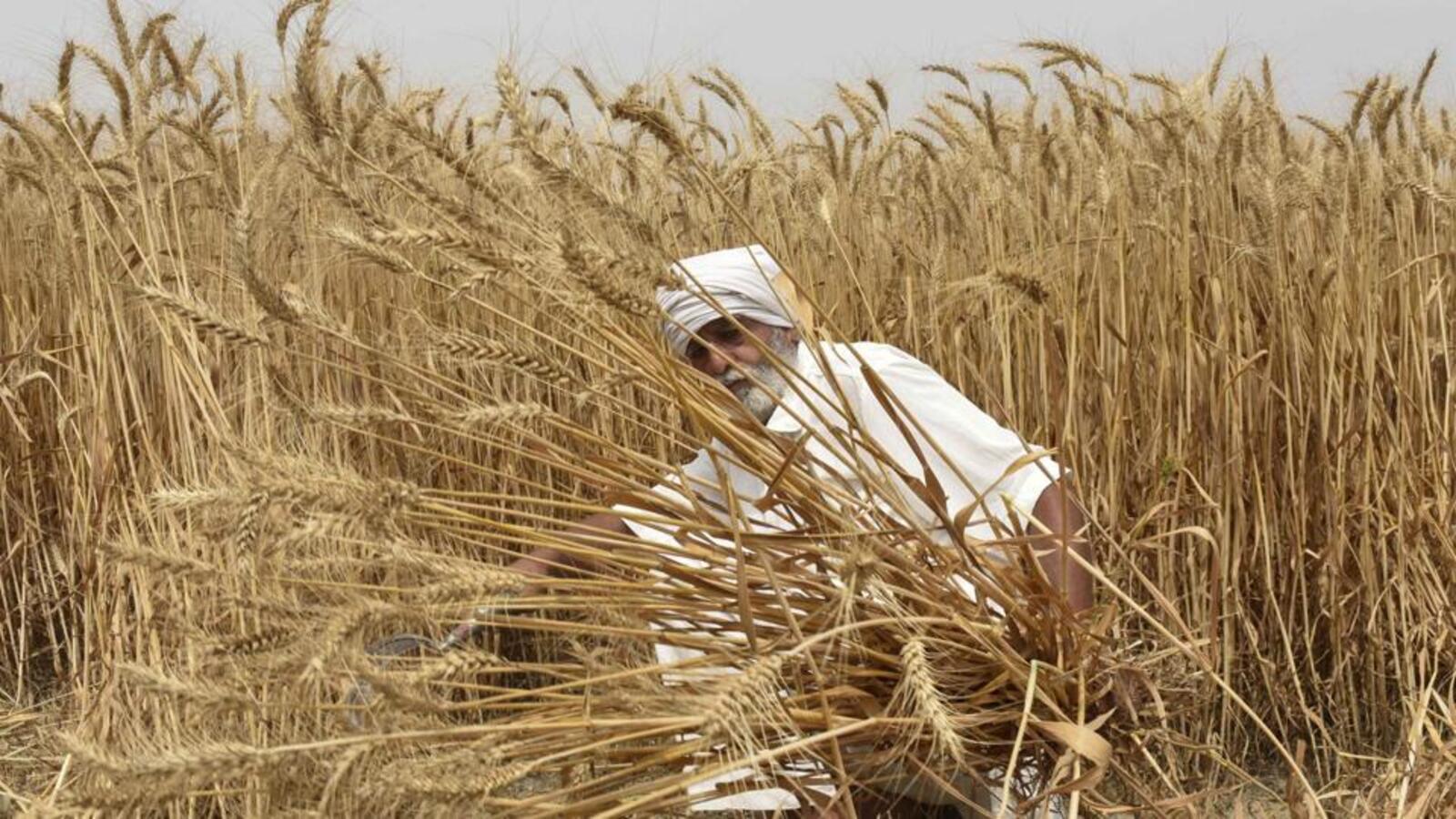 Farmers in Madhya Pradesh (MP) are selling wheat below the statutory minimum support price (MSP) of Rs 2,125 per quintal due to a bumper harvest and the government's intention to sell up to 45 lakh tonnes (lt) of grain from the Food Corporation of India's stockpiles on the open market.
"Normal-quality wheat is selling in the Malwa, Bhopal, and Narmadaspuram mandis for Rs 1,800 to 2,000 per quintal" (of western MP). According to Mahesh Trivedi, a retired divisional manager of the MP State Cooperative Marketing Federation based in Indore, the government has not yet begun purchasing wheat at MSP.
Due to a weak harvest as well as increased open market prices fuelled by export demand, procurement decreased in both the state (46.03 lt) and all of India (187.92 lt) in 2012-2013.
Tridevi, a member of the Rashtriya Swayamsevak Sangh-affiliated Bharatiya Kisan Sangh and Sahakar Bharati farmer and cooperatives organisations, cautioned that a delay in the commencement of MSP purchasing operations could cost the ruling BJP dearly in an election year. In November, the state is set to hold elections for the Assembly.
The administration of the MP has announced that wheat procurement would begin on March 25, despite the fact that market arrivals of the crop, the majority of which is planted in the first week of November, have already begun this month. Prior to the marketing season, farmers in Minnesota are obliged to register in order to sell wheat to state agencies at MSP.
"Many farmers did not register this year because they believed that private merchants and flour millers would pay more than the MSP. Prices in mandis such as Indore, Ujjain, Badnagar, Dhar, and Badnawar were between Rs 2,800 and 3,000 a quintal as of the end of January, according to Bane Singh Chauhan, who cultivates 25 hectares of wheat in the Lohari Bujurg village of the Dhar district and tehsil.
The stumbling block has been the Center's open market sale plan. In February and March, a total of 45 lakh tonnes (lt) of wheat from FCI's inventories were allotted for e-auction sales to millers and bulk consumers. 33.77 lt of the total 45 lt allocation have been sold thus far in six auctions at weighted average all-India prices ranging from Rs 2,474/quintal on February 1-2 to Rs 2,172 on February 23. (see table).
"Prices have decreased due to the FCI's dumping of wheat." So, farmers who did not register to sell their harvest to the government at MSP will be subject to the whims of merchants. Rainfall would exacerbate the situation by inflicting damage to the grain. Afterwards, the merchants will blame high moisture content and loss of sheen to further depress prices," warned Chauhan.
The MP government's food, civil supplies, and consumer protection department had initially extended the registration deadline until March 10 from February 28. The department's online 'e-uparjan' site is no longer accepting new registrations.
This year, according to Trivedi, the number of registered farmers in the Indore division (which includes the districts of Dhar, Jhabua, Alirajpur, Barwani, Khargone, Khandwa, and Burhanpur) has decreased from 1,50701 to 1,17,352.
Based on the revenue department's 'girdawari' report, the division's total crop area for the current season was 12.36 million hectares (lh). In contrast, just 2.86 lh of land was planted by registered farmers. That indicates that the remaining 9,5 lh will not be eligible for MSP procurement. And this is for a single state division.
Trivedi wanted two things of the MP government. The first step is to reopen 'panjiyan (registrations)' to allow the greatest number of farmers to access MSP and begin purchase as soon as possible. The second objective is to increase the current procurement limit of 40 quintals per hectare. "Many farms harvest 60 quintals or more. Should they be punished for being more productive?
MP is the second largest contributor of wheat to the Central pool, behind Punjab. It accounted for 128.16 lt of the total 433.44 lt of wheat acquired by government entities during the 2020-21 crop year. Due to a weak harvest as well as increased open market prices fuelled by export demand, procurement decreased in both the state (46.03 lt) and all of India (187.92 lt) in 2012-2013.
This year, the outlook for wheat production in Minnesota and other states is positive. And as a result, prices are decreasing or even falling below the MSP.