India
BJP leader Ramesh Bidhuri's offensive remarks against MP Danish Ali sparks outrage: A lowdown on the row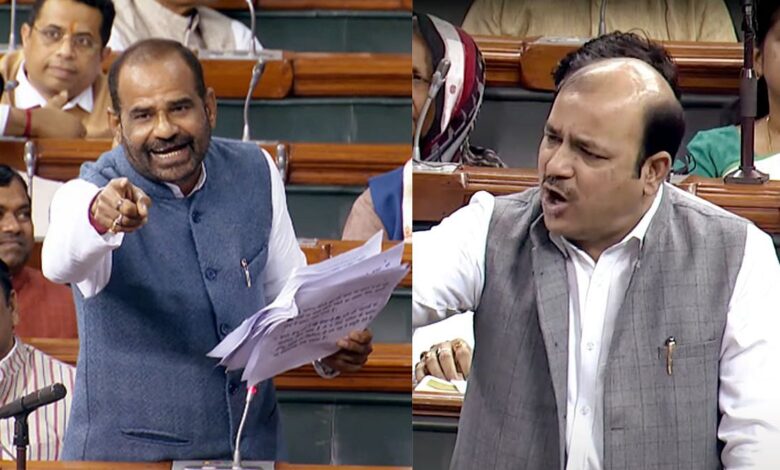 Bahujan Samaj Party MP Danish Ali on Friday demanded the suspension of Ramesh Bidhuri from the Lok Sabha and described the BJP parliamentarian's derogatory remarks against him as "hate speech".
Addressing media, the BSP MP expressed that he is contemplating leaving Parliament over the incident. Ali approached Lok Sabha Speaker Om Birla for action against Bidhuri over the offensive remarks made during the debate in the Lok Sabha on the Chandrayaan-3 mission Thursday night. The Speaker has expunged the remarks.
What exactly happened in the Lok Sabha?
Ali, an MP from Amroha in Uttar Pradesh, told The Indian Express that the remarks were made sometime after 10 pm in the Lok Sabha, while the debate over the women's reservation Bill was on in the Rajya Sabha and he had drawn the Speaker's attention to it. "The BJP MP was speaking in the House. During the speech, he said some people wanted Prime Minister Modi to die like a dog. I intervened and asked him what he was saying and that no one said that about the honourable Prime Minister. Then he called me names, which included 'terrorist'. I want to ask RSS chief Mohan Bhagwatji, what is taught in their shakhas? Is this what they learn in Prime Minister Modiji's pathshala?"
BJP leaders said Defence Minister Rajnath Singh had apologised immediately after Bidhuri made the remarks in the Lok Sabha. "He apologised to the House as the Deputy Leader and ensured the smooth functioning of the proceedings," a source in the BJP said.
When contacted, Ramesh Bidhuri said he did not want to comment on the House proceedings.
What remarks were allegedly made by Bidhuri?
In his letter to the speaker, Ali wrote: "I write to you with deep anguish regarding the speech given in the Lok Sabha by an MP of the BJP, Mr Ramesh Bidhuri, during the discussion on Chandrayaan success… During the course of his speech, he directed the most foul, abusive invectives against me, which are part of the records of the Lok Sabha. Among the words he directed against me were 'Bhadwa' (pimp),'Katwa' (circumcised one),'Mullah ugravadi' (Muslim terrorist) 'atankvadi' ( terrorist), etc…"
BSP MP Danish Ali writes to Lok Sabha Speaker Om Birla, seeking issue of BJP MP Ramesh Bidhuri's use of objectionable language to be referred to privileges committee. pic.twitter.com/RY0rzdD80s

— Press Trust of India (@PTI_News) September 22, 2023
Sources said Birla had taken a serious view of use of unparliamentary words by a member. "He has issued a warning that if there is any recurrence of such behaviour in future, strict action will be taken," sources in the Lok Sabha secretariat said.
What action has BJP taken over this incident?
The BJP on Friday issued a show cause notice to Bidhuri for his use of objectionable words in Parliament. BJP sources said the party has sought a reply from the South Delhi MP for his use of unparliamentary words. Opposition parties are demanding strict action against him, including suspension from the House.
Why Delhi BJP MP Harsh Vardhan is also criticised
A video, showing Union ministers Vardhan and Ravi Shankar Prasad 'laughing' during BJP MP Bidhuri's controversial speech, was shared widely on social media. "While I was no doubt witness to the jugglery of words being thrown at each other (which in fact the entire House was), the truth of the matter is that in the chaos that existed, I could not clearly hear what was being said," the former Union minister said in defence. Taking to X, previously Twitter, Vardhan said: "It is a notorious and fabricated story filled with negativity and is being used by some vested political elements on social media to tarnish my image. In thirty years of public life, I have worked closely with lakhs of Muslim brothers and sisters in my constituency as well as with colleagues from various walks of life."v
How have opposition parties responded to the incident?
Opposition parties have written to LS Speaker Om Birla to refer issue of BJP MP Ramesh Bidhuri's comments to privileges committee, PTI has reported.
Trinamool Congress MP Mahua Moitra criticised the BJP in a post, with a video clipping of Bidhuri's speech attached. "Keeper of Maryada @ombirlakota Vishwaguru @narendramodi & BJP Prez @JPNadda… any action please?" she posted.
National Conference leader Omar Abdullah told ANI: "This shows what they (the BJP) think about Muslims… They should be ashamed." Via a post on the social media platform X, he asked how Muslims can identify with BJP as their party, while addressing the incident. "Bharwa" (pimp), "Katwa" (circumcised), "Mullah Atankwadi" (terrorist) & "Mullah Ugrawadi" (militant). How easily expletives roll off the tongue of this hateful "Hon" MP! Hate against Muslims has been mainstreamed like never before. How do Muslims who identify the BJP as their party coexist along side this level of abject hatred?" the National Conference leader posted.
The Aam Aadmi Party called it the blackest day in the history of Parliament. RJD MP Manoj Jha said he was "saddened, but not surprised".
Congress communication head Jairam Ramesh said that Ramesh Bidhuri spoke in a language which is an insult to every MP. "The Defence Minister's apology is just an eye wash," Ramesh said.
"What is very disgusting is BJP MPs Harsh Vardhan and Ravi Shankar Prasad were laughing instead of stopping or correcting Bidhuri from speaking in such a manner," Clyde Crasto, national spokesperson of NCP's Sharad Pawar-led group, told reporters. "The Prime Minister has given rise to a depraved (vikrit) social and political culture in which one of his MPs glorifies the terrorist who assassinated Father of Nation Gandhi ji," former Bihar Chief Minister Lalu Prasad Yadav wrote without taking any names.
Related Posts