India
Bidhuri's remarks have sparked contention: Another BJP member requests that the Speaker investigate Danish Ali's behaviour.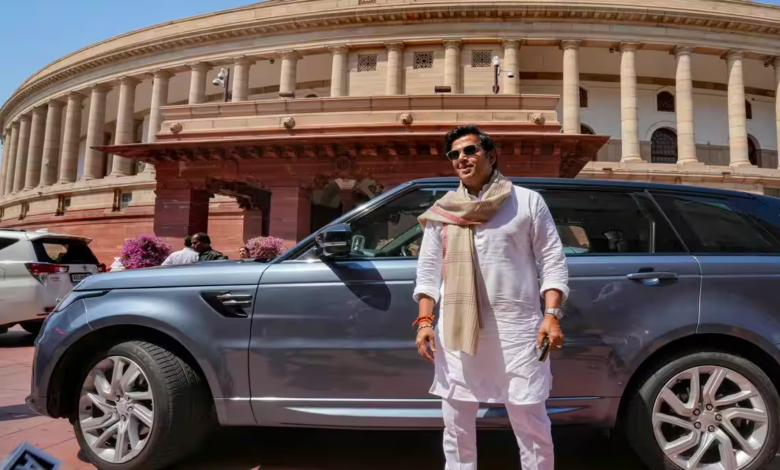 According to BJP MP Ravi Kishan Shukla, the BJP member uttered the unacceptable terms as a result of "constant heckling and disturbance by Ali, and that too in the heat of the arguments." (Photo courtesy of Express)
Following Nishikant Dubey, another BJP MP, Ravi Kishan Shukla, wrote to Lok Sabha Speaker Om Birla on Sunday, demanding him to investigate BSP MP Danish Ali's conduct in the House, alleging "unparliamentary" acts and use of language.
With opposition parties calling for harsh punishment for the BJP's Ramesh Bidhuri's insulting statements about Ali in the House on Thursday, Dubey said that the BSP MP's remarks were intended to incite the governing party member.
On Sunday, Ali called Dubey's claims "baseless" and said that after his "verbal lynching" in Lok Sabha, a narrative for "lynching" him outside the House was being put up.
According to Shukla's letter to the Speaker, whatever comments Bidhuri used against Ali are "unacceptable in any way," but the circumstances that led to the use of "such objectionable" remarks by an MP against another member of Parliament in the House "need to be revisited and examined."
On September 21, several "unprecedented and unparliamentary things" occurred in Lok Sabha, according to the Lok Sabha MP from Gorakhpur. Ramesh Bidhuri, a BJP member, used "some objectionable and inappropriate words" against a BSP member in the House.
Although Bidhuri's use of terms was "quite inappropriate, unacceptable, and not in keeping with the high standards" of Parliament, he claimed the BJP member used the offensive words owing to "constant heckling and disturbance by Ali, and that too in the heat of the arguments."
Shukla stated that whatever remarks Bidhuri used against Ali are "unacceptable," but the manner things are "manipulated" and utilised for the "political agenda and grabbing media attention" by the BSP member is "objectionable."
"In the instant case, I would like to draw your kind attention towards the habit and behaviour of heckling by Kunwar Danish Ali during the discussion or participation of another Member of Parliament in the House in the past," Shukla wrote in his letter.
"He had used unparliamentary language against me twice. "On December 9, last year, while I was tabling my Private Members Bill titled 'The Population Control Bill, 2019' in the House, Danish Ali tried to interrupt me and made personal remarks against me stating that the Member is introducing a Private Members Bill in the House despite having four children himself," the BJP MP charged. Such behaviour is "unacceptable" and should be investigated by "your esteemed office," he told the Lok Sabha Speaker.
"What happened in the House on September 21 is completely unacceptable in any way." However, I would like to ask you to look into the matter and investigate Kunwar Danish Ali's unparliamentary behaviour and use of language while I was tabling my Private Members Bill on population control on December 9, 2022, in the House, for which I would be grateful," Shukla added.
BJP MP Nishikant Dubey wrote to the Lok Sabha Speaker on Saturday, urging him to look into the behaviour and remarks of Danish Ali, who was recently subjected to insulting remarks in the House by governing party member Ramesh Bidhuri.
In his letter to Speaker Om Birla, Dubey accused Ali of providing a "running commentary" during Bidhuri's address in Lok Sabha on Thursday, as well as making derogatory remarks intended to cause him to lose his cool.
Ali, according to Dubey, also made a "highly objectionable and blasphemous" statement about Prime Minister Narendra Modi. He used the "neech" barb, according to the BJP leader, and it was enough for "any patriotic public representative to lose his calm and fall into his trap by uttering unsavoury words." On the other hand, Dubey was unequivocal in his condemnation of Bidhuri's remarks, adding that no decent society could support them and that they could not be criticised enough.
On Saturday, the opposition parties increased their pressure on the Lok Sabha Speaker to take harsh action against Bidhuri for his insulting statements on BSP MP Ali in the House.
K Suresh, the Congress chief whip in Lok Sabha at the time of the event, is among the leaders who have written to Birla demanding that Bidhuri be suspended immediately and that the case be referred to the privileges committee.
Related Posts