India
The stalemate in the Lok Sabha continues as the Opposition and the BJP dispute over Rahul Gandhi; the House adjourns until 2 p.m.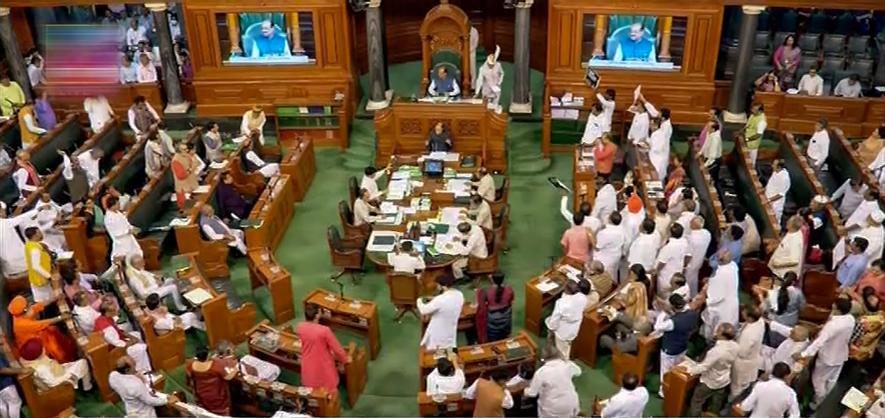 Thursday's Lok Sabha proceedings were again unexpectedly halted, as the Congress-led Opposition sought an opportunity for Rahul Gandhi to address the House and the ruling BJP demanded an apology from him for his London statements.
Grant requests are on the agenda when the House meets in the afternoon.
With no dialogue probable among the mounting animosity between the two sides, guillotining of the demands for funds is slated to be taken up at 6 pm. Also, the day's agenda includes reviewing and passing the Appropriations Bill.
As the Lok Sabha convened on Thursday, Congress leaders Adhir Ranjan Chowdhury and Gaurav Gogoi requested that Gandhi be permitted to address the "allegations" against him in the chamber. They disobeyed Birla's request to take their seats so he could conduct Question Hour, after which the leaders could raise their concerns. Gandhi was not present in the House.
The members of the BJP then up and shouted "Rahul Gandhi maafi maango" As Congress, DMK, and Left legislators rushed to the well of the House, the speaker adjourned the session until 2:00 p.m.
Gandhi was found guilty of criminal defamation in a 2019 case filed against him for his "Modi surname" remarks by a court in Surat. The charge was launched against Gandhi for his claimed comment, "Why do all the thieves have the surname Modi?" in response to a complaint made by BJP MLA and former Gujarat minister Purnesh Modi. During a rally in Kolar, Karnataka, prior to the 2019 Lok Sabha elections, Gandhi purportedly made the remark.
The BJP took the opportunity to mount pressure on Gandhi and the Opposition. Darshana Jardosh, a BJP MP and Union Minister from Surat, stated outside the Lok Sabha that Gandhi should stop "talking false things and lies" now that the court had convicted him guilty.
Jardosh claimed that the Opposition was unnecessarily disturbing the proceedings since Gandhi was not present to address the House.
The Rajya Sabha has also been adjourned till 2 p.m.
Related Posts