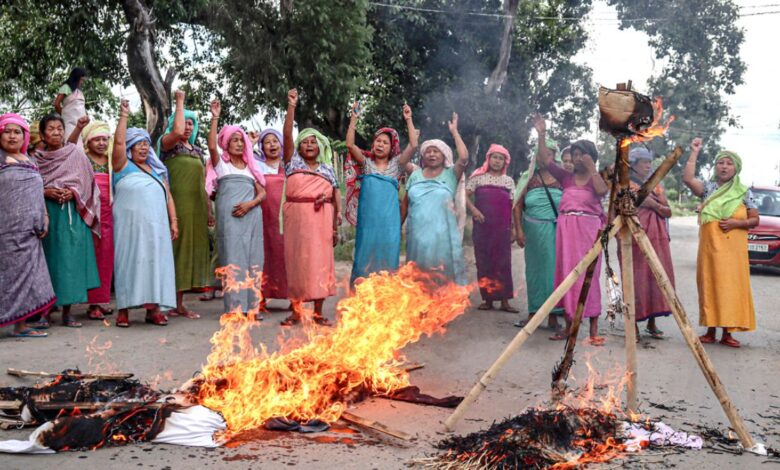 A court in Imphal released all five men who had been arrested last week for wearing camouflage uniforms and possessing firearms on Friday. During the hearing, the accused rationalised their possession of military-grade/deadly weapons by saying that "unknown volunteers" had handed them over earlier and departed, and they ended up keeping them.
The five men were arrested on September 16 in Konga, Imphal East, and charged with IPC Section 121 A (conspiracy to commit offences against the state) – a non-bailable offence – and UAPA Section 16 (punishment for a terrorist deed). In addition, Section 6(1)(a) of the Official Secrets Act was invoked, which pertains to using an official uniform to deceive.
A Special Judge (NIA) in Imphal East ruled that neither IPC Section 121 A nor UAPA Section 16 can be applied in this case because the defendants were detained before committing the alleged offences.
Police claim that the five were apprehended after a check of the vehicle in which they were travelling. They were discovered wearing "camouflage dress" and in possession of an INSAS rifle, an SLR rifle, two.303 rifles, numerous magazines, and live ammunition.
According to investigators, 45-year-old suspect Moirangthem Anand began working for the Meitei separatist group People Liberation Army of Manipur (PLA) in 1991 and received military training for the organisation.
He has been arrested on multiple occasions in the past.
Moirangthem claimed he obtained the INSAS rifle a few days ago when he went to a firing range and encountered "one unknown Meitei volunteer" attempting to restore it, according to court documents.
"He observed for some time, but the unknown person was unable to complete the task. He approached him to assist him. Being a trained member of the PLA's cadre, he fixed the rifle's flaw and the unidentified Meitei volunteer gave it to him with ammunition. The unknown individual then departed. According to the court's order, Moirangthem brought the INSAS Rifle home with him and concealed it.
Related Posts