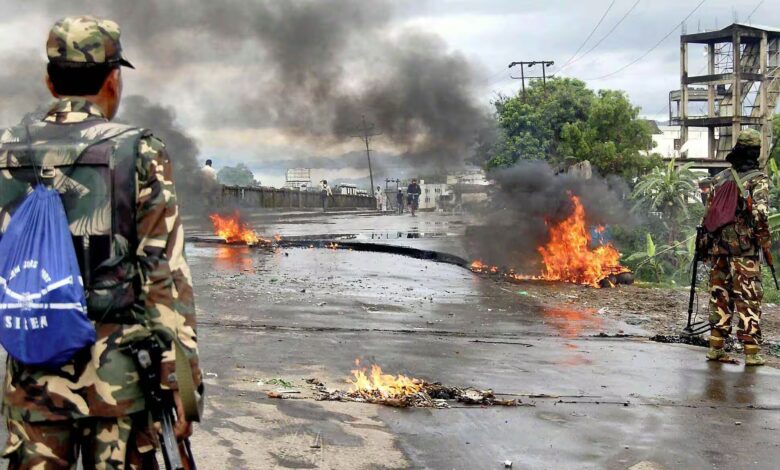 The "disturbed area" status under the Armed Forces (Special Powers) Act, or Afspa, will remain in place throughout Manipur, with the exception of 19 police stations in the valley districts, with the state government stating Wednesday that it chose "status quo" in light of the current law and order situation.
The "disturbed areas" notification published on Wednesday will take effect on October 1 in the state besieged by conflict. It is valid for six months, after which the Union Ministry of Home Affairs (MHA) might regularly extend it based on the scenario in Manipur.
The order, issued by the Manipur Government's Home Department, stated that "it is not expedient to have a detailed assessment on the ground as the Sister Security Agencies are preoccupied with the maintenance of law and order" due to the state's current condition.
The order stated that it is "not appropriate" to evaluate the "disturbed area" status since it would be "premature" to decide on "such a sensitive matter without detailed assessment."
Manipur Violence: Kharge Targets Modi, Calls for Manipur CM's Removal
Manipur has had "disturbed area" designation under the Afspa since 1980, and it was only removed from some portions of Imphal in 2004 after massive demonstrations following the assassination of Thangjam Manorama, 32, earlier that year.
Since 2022, the areas notified as "disturbed" have been gradually reduced, and it was withdrawn from the region of 19 police stations, all of which are located in the state's Meitei-dominated valley, on April 1, 2023.
On May 3, the continuing ethnic violence in the state erupted.
The decree said that the "issue of declaration of 'Disturbed Area' status is very sensitive and may likely attract public criticism and resistance if proper care is not taken." According to the statement, the administration has chosen to "maintain the status quo" in light of this sensitivity as well as "the overall law and order situation in the state and the capability of the State machineries."
The Act, among other things, empowers an officer of the armed forces to "fire upon or otherwise use force, even to the causing of death" against "any person who is acting in contravention of any law or order" if they believe it is necessary, while also prohibiting prosecution of those acting under the Act unless the Central Government authorises it.
Related Posts