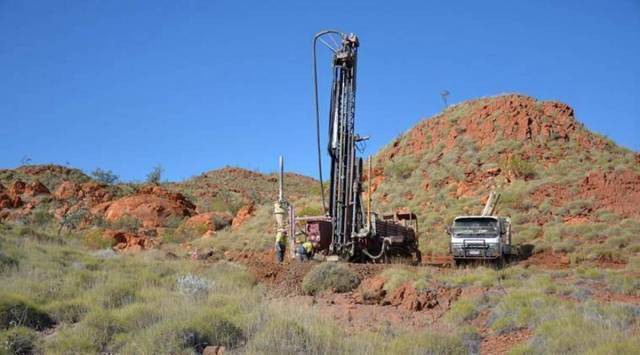 An government official indicated that the geographical formation in Jammu and Kashmir where 'inferred' lithium resources of 5.9 million tonnes were recently identified likely extends well beyond the original location where the mineral was discovered, and geological exploration is currently being expanded.
This could increase the size of the lithium discovery (type of hard rock deposit), which is already considered India's largest deposit of the white alkali metal, which is an essential component of the lithium-ion rechargeable batteries that power electric vehicles, laptops, and mobile devices.
In the same column and location in the Reasi district of Jammu and Kashmir's Salal-Haimana region, lithium was discovered while exploration was being conducted for two other minerals, limestone and bauxite. When mining begins at the location, the catchment zone will be mined for three distinct minerals: bauxite, limestone, and lithium.
"The geological exploration (in that area) was predominately concentrated on the other two minerals (limestone and bauxite), and lithium was discovered coincidentally in the same column… "It has also been determined that this geological formation extends further (on our side of the India-Pakistan border), and so the scope of the exploration is currently being expanded," a non-quotable government official said.
According to the official, the J&K administration will now prepare the foundation for auctioning the discovery for commercial exploitation. The official stated that multiple domestic and international mining companies are anticipated to participate in the auction.
Lithium is typically extracted from two distinct deposit types: brines and igneous rock. Operations exploiting brine deposits of the type found in South America draw saline brines containing a high concentration of lithium from below the surface; the lithium is then concentrated by evaporation before the brine is sent to processing facilities for the production of lithium hydroxide.
EXPLAINED
Why the discovery is so crucial
Electric vehicles are predicted to be a sector ripe for disruption, and India is attempting to lessen its dependence on critical resources from China, so the discovery of 'inferred' lithium reserves in Reasi and its expanded scope is timely.
In the case of hard-rock operations of the type probable in J&K, the ore is typically extracted from pegmatite deposits using conventional mining methods before being crushed and separated to produce a concentrate. Typically, the primary lithium-bearing mineral in this ore is spodumene, and the produced spodumene concentrate is sold to lithium hydroxide or carbonate conversion facilities, where it is converted into lithium chemical products. Although hard-rock producers have lower costs, the price they receive for their ultimate product, which is typically spodumene concentrate, is significantly less than the price received for lithium carbonate, chloride, and hydroxide produced by brine operations.
The Geological Survey of India (GSI) recently established 'inferred' lithium resources of 5.9 million tonnes in the Reasi District as part of the 'Reasi Sersandu – Kherikot –Rahotkot – Darabi' mineral block in J&K, where prospecting has been ongoing since 2021-22.
Under the United Nations Framework for Classification for Reserves and Resources of Solid Fuels and Mineral Commodities (UNFC 1997), reconnaissance surveys constitute a relatively advanced stage of prospecting classified as 'G4'.
Despite the fact that it is the largest lithium discovery in the country and could grow even larger, there are two limitations with the J&K deposits: this new discovery is classified as "inferred" – one of the three categories that mineral resources are subdivided into in order of increasing geological certainty.
The 'inferred' mineral resource is the portion of a resource for which quantity, grade, and mineral content are estimated with a low degree of certainty based on information gathered from locations such as outcrops, trenches, pits, workings, and drill holes that may be of limited or uncertain quality, and also of lower reliability based on geological evidence.
Secondly, this discovery is also relatively modest when compared to the proven reserves in Chile and Bolivia (well over 20 million metric tonnes), Argentina (17 million tonnes), Australia (6.3 million tonnes), and China (4.5 million tonnes).
Currently, the country imports all of its lithium requirements. The domestic exploration push, which includes exploratory work to extract lithium from the brine pools of Rajasthan and Gujarat and the mica belts of Odisha and Chhattisgarh, comes at a time when India has stepped up its economic offensive against China, the country's primary source of imported lithium-ion energy storage products.
Attempts by India to enter the lithium value chain are viewed as a late entry at a time when EVs are predicted to be a sector primed for disruption. And 2023 is likely to be a turning point for battery technology, with several prospective Li-ion technology advancements. Between fiscal years 2017 and 2020, India is estimated to have imported over 165 billion lithium batteries at a cost of over $3.3 billion.
The Salal-Haimana GSI report, fifteen other resource-bearing geological reports, and thirty-five Geological memorandums were recently delivered to the respective state administrations. Five of these 51 mineral blocks pertain to gold, while the remaining blocks pertain to commodities such as potassium, molybdenum, and base metals. These blocks are distributed across 11 states, including Jammu and Kashmir, Andhra Pradesh, Chhattisgarh, Gujarat, Jharkhand, Karnataka, Madhya Pradesh, Odisha, Rajasthan, Tamil Nadu, and Telangana. The blocks were produced based on the work performed by GSI from the 2018-19 field seasons through February 2023.
In accordance with the annual Field Season programme (prospecting plan) approved by the Ministry of Mines, the GSI conducts reconnaissance surveys (G4), preliminary exploration (G3), and general exploration (G2) in accordance with the guidelines of UNFC and the Minerals (Evidence of Mineral Contents) Amendment Rules, 2021 (Amended MMDR Act 2021) in order to increase the mineral resource for various mineral commodities, including lithium. In the past five years, the GSI has conducted 14 projects on lithium and associated elements, with five projects on lithium and associated minerals being undertaken during the 'field season' of 2021-22.
There is a possibility of recovering lithium from the brines of Sambhar and Pachpadra, Rajasthan and Rann of Kutch, Gujarat, in India. Other prospective geological domains of the country include the major mica belts in Rajasthan, Bihar, and Andhra Pradesh, the pegmatite belts in Odisha and Chhattisgarh, and the rock mining taking place in Mandya, Karnataka.
Atomic Minerals Directorate for Exploration and Research (AMD), an arm of the Department of Atomic Energy, had previously conducted preliminary surveys indicating the presence of 1,600 tonnes of lithium resources in the igneous rocks of the Marlagalla–Allapatna region of Mandya district, Karnataka. A government official stated that the AMD has been conducting both surface and subsurface exploration to increase lithium resources in the country's prospective geological domains.
A team comprised of one geologist from Mineral Exploration Corporation Ltd. (MECL), KABIL (Khanij Bidesh India Ltd.), and the Geological Survey of India (GSI) recently travelled to the Argentine province of Catamarca in search of opportunities. An MOU had been signed with the Argentinian government earlier.