India
"No PM should be without a wife," says Lalu Prasad Yadav in response to a question about the Oppn PM ace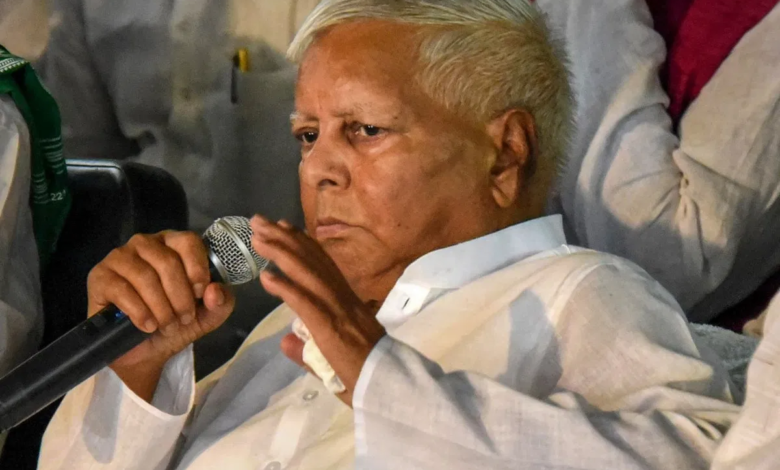 Lalu Prasad Yadav, chief of the RJD, was once again in his element when a reporter inquired about the visage of the Opposition in the Lok Sabha in 2024.
Lalu, known for his characteristic sense of humour and tongue-in-cheek comments, stated on Thursday, "Whoever becomes the prime minister should not be single."
#WATCH | When asked about the PM face from Opposition & his earlier advice to Rahul Gandhi to get married, RJD chief Lalu Prasad Yadav says, "Whoever becomes the PM should not be without a wife. Staying at PM residence without a wife is wrong. This should be done away with..,"… pic.twitter.com/uh0dnzyoJk

— ANI (@ANI) July 6, 2023
The elderly septuagenarian also criticised Prime Minister Narendra Modi, stating, "Staying at the PM residence without a wife is improper. This should be eliminated".
At the Opposition meeting held in Patna last month, Lalu reprimanded Congress leader Rahul Gandhi for his'refusal' to wed, leaving the delegates and the media confused. "You do not heed our advice to get married," said Lalu, adding, "Baat maaniye, shaadi kariye… Your mother continues to worry about your refusal to marry. "We would like to be a part of your wedding procession (baraat)," Lalu said, eliciting a bashful grin from Rahul.
Gandhi responded to Yadav's remark: "It will occur since you said so."
When asked on Thursday how many seats the Opposition alliance will likely win in the Lok Sabha elections of 2024, Lalu responded, "At least 300 seats."
Related Posts