India
PM Modi after talks with Sri Lankan President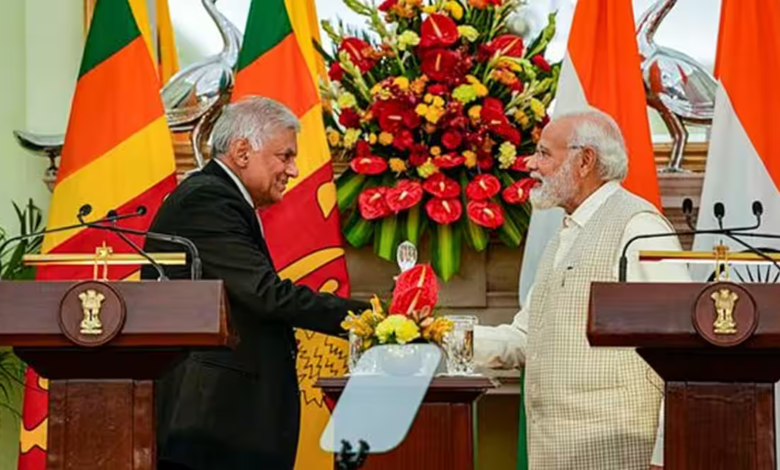 Prime Minister Narendra Modi on Friday said it was necessary for India and Sri Lanka to work together keeping in mind each other's "security interests" and "sensitivities". Sri Lankan President Ranil Wickremesinghe, who is on a two-day visit to India, said the two countries have agreed on a "vision" to enhance their economic partnership.
India and Sri Lanka will conduct feasibility studies on a petroleum line and land bridge connectivity between the countries, PM Modi announced on Friday, after holding talks with the Sri Lankan president in New Delhi.
Significantly, the two countries also signed an agreement on the acceptance of Unified Payments Interface (UPI) in Sri Lanka. "The Agreement signed to launch UPI in Sri Lanka, will increase Fintech connectivity," PM Modi said.
During a joint press conference, the Sri Lankan President thanked PM Modi for the support rendered by India during Sri Lanka's recent economic crisis. New Delhi had provided about $4 billion in rapid assistance between January and July 2022 to Colombo. "PM Modi and I believe that the construction of a multi-project petroleum pipeline from the southern part of India to Sri Lanka will ensure an affordable and reliable supply of energy resources to Sri Lanka," Wickremesinghe said.
"I have also appraised Prime Minister Modi of the extraordinary challenges that Sri Lanka has experienced in economic, social and political terms in the past year and of the reform measures I have spearheaded on a number of fronts in overcoming these challenges. I have conveyed to Prime Minister Modi and to the government and the people of India a profound appreciation for the solidarity and support rendered to Sri Lanka in what was undoubtedly the most challenging period in our modern history," he added.
Speaking at the press meet with President @RW_UNP. https://t.co/9lirjZ9aXo

— Narendra Modi (@narendramodi) July 21, 2023
The two countries also announced the introduction of passenger ferry services between Nagapattinam in Tamil Nadu and Kankesanturai in Sri Lanka. "We hope that the Sri Lankan Government will fulfil the aspirations of Tamils and take forward the process for equality, justice and peace," PM Modi added.
Network-to-network agreements for UPI acceptance in Sri Lanka were also among the agreements between India and Sri Lanka announced on Friday.
Sri Lanka also has an important place in both India's 'Neighbourhood First' policy and 'SAGAR' vision, PM Modi said. "Today, we shared our views on bilateral, regional and international issues. We believe that the security interests and development of India and Sri Lanka are intertwined," he added.
PM Modi welcomed Sri Lankan President Ranil Wickremesinghe and his delegation to India and congratulated the latter on the one-year completion of his term. "The people of Sri Lanka faced many challenges last year, but like a close friend, we stood shoulder to shoulder with the people of Sri Lanka in the time of crisis," PM Modi said.
"PM @narendramodi warmly welcomes President @RW_UNP of Sri Lanka at the Hyderabad House ahead of the bilateral talks. An opportunity to review and lend further momentum to the long-standing – ties, as the two countries celebrate 75 years of diplomatic relations this year," External Affairs Ministry Spokesperson Arindam Bagchi  said in a tweet.  The talks are being held in Hyderabad House in the national capital.
Wickremesinghe arrived in New Delhi Thursday and was welcomed by Union Minister of State (MoS) for External Affairs V Muraleedharan.
During his visit, Wickremesinghe also met industrialist Gautam Adani, who proposed to set up a green hydrogen plant in Sri Lanka, where his conglomerate is already developing a container terminal and a 500 MW wind project. Adani met visiting Sri Lankan President Ranil Wickremesinghe to discuss ongoing projects and the new venture.
With inputs from agencies
Related Posts