India
Sukhu requests the Center's help in preventing "Joshimath-like" sinking in Himachal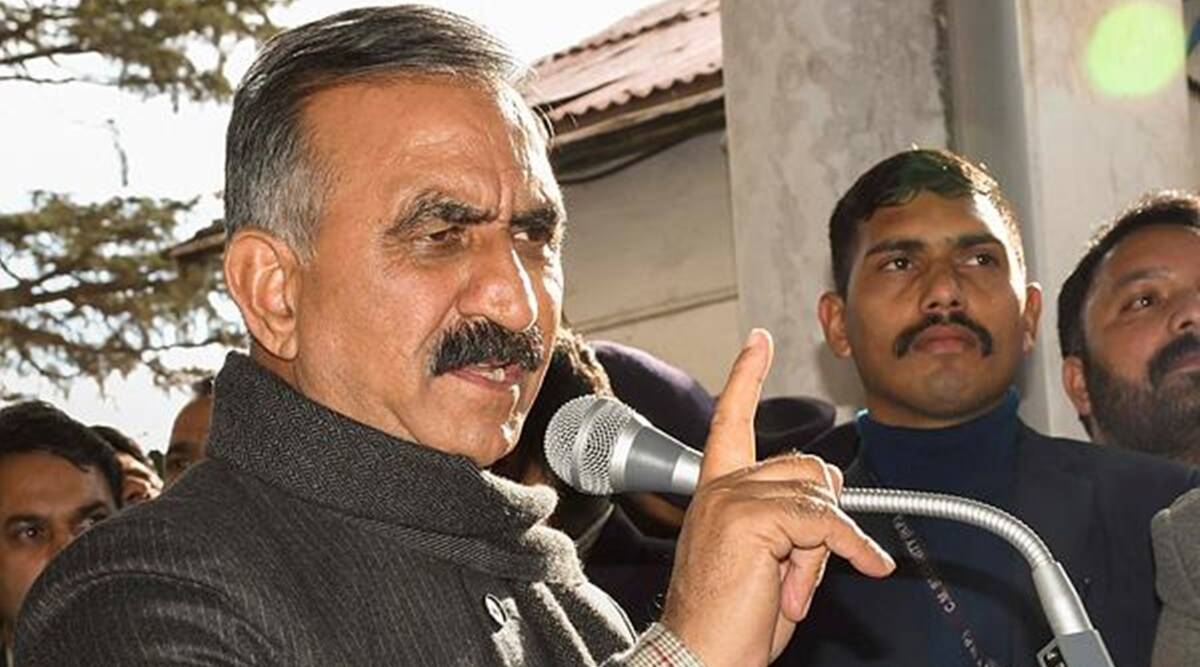 Sukhvinder Singh Sukhu, the chief minister of Himachal Pradesh, warned the Centre on Sunday of a potential Joshimath-like ground collapse in the region and pleaded with it to pay attention to vulnerable areas to avoid "widespread disaster."
There are several mountainous locations in Himachal Pradesh that are gradually suffering land subsidence, similar to what has happened at Joshimath. Sukhu spoke virtually at the 148th Foundation Day of the India Meteorological Department (IMD), which was held at Mausam Bhavan in New Delhi, warning that massive destruction could result if the appropriate solutions and mitigation measures are not implemented at the appropriate time.
Sukhu continued, "From this perspective, given the fact that Himachal Pradesh is also a seismically prone location, you need to pay attention to the state. In the mountains, people have been developing whatever they like.
Jitendra Singh, the Minister of Earth Sciences, attended as the event's chief guest. Pushkar Singh Dhami, the chief minister of Uttarakhand, who was also scheduled to virtually address the audience, departed the conference early to attend a "important meeting in New Delhi."
Singh, on the other side, gave Jammu and Kashmir, Uttarakhand, and Himachal Pradesh four Doppler weather radar systems. He and Sukhu, together with Dhami and Sukhu, jointly inaugurated two Doppler Radar systems at Murari Devi and Jot in Himachal Pradesh, one at Surkanda in Uttarakhand, and another at Banihal Top in J&K.
Ajay Kumar Bhalla, the home secretary, was not in attendance when he was scheduled to give the keynote speech.
Sukhu expressed his gratitude to Singh for installing the DWRs by saying: "The Dopplers that have been erected will cover at least 80% of Kinnaur and Lahaul Spiti, but there is still 30% where cloudbursts keep happening. The largest district in Himachal Pradesh and the second-largest in all of India is Lahaul-Spiti, which has snow, glaciers, and rivers. Since Kinnaur is close to the China border, more focus needs to be placed there.
In his speech, Singh stated that the IMD had taken proactive measures to grow the country's radar network from just 15 in 2013 to 37 in 2023. He added that the accuracy of the severe weather forecast has improved "by 20-40%" in the previous five years and that the government will be installing 25 additional radars in the next years.
"Under Agro-Meteorological Services, 660 District Agro Meteorological Units (DAMUs) will be established by 2025, increasing from 3,100 blocks in 2023 to 7,000 blocks in 2025. A recent survey conducted by the National Centre for Applied Economic Research suggests that warning and advisory services are helping farmers and fishermen to improve their economic situation. In the monsoon mission program, for example, each rupee invested has yielded a return of 50 rupees," he explained.
He stated that IMD has significantly contributed to global safety and economic development by serving as a regional and worldwide centre for weather and climate forecasting, calling the radars and the satellite data processing system launched last year "another feather" in its cap.
In addition to being used for domestic purposes, the recently developed Flash Flood Guidance was being sent "every 6 hours to Nepal, Bhutan, Bangladesh and Sri Lanka," he said.
The IMD has expanded its specialised services for vital sectors like power, railway, tourism, health, urban energy, and environment, according to Dr. M. Ravichandran, Secretary of the Ministry of Earth Sciences. This is done in an effort to support national economic development.
Dr. Mrutyunjay Mohapatra, Director General of Meteorology (IMD), stated in his welcoming speech that the IMD has taken appropriate steps, such as deploying Doppler Radars in mountainous regions of the Western Himalayas and significant cities like Delhi, Mumbai, and Chennai.
According to him, the IMD targets 62 DWR by 2025 and will install radars in other cities and North Eastern States over the course of the next five years.
According to Dr. Mohapatra, urban flood warning systems, which were first implemented in Mumbai in 2020 and later in Chennai, are also being planned for Delhi, Kolkata, and Guwahati.