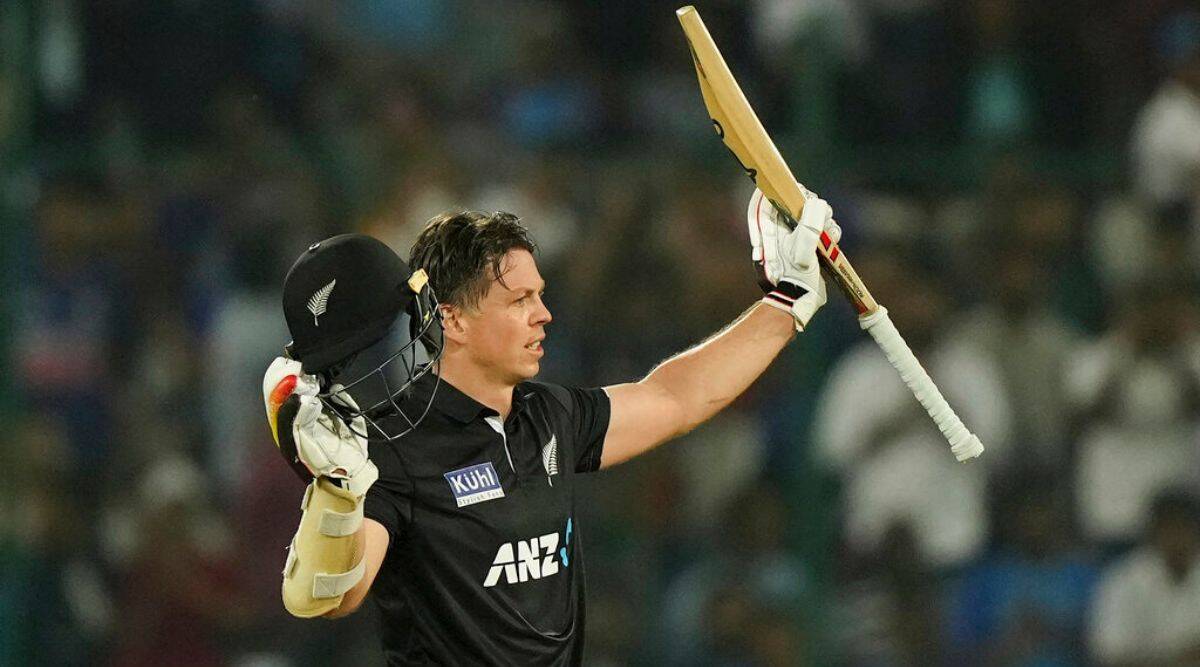 Michael is a late bloomer, but his family plays cricket, and the Bracewells are proud of him.
After his incredible 140 off 78 balls in the first ODI against India on Wednesday, the 31-year-old New Zealander has made a strong case to be called the most feared number seven batter in the world.
Chasing 350, his team was down and out at 131 for six, but Michael stayed in the moment and beat the Indian attack from all over the field. He almost led his team to an impossible win, but they fell short by only 12 runs.
So in his zone was he that when he chose a spot, the ball went there, whether it was a daring scoop off Mohammed Shami or a crazy drive over cover off Kuldeep Yadav. In total, up to ten sixes came from his blade.
Ten years after his first first-class game, Michael made his international debut in March of last year. He is definitely making the most of this chance. He hadn't been in a hopeless situation for the first time. In only his fourth ODI, he hit an unbeaten 127 against Ireland to help chase down 301 runs after New Zealand lost six wickets for 153 runs.
100! @braceyourself10 that is special. Brings up his 2nd ODI 100 in just 57 balls. His partnership with Mitchell Santner now worth over 130 runs. 43 overs gone 274/6 chasing 350 in Hyderabad. Follow play LIVE in NZ with @skysportnz. LIVE | https://t.co/S2PsDT6yGW 📷=BCCI #INDvNZ pic.twitter.com/pjjsH73D59

— BLACKCAPS (@BLACKCAPS) January 18, 2023
He couldn't help his team win on Wednesday, but his brave play won him a lot of fans. John Bracewell, Brendon Bracewell, and Doug Bracewell are all Test cricket players, so their family must be proud as well. Mark, his father, played first-class cricket in New Zealand. He has been coaching him since he was a child.
After his epic innings, Bracewell said that the years he spent playing cricket at a lower level helped him a lot at the highest level.
"I would say that most international cricketers are pretty driven, but I have an advantage because I was able to play domestic cricket and learn how I want to play."
"I went into international cricket kind of knowing that this is how I do well at home, and I'm going to try to do the same thing abroad."
"There have been some bumps in the road so far, but when it all comes together, it feels pretty good." Michael said after the game, "Unfortunately, I couldn't get the team to the finish line tonight."
Michael and Mitchell Santner put up a record 162 runs together to keep the game close. When he got to the crease in the 29th over, New Zealand was 219 runs behind. But he thinks that the bad situation was good for him.
"I think you're really just trying to win at cricket." All you have to do is come in and try to do your job. When you lose so many wickets, it takes some of the pressure off. When asked how he thought while batting with Santer, he said, "You just try to rebuild and not get too far ahead of yourself."
"It's one of those things where you start to think you can do it again once you've crossed the finish line." We saw Shubman bat for 50 overs and thought the wicket was pretty good. You could play your shots, and the ground, especially down low, looked pretty straight.
"We just talked about giving ourselves a chance and going far in the game." We didn't talk much about how to win the game at that point, but if you can lay the groundwork early, you give yourself a chance later. "We got close, but unfortunately, it wasn't enough." Michael has played a lot of T20 cricket in New Zealand. He has also played 100 first-class games and done well with his off-spin. So it wasn't surprising that he played an ODI inning in T20 style.
"T20 has had a big impact on one-day cricket, which is what makes it so exciting." Even if you are in the same situation as we were, you can still work your way up to a position of power. I don't think we got to a place where we were in charge, but we did get to a place where we could have won the game.
"The skills players learn in T20 cricket are very helpful for one-day cricket," he said.
Michael said that his family has a long history with cricket and that he has a lot of people to turn to for advice, but that he values his father's opinion the most.
"I talk to a lot of people about the game, but I don't tell anyone else about it." Most of the time, I talk to my dad the most. Since I was 2, he has given me great advice.
"I respect his opinion more than anyone else's, but being away from home, the coaching staff at the Blackcaps has been amazing and great to bounce ideas off of."