India
Atiq Ahmed murder | 7 steps to death: lack of access control and media ID checks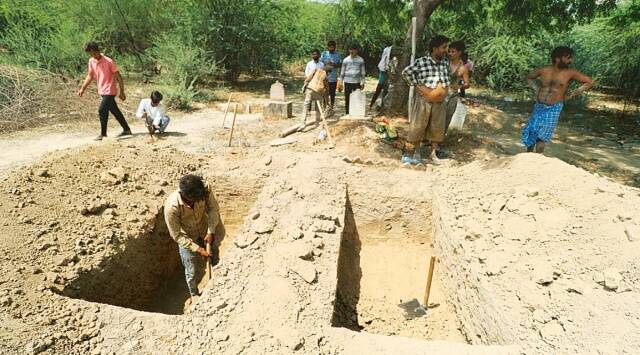 Seven steps inside the Moti Lal Nehru Mandaliya Chikitsalaya, also known as the Colvin Hospital in Prayagraj, there are two white patches of bleaching powder on top of crusted blood. Around it are 29 chalk circles denoting the locations where bullet casings were discovered to be empty. After these repairs, there are only 13 more steps to the hospital entrance.
These markers of the spot — where gangster-politician Atiq Ahmed and his sibling Ashraf were shot dead Saturday night — and the short distance between the hospital and its entrance tell the tale of a security breach that will forever haunt UP police.
Atiq and Ashraf, whose police detention was set to expire on Monday, were reportedly escorted out of the Dhumalganj police station around 10 p.m. and taken to the Colvin hospital for a routine medical examination. Two police vehicles and twenty officers accompanied the suspect. In roughly 20 minutes, the 7-kilometre distance between the police station and the hospital was traversed.
According to reports, despite the hospital's ample parking space, the police vehicles parked directly outside the entrance. Atiq and Ashraf were brought outside and paraded inside while handcuffed. Media members, aware that Atiq and Ashraf were being transported to the hospital — some were chasing police vehicles from the police station — attempted to obtain a soundbite at the entrance. They refused to comply.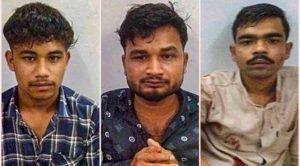 Two steps inside, they were accosted by media microphones once more. After a delay, they moved forward after being prodded by police officers. Five steps later, journalists surrounded them and began to ask questions. The shooter, identified as Lavlesh Tiwari of Banda, fired multiple rounds into his head and then his torso as he responded to a query about why he did not attend his son Asad's funeral. Lavlesh and his accomplices, now identified as Sunny Puraney from Hamirpur and Arun Maurya from Kasganj, shot Ashraf in the head before he could comprehend what was occurring.
According to witnesses, as journalists and bystanders fled in all directions, the gunmen continued to fire. According to eyewitnesses, the shooters cast away their weapons and chanted Jai Shri Ram slogans while raising their hands in surrender.
"The entire incident concluded in less than one minute. "Police immediately apprehended the shooters, and Atiq and Ashraf were pronounced dead minutes later," said an injured TV journalist while fleeing.
A police officer explained Atiq's late-night medical examination by stating that he was "heavily diabetic and suffered from hypertension." According to sources, Atiq and Ashraf were transported to Colvin Hospital Friday evening for medical examinations. "On Saturday morning, after he complained of discomfort, we arranged for a physician to visit him in the jail," the officer explained.
According to doctors at the hospital, medical examinations of the accused are conducted only upon receipt of written court orders. According to sources within the UP police, it is not always essential to transport the accused to the hospital, and in sensitive cases, doctors are sent to jail with the necessary equipment.
An official stated that in many instances, the accused are surreptitiously transported to the hospital so that no one discovers their location. Some officials cited the instance of 26/11 suspect Ajmal Kasab, whose movements from the Mumbai crime branch to JJ hospital were never reported by the media.
It is conceivable that the assailants monitored these hospital visits using a camera, a fake microphone, and fake identification cards to impersonate media personnel.
Former UP DGP Vikram Singh, a law and order management veteran, stated that while the security at the Dhumalganj police station appeared foolproof, there were telltale indications of lapses when Atiq was transported to the hospital.
"The first error is that the accused should never have been permitted to confer with the media. No access control existed at the hospital. The police were tasked with identifying the imposters if they presented false identification cards and cameras. When you permit anarchy, such incidents occur. When an individual dies in police custody, the police have failed to uphold the rule of law, Singh told The Deccan Era. The manner in which the attacker surrendered and the circumstances of the assault, according to Singh, indicate that "there is much more than meets the eye."
"The perpetrators are from humble origins. However, they were using Turkish-made firearms that cost Rs 7 lakh each and Rs 250 per round. Their firing demonstrates a great deal of practice…Singh stated, "I hope the police will get to the bottom of it."
Related Posts