India
Government to foreign governments: Pro-Khalistan posters are not protected by the First Amendment; act immediately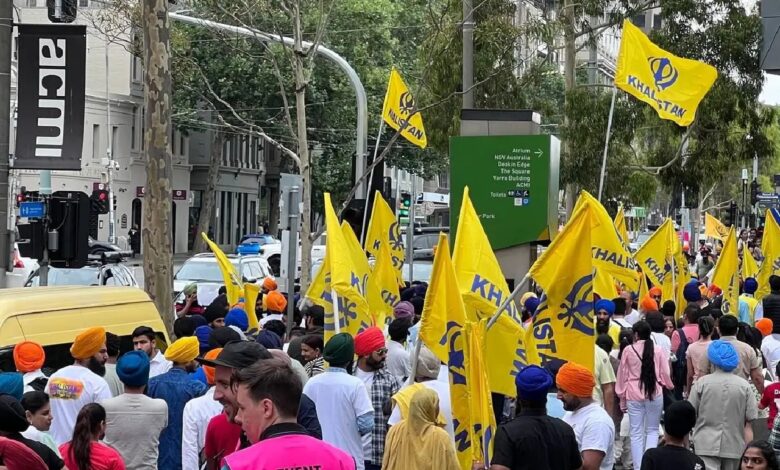 IN A strongly-worded message to foreign governments on posters by pro-Khalistan groups inciting violence against senior Indian diplomats, the Ministry of External Affairs (MEA) said on Thursday that space should not be given to those advocating violence or legitimising terrorism in the name of freedom of expression.
Such posters have appeared in the United States, Canada, Australia, and the United Kingdom prior to a "rally" organised by pro-Khalistan organisations in these nations. On July 2, pro-Khalistan activists in San Francisco attempted to torch the Indian consulate.
"In the name of free speech, we should not give a platform to those who advocate violence, promote separatism, or legitimise terrorism… The posters inciting violence against our diplomats and diplomatic facilities abroad are abhorrent, and we condemn them in the strongest possible terms, said Arindam Bagchi, the official spokesperson for the Ministry of External Affairs.
"This is primarily a responsibility that we expect host governments to fulfil in accordance with their obligations under the Vienna Conventions," he said. "We are reminding them of their obligations and bringing to their attention specific instances that may come to our attention."
Regarding Canada, the issue has been vigorously raised with Canadian authorities in both New Delhi and Ottawa, he said.
Bagchi stated that New Delhi has requested that the Canadian government take all necessary measures to guarantee the security of Indian diplomats and diplomatic missions in Canada.
"It is concerning that anti-India elements based in Canada and elsewhere are again abusing the freedom of expression and speech. He said that we continue to exert pressure on the Canadian government to ensure that our diplomats can perform their duties without fear or intimidation.
In the meantime, Canadian Prime Minister Justin Trudeau stated that Canada has always taken "serious action" against terrorism and will continue to do so, claiming that it is "incorrect" to assume that his government is lenient on Khalistan supporters in the country.
His remarks were made days after India recalled the Canadian ambassador to New Delhi on Monday and issued a demarche in response to rising pro-Khalistan activity in Canada. His comments also came two days before a proposed pro-Khalistan rally outside the Indian High Commision on July 8 in Ottawa.
They are in error. Canada has always taken violence and threats of violence very seriously. We have always taken severe measures against terrorism and will continue to do so. In response to a question, Trudeau stated, "We have an extremely diverse country and freedom of expression, but we will always ensure that we are pushing back against violence and extremism in all its forms."
When asked about Trudeau's remarks on freedom of expression, Bagchi stated that the issue is the promotion of violence and separatism. "Let me make the larger argument that the issue is not freedom of speech, but its misuse to advocate violence, propagate separatism, and legitimise terrorism. This is what we wish to emphasise, he stated.
The MEA spokesperson also stated that India has brought up the threats made against Indian diplomats with the British government.
"We have brought this most recent threat against our diplomats to the attention of the British authorities. We have taken note of the British foreign secretary's remarks, but we will naturally evaluate them based on events on the ground," he said.
On Thursday, Foreign Secretary of the United Kingdom James Cleverly tweeted, "Any direct attacks on the Indian High Commission in London are unacceptable." "We have made it abundantly clear to @VDoraiswami [Indian High Commissioner Vikram Doraiswami] and the Government of India that protecting High Commission personnel is paramount.
Local authorities swiftly brought the attempted arson at the Indian consulate in San Francisco under control, according to the MEA spokesperson, who added that the US administration responded "very promptly" at the highest levels.
Related Posts