India
India-Canada standoff: The US seeks to reduce tensions, as Jaishankar criticises Trudeau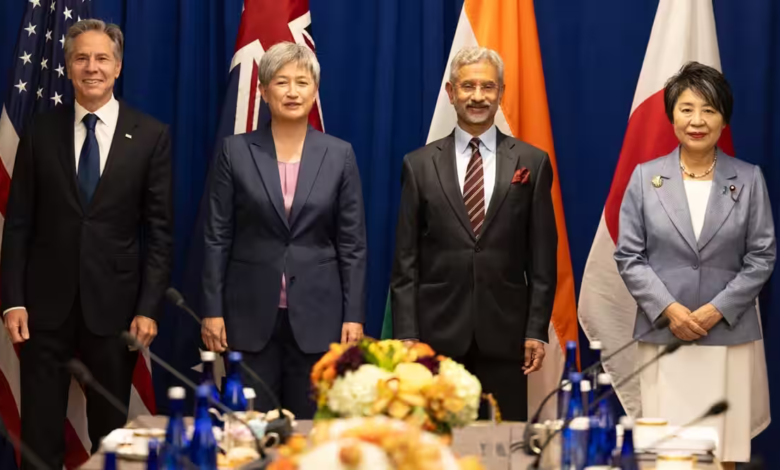 In the midst of the standoff between India and Canada over the killing of Canadian-based Khalistan separatist Hardeep Singh Nijjar, the United States has steadily and publicly inserted itself as an intermediary between Ottawa and Delhi.
The Deccan Era has learned that backchannel negotiations between Delhi and Ottawa are being conducted through Washington DC.
This comes as External Affairs Minister S Jaishankar, who is in New York, stated that there are still "double standards" in the world, with countries in "positions of influence" "resisting the pressure to change" and those with "institutional or historical influence" "actually weaponising a lot of those capabilities."
"In the name of the market, a lot of things are done, just like in the name of freedom, a lot of things are done," he remarked, referring to Canadian Prime Minister Justin Trudeau's words justifying pro-Khalistan activities in his nation by claiming free speech.
Since the standoff began when Delhi rejected Trudeau's allegations of "a potential link" between Indian agents and Nijjar's death, at least five senior US officials and diplomats – US Secretary of State Antony Blinken, NSA Jake Sullivan, National Security Council Coordinator for Strategic Communications John Kirby, US Ambassador to India Eric Garcetti, and US Ambassador to Canada David Cohen – have issued public statements, each with a nuanced message for bots. In sum, Ottawa is requesting cooperation from Delhi but also cautioning it not to act too quickly.
Consider the following:
* In an interview with CBS News on September 19, Kirby stated, "These allegations are serious, and we know that the Canadians are investigating it." We don't want to go too far ahead of the investigation."
"We also urge India to cooperate in that investigation." This is the type of attack that we all want to know is handled transparently and thoroughly. And that the Canadian people will be able to acquire answers to these questions. So we'll keep in touch with our allies in both nations, and we'd like to see the enquiry go unimpeded and let the facts lead it where they may," he said.
Explained
Ties that matter

The US and Canada have close ties. They are part of Five Eyes network and G7. But Washington also has deep ties with India. Both relationships matter to the US which does not want to choose sides when Russia and China are watching the wedges in relations between India and the West.
* On September 20, Garcetti called Trudeau's charges "troubling" and emphasised the significance of adhering to international law principles such as sovereignty and non-interference.
"Obviously, any charges like this should worry anyone. However, with an active criminal investigation, I am hopeful that the criminals will be brought to justice," he stated.
"And that we all allow the space for that information and that investigation to occur before anyone jumps to judgement," he added at an Ananta Aspen Centre interactive event.
Also Read | As the India-Canada diplomatic spat heats up, the government and opposition are generally on the same page.
* On September 21, Sullivan stated that the US supports Canada's attempts to examine allegations of India's participation in Nijjar's death, noting that no country can be granted a "special exemption" for such operations. This is a statement from the White House, the highest level of the US administration, on the subject.
"We support the efforts that they are undertaking in this investigation and we have also been in touch with the Indian government as well," he stated.
Sullivan declined to comment on the evidence of Canadian charges, saying, "I will let that process play out." "As I previously stated, we are in continuous communication and consultation with the Canadian government and will remain so in the future," he said.
* On September 22, Cohen stated that "shared intelligence among Five Eyes partners" helped "lead" Canada in making the accusation.
The Five Eyes alliance is an intelligence-sharing cooperation comprised of the United States, the United Kingdom, Australia, Canada, and New Zealand. It combines surveillance with signal intelligence.
Cohen told CTV news in Canada, "There was shared intelligence among Five Eyes partners that helped lead Canada to making the statements that the Prime Minister made."
* On September 22, Blinken stated at a news conference in New York, "We have been consulting very closely with our Canadian colleagues – and not just consulting, but coordinating with them – on this issue throughout." And, from our standpoint, it is crucial that the Canadian probe continue, and that India collaborate with the Canadians on this investigation. We want to see responsibility, and it's critical that the enquiry follow its natural course and lead to that outcome."
While gathering intelligence on allies and rivals is routine, and no one in Delhi is startled by stories of intelligence-sharing between the US and Canada, the Indian establishment wants to take a firm line against Trudeau's support for pro-Khalistan groups.
However, the Indian establishment recognises the influence on the people-to-people pillar of the connections (particularly students and business) as well as some impact on trade, particularly agricultural (potash and beans).
While Trudeau has stated that Canada has communicated "credible allegations" about Nijjar's death with India and wants it to "commit constructively" to establishing the facts in this important case, Delhi is waiting for this to play out.
India has dismissed the claims as "absurd" and "motivated." It has accused Ottawa of failing to act against Khalistan separatists in Canada and of failing to share precise information about Nijjar's death.
Simultaneously, it has opened the door to cooperation, stating that if any particular information is supplied, New Delhi will be happy to investigate it.
Jaishankar will meet with US government officials and ministers in New York.
Over the next week or so, New Delhi and Washington are likely to hold an open discussion. Ajit Doval, the NSA, is also thought to be in contact with his US counterpart.
Jaishankar's comments in New York provides insight into New Delhi's strategy.
Speaking at a session titled 'South Rising: Partnerships, Institutions, and Ideas' hosted by the Observer Research Foundation in collaboration with the Permanent Mission of India to the United Nations, United Nations India, and the Reliance Foundation, Jaishankar stated, "I think there is political pressure for change more than political will." There is a growing sentiment across the world, and the Global South epitomises it in certain ways. But there is also political opposition. Those in positions of authority, most notably in the UN Security Council, are resisting the urge to change. Those who are economically powerful now are leveraging their production capabilities, and those who have institutional or historical power have weaponized many of those capacities as well."
"They will all mouth the right things, but the reality is still today, it's a world very much of double standards," he stated.
Related Posts