India
Political advantage cannot influence terrorist response: Jaishankar in Canada row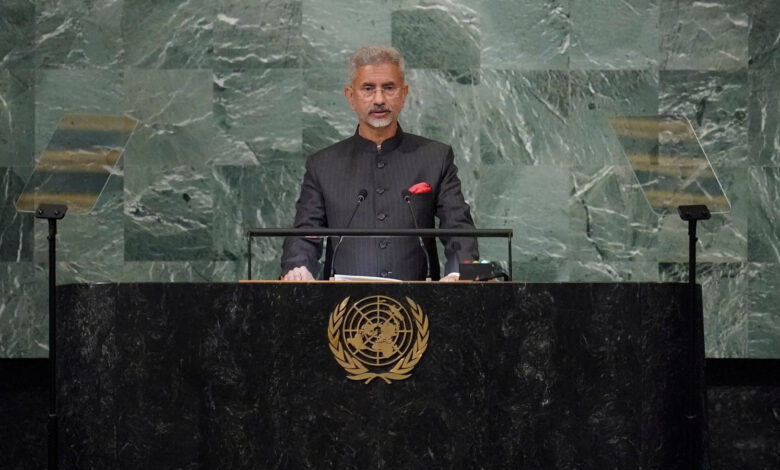 AMID THE ongoing diplomatic row between India and Canada, External Affairs Minister S Jaishankar said on Tuesday that "political convenience" should not be allowed to determine a country's response to "terrorism, extremism and violence".
Jaishankar's words at the United Nations General Assembly (UNGA) are being interpreted as a veiled attack on Canada. In response to Canadian Prime Minister Justin Trudeau's claim about a "potential link between agents of the Government of India" and the killing of pro-Khalistan separatist leader Hardeep Singh Nijjar, India accused Canada of being a "safe haven" for "terrorists, extremists, and organised violence."
In addition to addressing "rule-makers," Jaishankar stated that "respect for territorial integrity and non-interference in internal affairs cannot be cherry-picked" — a reference to Trudeau's statement that any involvement of a foreign government in the killing of a Canadian citizen on Canadian soil was a "unacceptable violation of our sovereignty."
While Jaishankar's remarks are thought to be meant at Pakistan and China, the reference to "rule-makers" relates to Canada, which is a member of the G7 and has influence due to its strong relationship with the US.
While this was Jaishankar's first comment on the India-Canada dispute, he did so in the context of a global rules-based system. He also stated that "the days of a few nations setting the agenda and expecting others to follow are over."
"In our discussions, we frequently advocate for the promotion of a rules-based order." Respect for the UN Charter is also mentioned from time to time. Despite all the rhetoric, a few countries continue to drive the agenda and seek to establish the rules. This cannot be sustained forever. "It will not go unchallenged any longer," Jaishankar, who spoke for almost 17 minutes, stated.
"When we all put our minds to it, a fair, equitable, and democratic order will undoubtedly emerge." To begin, this entails ensuring that rule-makers do not oppress rule-takers. "After all, rules will only work if they apply equally to all," he explained.
"We must never allow an injustice like vaccine apartheid to happen again." Climate action cannot continue to be characterised by an abdication of past duties. "The power of markets should not be used to direct food and energy from the poor to the wealthy," he remarked, referring to the developed world.
"We must not accept that political expediency determines how we respond to terrorism, extremism, and violence." "Similarly, territorial integrity and non-interference in internal affairs cannot be cherry-picked," he remarked.
"When reality diverges from rhetoric, we must have the courage to speak up." There can never be true trust without genuine unity. "This is very much a sentiment of the Global South," he remarked, referring to developing and underdeveloped countries.
Jaishankar recalled the "Voice of the Global South Summit" at the start of India's G20 leadership and the African Union's admission as a permanent member of the G20 at India's suggestion. "We gave a voice to an entire continent that had previously gone unheard." This huge reform step should motivate the United Nations, a far older entity, to modernise the Security Council as well. "Broad representation is necessary for both effectiveness and credibility," he explained.
Jaishankar wanted to position India as a responsible force by beginning his address with "Namaste from Bharat" — a branding of the name Bharat, rather than India, on the world's largest stage. "Every country pursues its own national interests." In India, we have never seen that as contradicting the global good. We desire to be a leading power not for self-aggrandizement, but to take on more responsibility and contribute more. "The goals we've set for ourselves will set us apart from all those who came before us," he remarked.
He spoke about India's vaccine diplomacy, disaster relief in Turkey and Syria, aid to Sri Lanka during the economic crisis, and aid to Pacific Islands in health, environment, and technology. He also acknowledged the G20 declaration's outcomes as part of India's efforts and successes in the midst of turbulence and strife.
"The globe is experiencing unprecedented instability. As things stand, structural imbalances and uneven progress have weighed heavily on the Global South. However, the impact of the Covid-19 outbreak, as well as the ramifications of continuous wars, tensions, and disagreements, has exacerbated tensions. As a result, recent socioeconomic advances have been reversed," he remarked, repeating a familiar argument from last year.
"Resources for long-term development are severely depleted." Many countries are struggling to make ends meet. "Navigating the future appears to be even more difficult," he remarked.
"At this juncture, India assumed the G20 presidency with a sense of exceptional responsibility." Our 'One Earth, One Family, One Future' vision intended to focus on the major concerns of the many, rather than the limited interests of a few. In Prime Minister Narendra Modi's words, it aimed to "bridge divides, dismantle barriers, and sow seeds of collaboration that nourish a world where unity triumphs over discord and shared destiny triumphs over isolation." "The G-20 Leaders' Declaration in New Delhi articulates our collective ability to do so," he remarked.
"At a time when the East-West divide is so sharp and the North-South divide is so deep, the New Delhi Summit affirms that diplomacy and dialogue are the only effective solutions." The international order is multifaceted, and we must account for differences as well as divergences. "The days of a few nations setting the agenda and expecting others to follow are over," he remarked.
"As the United Nations symbolises, finding common ground is essential." Listening to others and respecting their perspectives is not a sign of weakness; it is the foundation of cooperation. Only then will coordinated efforts on global concerns be fruitful, according to Jaishankar.
"The United Nations will host the Future Summit next year." This should be a genuine chance to promote change, champion fairness, and improve multilateralism, including expanding Security Council membership. "We must confront global challenges with the conviction that we are one earth, one family, with one future," he stated.
This was Jaishankar's second UNGA speech as India's External Affairs Minister.
Related Posts