India
India has indigenously produced drones for cross-border strikes, according to CDS Anil Chauhan.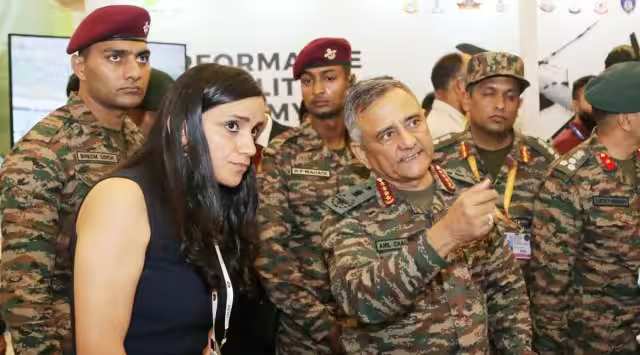 General Anil Chauhan, the Chief of Defence Staff, stated on Monday that India has obtained indigenous drones capable of attacking targets deep within enemy territory. He was addressing at Jammu's North Tech Symposium.
In response to a query on whether India will ever use drones to attack terror camps across the border, he stated, "I wish you go around this particular exhibition more closely and you will find systems which can target with loitering ammunition having a range of 100-150 kms."
"If you ask them (manufacturers), they'll say the people got them. The people did not buy weapons for target practise; they are to be used operationally," declared the Chief of Defence Staff. "And some of what you see here, you will find as part of our inventory at some point," he continued.
In response to another question about the threat of drones from Pakistan, he stated that during the last G20 summit in Delhi, the Army, Air Force, and Navy put a huge number of anti-drone systems near the summit venue and the airport. "Those systems were actually picked up from official places like air bases and borders," he said, adding that the armed forces are aware of the (drone) threat and have purchased enough equipment to suit the immediate need.
"They have also been successfully tested," he continued, implying the success of the G20 conference.
Earlier, Northern Army Commander Lt General Upendra Dwivedi told reporters that "we have already inducted a lot of equipment as part of counter drone technology."
"However, as drone technology evolves, we must also improve our counter-drone systems," he added, adding that those who have come here have brought the most recent technology, which will help us.
The Northern Command's General Officer Commanding-in-Chief stated that 256 pieces of equipment have been purchased since the last North Tech Symposium in Udhampur in May 2022. "The Army determines which equipment arrives at the exhibition, improves productivity, and directly incorporates it," he continued.
The conference, co-hosted by the Northern Command, SIDM, and IIT Jammu, showcased cutting-edge military technologies developed by Indian defence enterprises.
"With active participation from nearly 180 Indian defence companies, including MSMWs, DRDO, DPSU, Simulator Development Division, and others," an official statement said here. "This interactive platform for knowledge diffusion through joint Army-Industry partition is also aimed at propelling the government initiative of "Make in India."
The exhibition featured cutting-edge technologies and creative items that provided solutions to some of the challenging challenges faced by security personnel in the Northern Command, and it also served as an ideal venue for reciprocal idea exchanges between the Indian defence sector and the Army. Surveillance and situational awareness, tactical mobility, firepower, soldier/force protection, communications, combat medical facility, robotics, simulations, and training aids were among the technology and items on show, according to the release.