India
This concept of INDIA: The BJP questions opposition parties regarding an SP MLA's remark about 'Vande Mataram'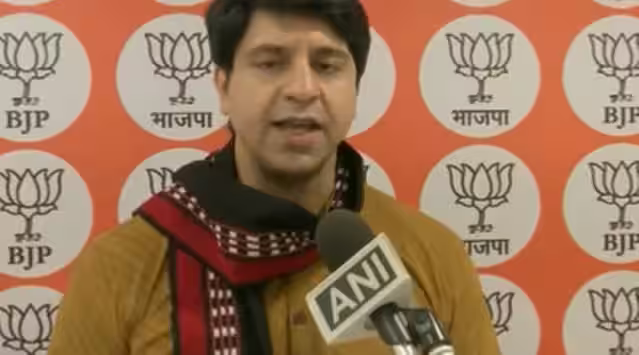 Wednesday, the BJP attacked the opposition parties over a statement made by a Samajwadi Party legislator in the Maharashtra Assembly regarding the chanting of "Vande Mataram," asking if this was their conception of "INDIA."
When raising the Sambhajinagar district riot issue in the Assembly, Samajwadi Party MLA Abu Azmi stated that chanting 'Vande Mataram' was intolerable to him.
"Abu Azmi of SP says, 'I won't say Vande Mataram and I won't bow my head because my religion forbids it,'" tweeted BJP national spokesperson Shehzad Poonawalla. "Is this an I.N.D.I.A. concept? Or is this an anti-Indian sentiment? SP is a member of this purported I.N.D.I.A.," he said, referring to the newly formed coalition of 26 opposition parties.
#WATCH | Maharashtra Samajwadi Party MLA Abu Azmi says, "I respect 'Vande Mantram' but I can't read it because my religion says we can't bow down to anyone except 'Allah'. pic.twitter.com/uYJmkR7GWj

— ANI (@ANI) July 19, 2023
Setting the tone for their 2024 Lok Sabha campaign, 26 opposition parties established the Indian National Developmental Inclusive Alliance (INDIA) on Tuesday to unite against the ruling National Democratic Alliance (NDA), with Rahul Gandhi declaring that the battle will be "between INDIA and Prime Minister Narendra Modi."
Poonawalla claimed that India is mentioned in the name of the opposition parties' coalition, but not in their agenda.
"Previously, SP released terrorists and supported Yakub (Memon) and Afzal (Guru)." The surgical strike, Balakot, and the 26/11 attacks were questioned by Congress, and India, not Pakistan, was condemned. This is their authentic identity, he asserted.
"Will Mamata-di, Kharge ji, Rahul ji tell us their stand?" Poonawalla requested.
Wednesday's adjournment of the Maharashtra legislative assembly was precipitated by a boisterous protest by BJP MLAs in response to Abu Azmi's remark about chanting "Vande Mataram."
While discussing a disturbance in the Sambhajnagar district, Azmi stated that the chanting of "Vande Mataram" was unacceptable.
"According to some, reciting 'Vande Mataram' is a requirement for living in India. We cannot complete the task. "We only believe in one god," he stated.
The MLAs of the BJP took strong exception to his remarks, causing a commotion.
Related Posts
JP Nadda, the head of the BJP, names new state party leaders in Puducherry, Nagaland, and Meghalaya
AIADMK snaps ties with BJP-led NDA alliance ahead of 2024 Lok Sabha polls
RSS and BJP have no ties to the Bajrang Dal: Himanta on outfit offering arms training in Assam
BJP portrays opposition alliance 'INDIA' as ten-headed Ravana
With 'Gangajal,' the Tripura opposition protests a BJP MLA 'who viewed erotica' in the assembly.
Following a complaint from a CPM MLA, the BJP and Congress criticise police action on a Kerala news portal.
'PM Modiji is looking in the rearview mirror, which is why his car crashed,' says Rahul Gandhi.
Union Minister Tudu and a BJP delegation were detained and denied entry into the city of Sambalpur.
Opposition parties questions Atiq Ahmed killing; BJP minister invokes 'paap, punya'
Before to state elections, Lok Sabha representative CP Joshi appointed Rajasthan BJP president.