India
Pro-Khalistani demonstrators storm the Indian Consulate in San Francisco.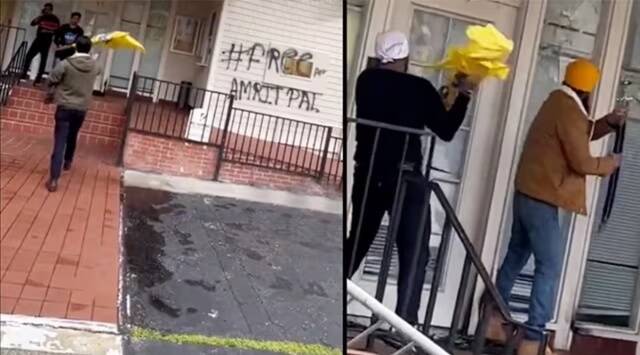 On Sunday, a group of pro-Khalistani protestors assaulted and vandalised the Indian Embassy in San Francisco, triggering outrage among Indian-Americans who urged quick action against those guilty.
"We are also appalled by the complete breakdown of law and order in both London and SFO, where a few radicalised separatists attacked India's diplomatic missions," said the Foundation for India and Indian Diaspora Studies (FIIDS) following the attack on the Indian Consulate in San Francisco by pro-Khalistani protesters.
Protesters shouting pro-Khalistan slogans tore down improvised security barriers erected by local police and placed two so-called Khalistani flags within the Consulate grounds. Two consular employees quickly removed these flags.
Soon after, a group of irate demonstrators stormed into the consulate and began pounding on the doors and windows with the rods they were holding.
Unacceptable
Khalistani miscreants attacked the Indian consulate in San Francisco after Indian officials removed
Khalistani flags from consulate building @POTUS @VP @SecBlinken ,it's shocking that no action taken by your Govt till now@SFPD Are you sleeping 🤔?@IndianEmbassyUS pic.twitter.com/p5Wdu2LRdg

— Major Surendra Poonia (@MajorPoonia) March 20, 2023
The incident elicited no quick response from San Francisco police.
Pro-Khalistan demonstrators attacked the Consulate of India facility in San Francisco, according to community leader Ajay Bhutoria. "This act of violence is not only a threat to diplomatic relations between the United States and India, but it is also an attack on our community's peace and harmony," he said.
Bhutoria urged local officials in a statement to take swift action against those involved for the attack and bring them to justice. "I also encourage all members of our community to work together to promote peace and harmony," he said.
Such heinous acts of violence have no place in our society, and we must all come together to condemn and resist them.I urge the local authorities to take immediate action against those responsible for this attack and bring them to justice. violence. Our strength lies in our unity

— Ajay Bhutoria (@ajainb) March 20, 2023
According to FIIDS, it is exceedingly disturbing that the United Kingdom and the United States have failed to meet their obligations under the Vienna Convention to secure diplomatic missions.
"We would urge law enforcement agencies such as the Department of Homeland Security (DHS), the FBI, and the CIA to ensure that terrorism has no presence or support in the United States of America," FIIDS stated.
According to the report, Pakistan's secret service, ISI, is behind encouraging and sponsoring Sikh radicalization through misleading propaganda.
"We call on Indian Americans, including the Sikh majority, to stand up to extremism," FIIDS added.
Bhutoria expressed his "heartfelt support" with the Indian government, saying he stands with them during this tough moment. "Such horrible acts of violence have no place in our society, and we must all unite to denounce and oppose them," he said.
"Let us strive together to create a world in which all communities can live in peace and mutual respect. Such incidents must not separate us or sow the seeds of hatred and violence. "Our power is in our unity, and we can face any difficulty together," he stated.
Related Posts