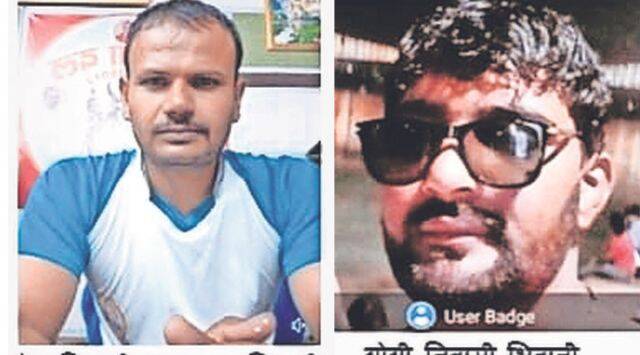 Two of the eight suspected cow vigilantes sought for the alleged abduction and murder of two men, Junaid and Nasir, from Bharatpur, Rajasthan, have been apprehended by police.
Inspector General of Police for the Bharatpur Range, Gaurav Srivastava, stated that on Thursday night, Narendra Kumar alias Monu Rana and Monu alias Gogi were apprehended from a remote hilly area in Dehradun.
During preliminary questioning, he stated, "The two have confirmed that Junaid died first, in Ferozepur Jhirka, and that they attacked and strangled Nasir in Bhiwani before dousing the vehicle and the bodies with petrol and setting them ablaze."
On February 16, the charred corpses of two men were discovered.
Srivastava stated that investigations had revealed Haryana Gau Raksha Dal officials' participation or support. He reported that police had issued them with notices but had yet to question them. "Therefore, it is fortunate that we have apprehended the two main suspects involved in the incident from beginning to end. I believe information that would have been disclosed indirectly will now be disclosed directly."
According to him, both suspects have claimed that Junaid and Nasir were kidnapped and beaten on suspicion of cattle smuggling in order to coerce them into revealing additional information. However, when the accused failed to obtain any information from the two despite the assault, they took them to a local police station in Haryana, where local police allegedly refused to take action due to the men's condition, he said.
On whether Monu Manesar, a Bajrang Dal member and the public face of the Haryana government's cow protection task force in Gurgaon, was involved, the IG stated that he remains a suspect, but "we cannot say more about his role without further questioning."
The IG stated regarding the operation that led to the arrest, "Our five teams were conducting raids in Haryana." The police conducted searches and raids at their homes, relatives, acquaintances, and organisations they were affiliated with, but they were nowhere to be found. They had no direct or telephone contact with any of their relatives."
"All intelligence collection units were activated to zero in on them in such a scenario. We discovered their activity in at least five states and developed even the slightest leads. Our police squads travelled to Delhi-NCR, Uttar Pradesh, Madhya Pradesh, Bihar, Jharkhand, Odisha, and multiple trips to Uttarakhand, he said.
Where they stayed, with whom they remained, and for how long while evading capture is part of the interrogation. They were continually on the move and received pocket money from multiple individuals. When they ran out of money, they would approach a new individual and look for a new location, Srivastava explained.
The two were exhibited in court on Friday and placed in ten-day police custody.
Junaid and Nasir went missing on February 15, and the next day, their charred carcasses were discovered in Loharu in the Bhiwani district of Haryana. In the FIR, the family members claimed that Bajrang Dal members were implicated in the attack. In the course of the investigation, the Rajasthan Police identified eight individuals whose responsibilities in the crime have been established.
Monu and Gogi have been arrested for violating IPC sections 302 (murder), 365 (abduction), 367 (abduction to cause grievous bodily harm), 368 (wrongful confinement), 201 (causing disappearance of evidence), 120 (B) (criminal conspiracy), and 143 (unlawful assembly).
On February 17, Rinku Saini was the first person arrested in this investigation. He was questioned by police for thirteen days before being transferred to judicial custody.
The IG stated that teams have been working nonstop, and the Bharatpur police will not cease their efforts until every suspect is apprehended.