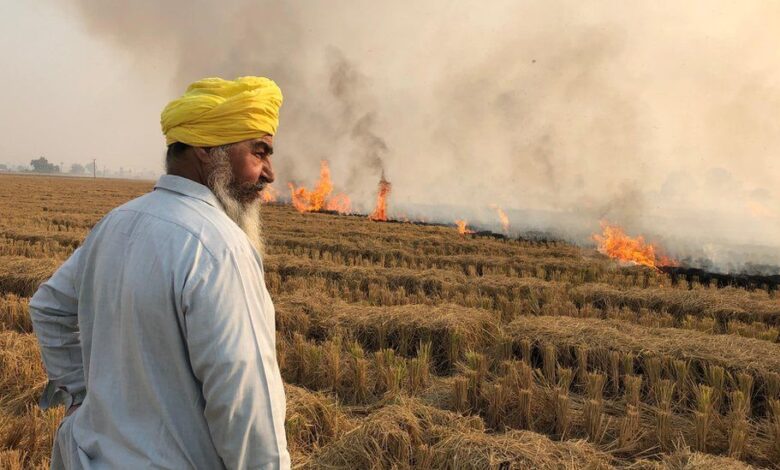 Delhi According to Raj Niwas officials, LG VK Saxena discussed the issue of air pollution in the national capital caused by stubble burning in adjacent states on Tuesday and encouraged them to work together to address the issue. The issue was highlighted by the LG at the 31st North Zonal Council meeting in Amritsar.
The conference, presided over by Union Home Minister Amit Shah, was dominated by the subject of pollution, notably agricultural stubble (parali) burning, which they alleged choked Delhi during the winters.
According to an official, the LG, who represented the national capital at the inter-state forum, "brought out the fact that even after the issue was flagged and discussed in the last zonal council meeting at Jaipur in 2022, it remained unaddressed, particularly on the part of Punjab."
While Rajasthan, Haryana, and Uttar Pradesh, which are not members of the NZC, have made significant steps to solve the problem, Saxena claims that despite his letter to the state chief minister on November 4, 2022, Delhi suffers from "acute air pollution" due to smoke from Punjab.
The LG stated that Delhi had taken many initiatives to address local causes of air pollution, including end-to-end carpeting and greening of sidewalks to reduce dust pollution, prohibiting building activity and utilising water sprinklers and anti-smog guns during the winter height of the problem.
He also stated that 500 electric buses have been integrated into the public transportation system, with more on the way. According to officials, he asked surrounding states to adopt technology solutions to reduce air pollution at the source.
Saxena mentioned preparations for the recently concluded G20 Summit, including infrastructure upgrades, security, and beautification of the national capital, and adding that its blueprint might be utilised by other states and Union territories, they claimed.
Saxena lauded the "exceedingly good work" done by capturing and redirecting water for treatment from TD-1 and TD-2 in Gurugram, resulting in less pollution in the Najafgarh drain and, as a result, in the Yamuna in Delhi.
He complimented the Haryana chief minister for his prompt response to his letter, noting that a team of officers led by the chief secretary had personally visited the LG Secretariat and assisted in resolving the situation.
The council meeting also addressed the issue of water supply to Delhi from dams in Himachal Pradesh and Uttarakhand.
Accelerating dam agreements will result in a win-win situation for all, as Delhi will receive ample water while the states involved will create additional electricity, he suggested at the conference.
The discussion also addressed the subject of inter-state security and the elements that come with it as a result of weak borders, such as drug trafficking and criminal mobility.
Related Posts