India
Stage sit-ins outside BJP leaders' houses against Centre: Abhishek to TMC workers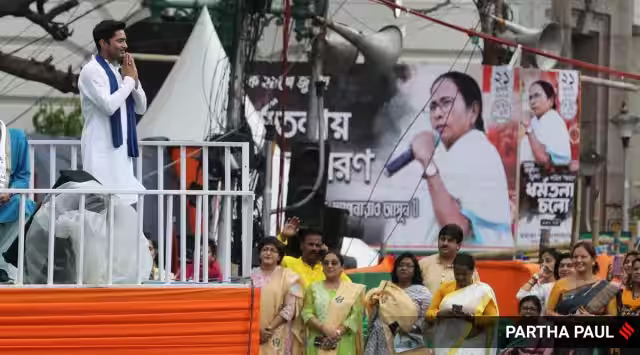 TMC national general secretary Abhishek Banerjee on Friday called for peaceful sit-ins outside the houses of BJP leaders across West Bengal to protest against the Centre's refusal to clear pending funds for the state.
Addressing his party's July 21 Martyr's Day rally in central Kolkata, Banerjee said, "I urge block-level leaders in all 341 blocks to prepare a list of BJP leaders in their area and gherao their houses for eight hours on August 5 in a peaceful manner. If there are any elderly in the family, let them go. But BJP leaders should not be allowed to leave or enter their homes between 10 am and 6 pm, as part of this gono gherao".
Banerjee also said that on October 2 (Gandhi Jayanti), the TMC would take its protests to Delhi over the same demand. "This must be done in a peaceful manner. I urge our workers to not touch anyone or fall into any trap. They must hold a gono gherao peacefully while upholding the cultural ethos of Bengal. On August 5, their houses will be gheraoed. On October 2, the offices of their masters in Delhi will be gheraoed. This is the power of the people of Bengal. We will only bow our heads in front of the Almighty and not the outsiders of Delhi," he said.
"On October 2, we will go to Delhi and protest outside Krishi Bhavan for the pending central funds. The Trinamool Congress is giving the call for 'Delhi cholo' on Gandhi Jayanti," the TMC MP said.
Banerjee also spoke about the alliance of 26 non-BJP parties and said the July 21 rally indicated a "victory for INDIA the next year". "Now, the upcoming fight is of 2024. The entire country is saying that INDIA will win the upcoming general elections in 2024. Do they have the power to fight the country and its people?" he said.
Let this #ShahidDibas be an inspiration to launch a democratic movement against the oppressive forces of @BJP4India!

They have wrongfully withheld funds for Bengal and deprived lakhs of people.

Giving the clarion call of 'Delhi Chalo', on 2nd October we shall march to Delhi, to… pic.twitter.com/S1Z8iY7AWl

— All India Trinamool Congress (@AITCofficial) July 21, 2023
Reacting to Banerjee's statement about the plan to gherao BJP leaders' houses, Leader of the Opposition Suvendu Adhikari said that if it happened, they would stop TMC MPs from entering Parliament in Delhi.
"He has said that houses of BJP leaders will be gheraoed on August 5. If that happens they will not be allowed to enter Parliament in Delhi," said Adkhikari.
Related Posts