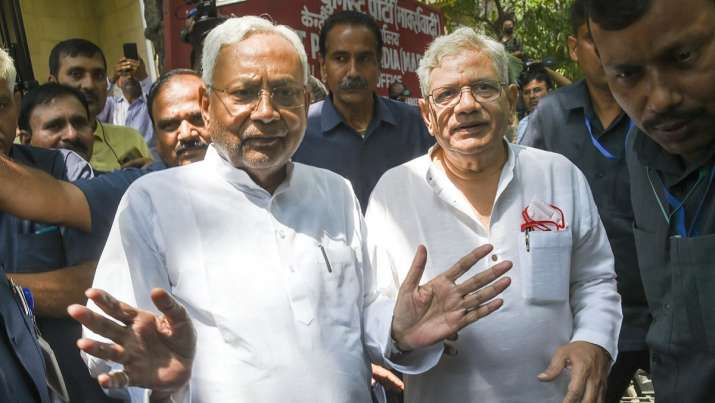 On the sidelines of his meeting with opposition leaders in the national capital to form a united front against the BJP, Bihar Chief Minister Nitish Kumar on Tuesday rubbished rumors that he wants to be the prime ministerial face of the opposition for the 2024 Lok Sabha polls.
"I am not even a contender, I don't even wish for it," Nitish told reporters soon after meeting CPI(M) leader Sitaram Yechury in New Delhi. Kumar told reporters after meeting CPI(M) general secretary Sitaram Yechury at the party office that it is time for the Left, Congress, and all regional parties to form a united opposition.
"I have had a long association with the CPI(M) since childhood. You all have not seen me, but whenever I used to come to Delhi, I used to come to this office. Today we are together again. Our entire focus is on uniting all Left parties, regional parties, and Congress. If we all come together it will be a big deal."
The JD(U) leader, who broke ties with the BJP in Bihar last month, met the Delhi chief minister after meeting Yechury. He is scheduled to meet CPI general secretary D Raja later in the day.
Nitish met senior Congress leader Rahul Gandhi on Monday and both agreed that the opposition parties need to unite. While Nitish is clear that forming a non-BJP opposition without the Congress is not viable, it is easy to bring together opposition parties, such as the likes of the Trinamool Congress (TMC), the Aam Aadmi Party (AAP), and the Telangana Rashtra Samithi (TRS). Is. ) are not ready to accept the primacy of Congress.