India
Giving ultimatum to Swara Bhasker: Ayodhya Mahant Raju Das; '…with 1,000 men'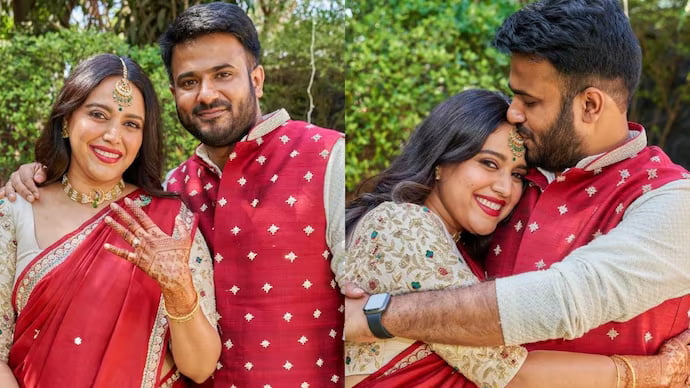 Swara Bhasker's marriage to Fahad Ahmad, the leader of the Samajwadi party, has sparked a lot of debates and opinions that border on hate speech. Ayodhya Mahant Raju Das is the most recent person to do this. He gave a Bollywood actor an ultimatum because he was going to marry a Muslim. Raju Das also said that if Swara Bhasker is an empowered woman, she shouldn't have gotten married in the first place. "But good for her if she wants to spend the night with a thousand men. Because she married into a community where brothers and sisters get married and then do talaq, talaq, talaq, "Raju Das said
"Swara Bhasker has said "Insha Allah" and "Bharat tere tukde honge" out loud. She got married 10 days ago to someone she called "bhai" and asked to get married soon "Ayodhya Mahant said.
Sadhvi Prachi, a leader of the VHP, said that Swara Bhasker could end up like Shraddha Walker, who was killed by her live-in partner Aaftab Poonawala. "Swara Bhasker probably didn't hear about how Shraddha's body was cut into 35 pieces in the news. Before making such a big choice, she should have looked in the fridge. It's up to her to decide. I don't really have much to say. But Swara can also go through what Shraddha did, "Sadhvi Prachi said.
Swara Bhasker's husband Fahad has already responded to the trolling over the "bhai" tweet. He was happy that at least "sanghis" agreed that a Hindu and a Muslim can be brother and sister. Fahad said that Swara's tweet to Fahad on his birthday, in which she called him "bhai" and told him to get married soon, was a joke between a husband and wife.
Swara Bhasker and Fahad Ahmad told the world on February 16 that they were getting married. They got married because of the Special Marriage Act, which lets Indians marry someone from a different religion. Islamic scholars said that since Swara Bhasker has not converted to Islam, the wedding is not allowed by Islamic law.