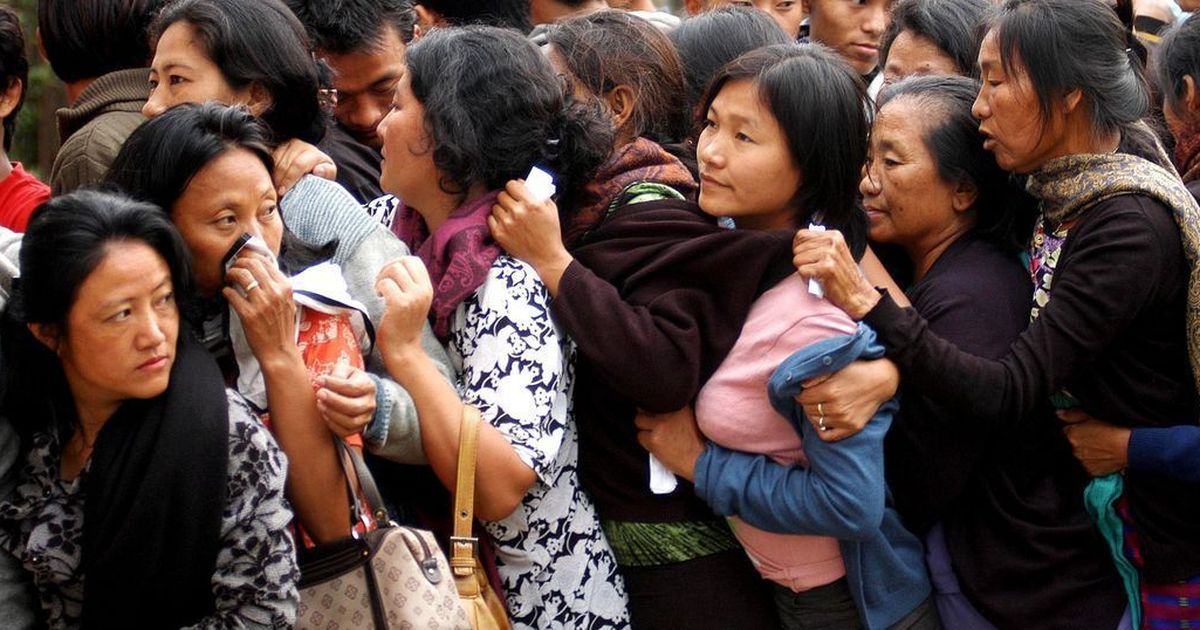 KOHIMA: It's been sixty years since Nagaland became a state, but the state's legislature still hasn't chosen a woman. There are 183 people running for assembly seats on February 27. Only four of them are women.
In 1977, Rano M. Shaiza beat former chief minister Hokishe Semato to become a member of the Lok Sabha. This was the only time a woman was elected by the people of this northeastern state. Last year, S Phangnon Konyak, the president of the state Bharatiya Janata Party's women's wing, was elected to the Rajya Sabha as a consensus candidate of the ruling National Democratic Alliance. This was 45 years after she was first elected (NDA).
Compared to the national average, women in Nagaland do better in terms of literacy (76.1% vs. 64.63%) and working in both the public and private sectors (76.1% vs. 64.63%).
They also have a lot of power in civil society, but that hasn't led to them getting more involved in electoral politics yet. Article 371A of the Constitution protects the social practises and customary laws of the Naga, which are based on patriarchy and have been around for a long time. Experts say that in the past, Naga women rarely took part in groups that made decisions.
"In the past, it was the job of women to stay at home, take care of the children, and do housework. Men didn't have to do any work so they could protect the village. "There was no thought to include women in decision-making, even though men weren't against the other gender," said Sano Vamuzo, a founding member of the influential Naga Mothers' Association (NMA) and the first president of the state's commission for women.
But she said that as times change and education gets better, equality is getting better and harmful gender norms are being thrown out. The octogenarian was a strong supporter of women's participation in decision-making bodies like the state legislature. She said that having women in public office and having them lead is important for being more aware of what people need.
Sano Vamuzo is the sister of the first Naga woman to become a member of parliament, Rano M. Shaiza, and the wife of the former chief minister of Nagaland, Vamuzo Phesao. She is familiar with the political scene there. She said that women should still run for office and fight for their rights. "We can't get into the meeting unless we compete," she said.
She said that she was praying for the four women who were running in the upcoming elections, no matter what party they were from.
This time, the party in power, the Nationalist Democratic Progressive Party (NDPP), has two women running for office. Salhoutuonuo Kruse is running in the Western Angami constituency, and Hekani Jakhalu is running in the Dimapur-III constituency. The BJP, which is one of its allies, is running Kahuli Sema from Atoizu. Rosy Thomson from Tening has been chosen by the Congress.
Electoral fight for four women
The fight won't be easy for these four women candidates because they have to go up against angry NDPP MLAs who were turned down for party tickets.
Kruse is the wife of the late Kevisekho Kruse, who ran for the NDPP in 2018 but lost. She has been active in civil society groups for more than 20 years. She led the women's group of her tribe, Angamimiapfü Mechü Krotho, and was on the advisory board of the male-dominated top group of her tribe. The 56-year-old will run against independent candidate Keneizhakho Nakhro, who is an MLA for the ruling party but was not given a ticket by the NDPP.
Jakhalu, who is 48 years old and has two children, is a social entrepreneur with a background in law. In 2018, she was given the Nari Shakti Puraskar for her work. She also co-founded and led the state's YouthNet for many years, and she is a strong supporter of young people and business in the northeast region. She will be running against Azheto Zhimomi, another troubled former NDPP MLA who is running on a Lok Janshakti Party (Ram Vilas) ticket, as well as Vetetso Lasuh of the Congress and independents Kahuto Chishi Sumi and Lun Tungnung.
Thomson, who is 58 years old, has been a member of the Congress party for over 20 years. She is running against five men, including Namri Nchang, a two-time MLA and the nominee of the Nationalist Congress Party (NCP), Tarie Zeliang, who the ruling NDPP chose over Nchang for this election, Henry Zeliang of the Naga People's Front (NPF), Zandi Domta of the National People's Party (NPP), and Tumda Newme, an independent candidate.
Kahuli Sema, who is running for the BJP, is the first woman to be in charge of the public works department in her community. She quit her job voluntarily to run for office. She has worked for the government for more than 30 years, so she has a lot of experience in managing and leading. She will also run against Picto Shohe, who has been a lawmaker twice but was turned down by the NDPP for a party ticket. This time, he is running on an NCP ticket.
Things might change this time
Many people think that the main reason there aren't any women in the state assembly is because political parties and voters don't take women candidates seriously. But they are hopeful this time.
"Politics is seen as a field where men do most of the work, and women weren't taken seriously in the past. But this time, the candidates seem very serious, and people are taking them seriously as well. This is a good turn of events. Timikha Koza, president of Tenyimi Peoples Organization, a group of 10 Naga tribes, said, "We need women to be part of the decision-making bodies." He said that Naga society would change for the better if women were involved in making laws.
Kheholi Assumi, president of a tribal women's group called the Sumi Totimi Hoho, said something similar when she said that it was time for people to realise that women need to be part of decision-making. She said that women in Naga society have been put down for so long that, even after the women's empowerment movement started, many women still didn't feel comfortable in public. Assumi hoped that this time, a more aware public would vote for at least some of the women candidates, if not all of them. This is because Naga society is changing from an old way of thinking to a more open way of thinking.
Naga women also have a disadvantage in that they can't inherit land or other assets from their ancestors. This is important because land ownership and other assets are also a factor in elections. "Because elections in Nagaland are about money and muscle power, women candidates have never been able to win," said Rosemary Dzuvichu, head of the English literature department at Nagaland University and an advisor to the powerful Naga Mothers' Association. She was hopeful, though, that people's attitudes were changing because major political parties were running women candidates this time.
"We now have four women running for office. "I'm sure they can change the game and be strong competitors," Dzuvichu said. "They are all strong women, and I hope that Naga society is ready for women to run for office. I also hope that the voters will help them win, which will change the history of Naga women in politics."