India
How can India land on the Moon while still requiring manual scavenging? Karti Chidambaram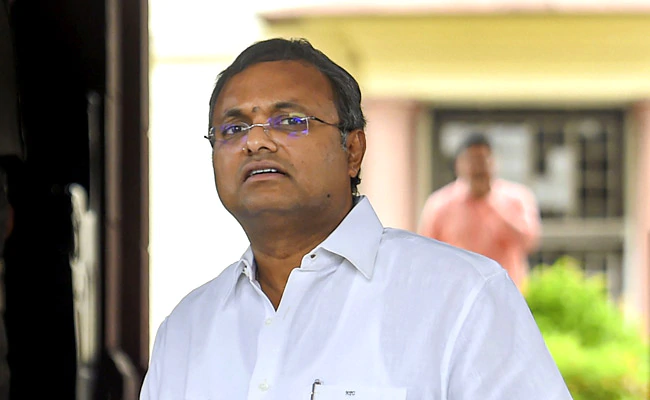 How can a nation that lands a spacecraft on the moon continue to practice manual scavenging, asked Congress MP Karti Chidambaram on Thursday during a debate on the accomplishment of the Chandrayaan-3 mission, adding that it is essential to maintain a scientific mindset in the country.
In contrast to spiritualism and science, which can be questioned, faith cannot be questioned, according to the Congress representative.
"It is very important we maintain the scientific temper of India which ISRO has showcased," he said.
In addition, he stated that it is "baffling" that India still has issues such as manual scavenging and craters while it is landing on the moon.
"It is truly perplexing…"How can we as a nation land on an uncharted region of the Moon and still require manual scavenging?" he asked.
"How can we deploy satellites for everyone else when we can't manage roads during the monsoon? How can this disparity exist? "There is something seriously wrong with our society if we cannot capitalise on our scientific advancements," he stated.
"I am fully aware that our heritage and history are intricately intertwined with science and astronomy. "We must conduct research, conduct tests, and return to our roots to determine where we lost this science," he added.
Chidambaram also urged the government to establish fellowships and scholarships so that an increasing number of students from government institutions could join ISRO.
Chandrayaan-3 landed on the lunar south pole on August 23, making India the first nation to arrive on the uncharted surface and join an exclusive club of four nations.
Meanwhile, BJP representative Jayant Sinha argued that science and 'sanskar' (culture) go hand in hand for Indians and that there is no contradiction between the two.
If we possess science, then we also possess sanskar. Someone who believes we cannot embrace both is mistaken…there must be a balance," he said.
In addition, he mentioned Jawaharlal Nehru's role in establishing ISRO and added that Prime Minister Narendra Modi has doubled ISRO's budget over the past nine years.
"Prime Minister Narendra Modi's contribution has been unparalleled and unforgettable. In 2013-14, ISRO had a budget of Rs 5,600 crores, which has since been increased to approximately Rs 13,000 crores," he explained.
Dimple Yadav, a member of the Samajwadi Party, attributed the accomplishment of the Chandrayaan mission to the scientific community.
"This accomplishment belongs solely to the scientific community," she said. "Let us not lower our dignity by taking credit for their work; instead, let us take pride in it."
Hasnain Masoodi, a representative from the NC, emphasized that while it was a wonderful success, India must not lose sight of the real issues, such as closing the healthcare gap.
"We should not disregard people's concerns…He stated that 1.5 million persons in Jammu and Kashmir lack democratic rights.
"We should not hide behind praise and forget about the real issues," he said.
Prince Raj, an MP for the LJSP, and Sumedhanand Saraswati, an MP for the BJP, also participated in the discussion regarding the success of the Chandrayaan-3 mission and other accomplishments in the nation's space sector.
Related Posts